NVIDIA GeForce GTX 980 (for notebooks) vs GTX 980M – benchmarks and gaming tests

We've already been over this comparison but we used a full-sized desktop GTX 980 GPU and a mobile GTX 980M but a lot has changed since then. But now that we have newer drivers and the desktop-grade GTX 980 has made its way to the mobile scene, we are bound to make a detailed comparison between the current most powerful mobile GPUs on the market.
Firstly, the GTX 980M has been out for a while now and has slightly toned-down specs compared to its desktop counterpart while the GTX 980 for notebooks has been released last year and has it all. We've got 2048 CUDA cores on board with 128 TMUs and 64 ROPs, not to mention the maximum clock speeds of 1216 MHz. Clearly, the GTX 980 is going to be a winner but how does it stack against the original desktop GTX 980? Well, according to NVIDIA the performance of both GPUs is the same at best but there might be some marginally lower results in benchmark and gaming tests on the notebook variant.
Anyway, the 980M has lower CUDA cores count, TMUs and lower maximum operating frequency – 1127 and no overclocking capabilities. The GTX 980 on the other hand, is factory unlocked and depends on the OEM how the memory and core clock speeds will be altered. On the Acer Predator 17X, for example, the GPU reached 1347 MHz on the GPU and 3700 MHz memory speed and it goes without saying that such performance can be utilized only if the cooling system allows it.
By the way, if you are interested in buying the new Acer Predator 17X, you can find the available configurations here: http://amzn.to/295G9sU
All that power, though, draws a lot of energy as well. For instance, the GTX 980M is rated at 100W including the memory controller while the GTX 980 is on par with its desktop variant with reaching as high as 200W under heavy load while utilizing the full potential of the chip. Under normal circumstances, however, the GTX 980 draws something around 165-180W.
That being said, the performance of the GTX 980 is evidently better than the GTX 980M to a point where the chip beats other SLI and CrossFire high-end configurations we've already tested on notebooks. Check out our GPU rankings to see for yourself. We've prepared some synthetic benchmark and gaming tests to see for yourself. But first, we suggest reading more about both GPUs to get a better understanding of both GM204 chips.

NVIDIA GeForce GTX 980 (4GB GDDR5)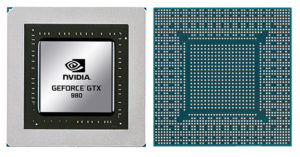 The NVIDIA GeForce GTX 980 is a desktop-grade chip, which recently found its way into the notebook market as well. With the developing gaming market, notebooks start to run cooler and can handle more powerful hardware. So the GeForce GTX 980 is not the mobile GTX 980M variant but instead, it utilizes the full potential of the desktop-grade GPU.
The GTX 980 for laptops uses the same GM204 chip and runs at 1126 MHz but can go up to 1216 MHz with a 256-bit bus width, 3500 MHz memory speed and up to 7 Gbps memory bandwidth. The GPU is unlocked for overclocking and manufacturers are providing custom software with the notebooks for easier adjustments on the go. NVIDIA claims that the performance will differ ever so slightly compared to the desktop variant due to the better cooling capabilities of a full-sized desktop machine.
Other notable features such as DirectX 12 support and CUDA cores are present. NVIDIA claims that the GPU draws up to 165W but when overclocked, the GPU can go up to 200W. Given the TDP of the chip, it can find its way only in large 17-inch notebooks with good cooling solutions.
You can browse through our top GPUs ranking: http://laptopmedia.com/top-laptop-graphics-ranking/
Here you will find other useful information and every notebook we've tested with this GPU: http://laptopmedia.com/video-card/nvidia-geforce-gtx-980-for-notebooks/

NVIDIA GeForce GTX 980M (4GB GDDR5)
NVIDIA GeForce GTX 980M is a high-end graphics chip, announced on October 7, 2014. It will be available in models with up to 8GB of GDDR5 memory. NVIDIA GeForce GTX 980M uses the Maxwell GM204 architecture and has 1536 CUDA cores. All of them operate at 1038MHz, but NVIDIA's GPU Boost 2.0 can dynamically increase that frequency.
The graphics card has a 256bit bus and supports DirectX 11.2, Pixel Shader 5.0, Optimus, SLI, PhysX, OpenCL 1.1, OpenGL 4.4, DirectCompute, CUDA, Blu-Ray 3D and 3D Vision. Memory bandwidth is 160GB/sec. Max resolutions (WxH) are 3840×2160 digital and 2048×1536 analog.
You can browse through our GPU ranking to see where the NVIDIA GeForce GTX 980M (4GB GDDR5) stands: http://laptopmedia.com/top-laptop-graphics-ranking/
For more information about the GPU, follow this link: http://laptopmedia.com/video-card/nvidia-geforce-gtx-980m-4gb-gddr5/
If you are interested, you can browse for some GTX 980/980M-equipped notebooks here: http://amzn.to/29379wt

Tech specs
| Technical specifications | GeForce GTX 980 | GeForce GTX 980M |
| --- | --- | --- |
| Family | Maxwell | Maxwell |
| Manufacturing process | 28nm | 28nm |
| GPU base clock | 1127MHz | 1038MHz |
| GPU maximum clock | 1216MHz | 1127MHz |
| Memory | 4GB GDDR5 | 4GB GDDR5 |
| Memory frequency | 3500 MHz | 2500 MHz |
| Memory bus width | 256-bit | 256-bit |
| Memory bandwidth | 224.4 GB/s | 160 GB/s |
| Shading units (CUDA Cores) | 2048 | 1536 |
| Texture units | 128 | 96 |
| ROPs | 64 | 64 |
Benchmarks
Results are from the 3DMark: Fire Strike (Graphics) benchmark (higher the score, the better)
Gaming tests

GPU
Tomb Raider (1080p, Low)
Tomb Raider (1080p, Medium)
Tomb Raider (1080p, Max)
Tomb Raider (1080p, Max @Turbo)
GTX 980
375 fps
204 fps
101 fps

111 fps (+9%)

GTX 980M
252 fps
149 fps
71 fps

GPU
F1 2015 (1080p, Low)
F1 2015 (1080p, Medium)
F1 2015 (1080p, Max)
F1 2015 (1080p, Max @Turbo)
GTX 980
172 fps
144 fps
100 fps

111 fps (+10%)

GTX 980M
105 fps
90 fps
70 fps

GPU
Thief (1080p, Low)
Thief (1080p, Medium)
Thief (1080p, Max)
Thief (1080p, Max @Turbo)
GTX 980
73 fps
71 fps
68 fps

81 fps (+16%)

GTX 980M
58 fps
55 fps
51 fps

GPU
GTA 5 (1080p, Low)
GTA 5 (1080p, Medium)
GTA 5 (1080p, Max)
GTA 5 (1080p, Max @Turbo)
GTX 980
156 fps
107 fps
38 fps

41 fps (+7%)

GTX 980M
123 fps
72 fps
34 fps

GPU
Middle-Earth: Shadow of Mordor (1080p, Low)
Middle-Earth: Shadow of Mordor (1080p, Medium)
Middle-Earth: Shadow of Mordor (1080p, Max)
Middle-Earth: Shadow of Mordor (1080p, Max @Turbo)
GTX 980
186 fps
147 fps
93 fps

102 fps (+9%)

GTX 980M
142
109
71
If you are interested, you can browse for some GTX 980/980M-equipped notebooks here: http://amzn.to/29379wt