NVIDIA GeForce 930M – benchmark results and gaming tests
The NVIDIA GeForce 930M is a lower-mid-range GPU that's included in budget notebooks or multimedia-oriented ones. It was released in March 2015 and now we have the chance of testing it. In this short article, we've included several synthetic benchmark tests as well as a few popular games for a real-life assessment. For testing purposes, we used a notebook from the updated K555FL series by ASUS.
To get a bit more technical, the graphics card is based on last year's GeForce 840M with GM108 GPU inside. We are expecting the GPU to be marginally faster than its predecessor since the Maxwell generation GPUs mostly improve power consumption and don't emphasize on performance as much. However, the TDP is rated at 25W (for this particular version as there's another variant with GDDR5 memory controller). Furthermore, GeForce 930M offers 2GB of DDR3 memory, 16 ROPs, 32 texture mapping units and 384 shaders. The graphics processor runs at 928MHz with Boost clock being 941MHz which should be enough to run most of the new games at lower settings or other software that isn't that demanding. Memory speed is 1800MHz with a bus width of 64 bit. Notable features like DirectX 12, NVIDIA Optimus support, OpenGL 4.5 and CUDA cores are at hand.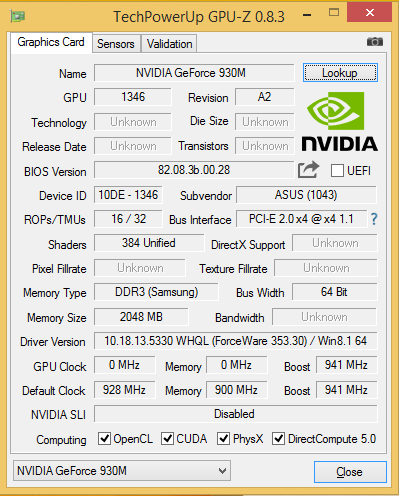 You can see results from the benchmark tests and comparison to last year's model as well as other GPUs from the Maxwell family.
Benchmarks
Results are from the 3DMark: Fire Strike (Graphics) benchmark (higher the score, the better)
ASUS X555 (F555) GPU variants
Here you can see an approximate comparison between the GPUs that can be found in the ASUS X555 (F555) models on the market. This way you can decide for yourself which ASUS X555 (F555) model is the best bang for your buck.
Note: The chart shows the cheapest different GPU configurations so you should check what the other specifications of these laptops are by clicking on the laptop's name / GPU.
Results are from the 3DMark: Fire Strike (Graphics) benchmark (higher the score, the better)
Gaming tests
All gaming tests were performed with the latest drivers from NVIDIA installed and in this case – 353.30 WHQL and resolution set to 1366 x 768 as this is the maximum that the notebook supports.

| Tomb Raider (768p, Low) | Tomb Raider (768p, Medium) | Tomb Raider (768p, Max) |
| --- | --- | --- |
| 92 fps | 31 fps | 15 fps |

| F1 2014 (768p, Low) | F1 2014 (768p, Medium) | F1 2014 (768p, Max) |
| --- | --- | --- |
| 82 fps | 66 fps | 39 fps |

| Thief (768p, Low) | Thief (768p, Medium) | Thief (768p, Max) |
| --- | --- | --- |
| 34 fps | 24 fps | 14 fps |

| GTA 5 (768p, Low) | GTA 5 (768p, Medium) | GTA 5 (768p, Max) |
| --- | --- | --- |
| 36 fps | 16 fps | 9 fps |