NVIDIA 40-series ADA Laptop GPUs – LEAKED TGP, clock speeds, VRAM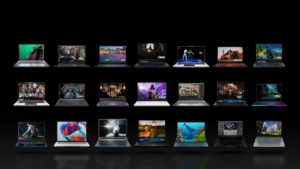 It seems that after two years of drought, we're finally getting next-gen GPUs, as recent leaks by a Romanian retailer show some HP OMEN 17 laptops with both Raptor Lake processors and RTX 40-series graphics. Now, we've got even more information leaking, including clock speeds, power draw, and memory buffers.
Keep in mind, that these new graphics will be heavily cut-down versions, as the 40-series desktop cards come with very high power draw, which just isn't sustainable on a laptop.
While these cards are still unavailable and unannounced, we'll leave links to the RTX 30-series which will still be popular in 2023, and go down in price, making for some excellent value deals.

NVIDIA GeForce RTX 4090 16GB
Of course, the best GPU from the new family is the RTX 4090, with 16GB of VRAM. It uses the AD103 GPU core and will come with a TGP of around 150W to 175W. When you add the additional 25W from Dynamic Boost, you can get up to 200W, which is unthinkable for a laptop, however, keep in mind that the GPU will be for the biggest of enthusiasts so laptops will it will rarely be as portable as you're standard 15.6-inch offerings. In terms of clock speeds, the card is supposed to idle at 1.59GHz, while being able to spike up to 2.04 GHz.

NVIDIA GeForce RTX 4080 12GB
Next on, we move to the RTX 4080 with 12GB of VRAM, but with the same wattage and higher clock speeds of 1.86 GHz base and 2.28 GHz boost.
NVIDIA GeForce RTX 4070 8GB and RTX 4060 8GB
2023 sees the RTX 4060 jump up to 8GB of VRAM, whereas its predecessor stuck with 6GB. The RTX 4070 also sticks with 8GB, while also having a base clock speed of 2.07 GHz, with a boost speed of 2.17 GHz. Both GPUs come with a base TGP of 115W, going as high as 140W with Dynamic Boost. Since the RTX 4060 is to be used in smaller and more compact Creator laptops, it can go down below its base wattage and run comfortably at 85W + 10W from Dynamic Boost.
NVIDIA GeForce RTX 4050 6GB
Finally, we come down to what is probably going to be the most popular out of all these GPUs, the RTX 4050, which is looking to be the premier option for 1080p gaming. To accomplish that, NVIDIA bumps up the frame buffer to 6GB, while the card has a very high base speed of 2.37 GHz. It comes with the same power options as the RTX 3060, so we're talking up to 140W, with an 85W version for slimmer devices.
Here is a total rundown of all the information that's so far available about the RTX 40-series laptop GPUs.
GPU NAME
NVIDIA GEFORCE RTX 4090
NVIDIA GEFORCE RTX 4080
NVIDIA GEFORCE RTX 4070
NVIDIA GEFORCE RTX 4060
NVIDIA GEFORCE RTX 4050
Process Node
TSMC 4N
TSMC 4N
TSMC 4N
TSMC 4N
TSMC 4N
GPU Core
AD103
AD104
AD106
AD107
AD107
GPU SKU
GN21-X11
GN21-X9
GN21-X6
GN21-X4
GN21-X2
VRAM
16 GB
12 GB
8 GB
8 GB
6 GB
Base Clock (Standard TGP)
~1.59 GHz
~1.86 GHz
~2.07 GHz
TBD
~2.37 GHz
Boost Clock (Standard TGP)
~2.04 GHz
~2.28 GHz
~2.17 GHz
TBD
~2.37 GHz
TBP
150-175W (+25W DB)
150-175W (+25W DB)
115-140W (+25W DB)
115-140W (+25W DB)
85W (+10W DB)
115-140W (+25W DB)
85W (+10W DB)
The new cards are supposedly around 30% more powerful than their 30-series counterparts and add some new features like DLSS3, which is a whole other beast than DLSS 2. Essentially, the tech generates new frames using AI and information from already game-rendered frames. So far, we feel like the technology is more niche, as DLSS 2 is already giving GPUs a good boost in performance. These new GPUs should be formally announced at CES 2023, with laptops hitting shelves as early as late January/ early February.