MSI Vector GP66 (12Ux) – Top 5 Pros and Cons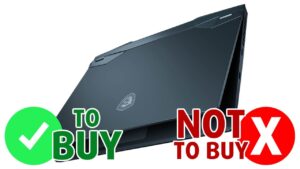 MSI's engineers have woken up from their winter hibernation and delivered an excruciatingly powerful laptop. Almost like the recipe for the Powerpuff girls, MSI went all-in on the performance, with the laptop breaking our charts in terms of CPU power, and that just with the Core i7-12700H.
We still can't wrap our heads around the possible performance of the Core i9-12900H, which is available as well. Traditionally, gaming laptops have done really well at other workloads, and this laptop offers that as well with a very good display and a really well-performing RTX 3080 with a 150W TGP.
Today we are presenting you with LaptopMedia's top 5 picks about the MSI Vector GP66 (12Ux).
MSI Vector GP66 (12Ux): Full Specs / In-depth Review
4 reasons to BUY the MSI Vector GP66 (12Ux)
1. I/O
While the device lacks an SD card reader, which will sadden photographers, as well as Thunderbolt support, what it offers is more than enough for gaming and productivity. There are three USB Type-A 3.2 ports, with two Gen. 1 ports and one Gen. 2 port, a single USB Type-C 3.2 (Gen. 2) port, an HDMI 2.1 port, a mini DisplayPort, an Ethernet port, and a 3.5 mm audio jack. You can plug up to 3 external monitors and the laptop has enough power to handle all three.
2. Upgradeability
The upgradeability is great, as once disassembled, you can see two SODIMM RAM slots that can fit up to 64GB of DDR4 memory, which is strange as all other Alder Lake-powered competitors advertize DDR5 memory. Storage-wise, there are two M.2 PCIe x4 slots, both of which support Gen 4 SSDs.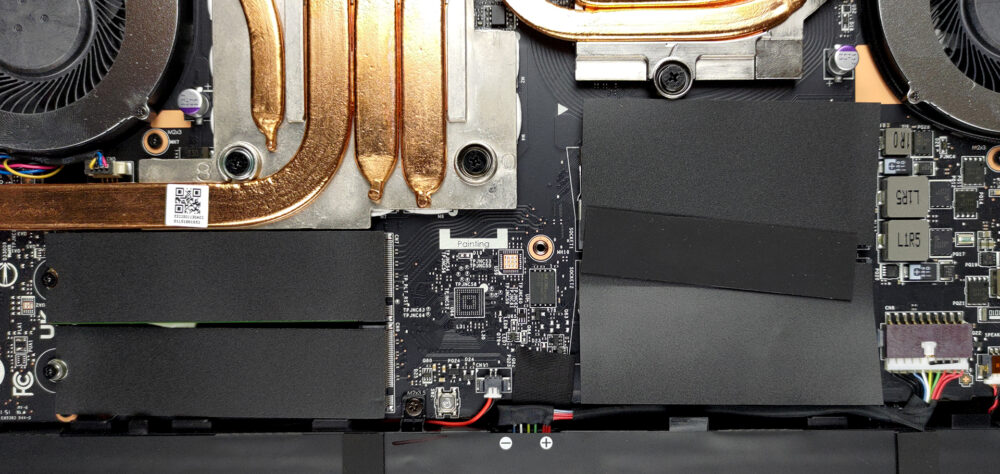 Here is our detailed teardown video, which shows how to access both the RAM and storage slots.
3. Display quality
We tested the available QHD IPS panel with a 165Hz refresh rate. There's also a Full HD IPS panel with a 360Hz refresh rate and a QHD IPS panel with a 240Hz refresh rate. Going back to the display that we tested, it comes with excellent viewing angles, a max brightness of 343 nits in the middle of the screen, 326 nits as an average for the whole area, and a maximum deviation of 5%. The contrast ratio is also decent, at 1020:1. In terms of color representation, here it's absolutely on point, covering 100% of the sRGB gamut and 99% of the DCI-P3 gamut.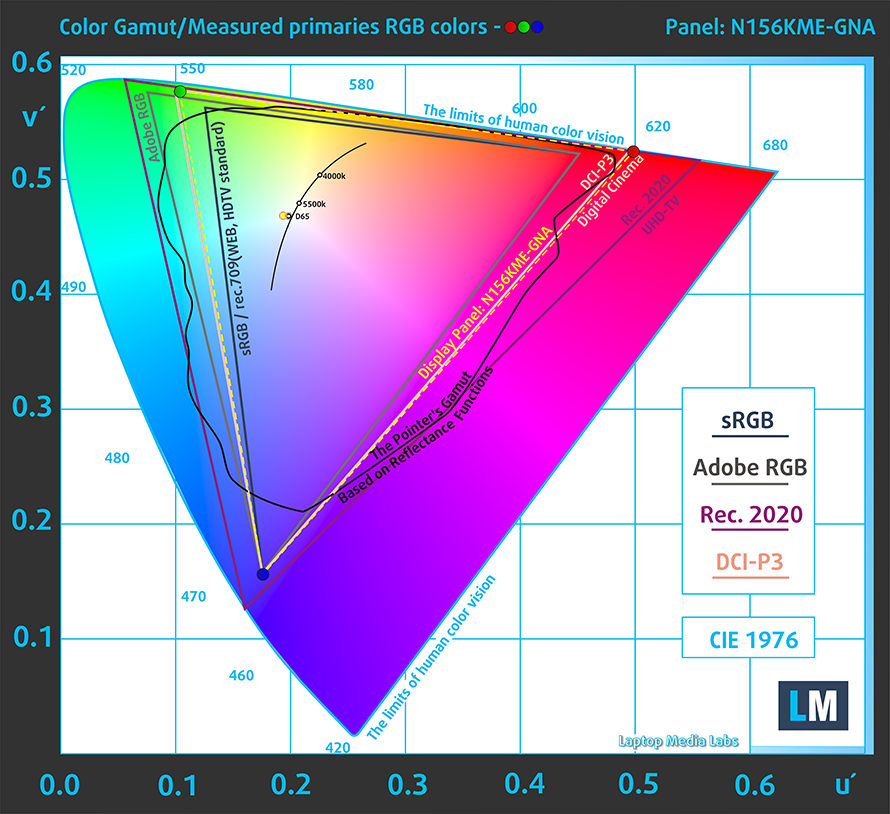 The accuracy gets better when using our profile, with the best result that we were able to achieve is within the DCI-P3 color space with a D65 white point. Here are the results of our color accuracy test with the stock settings (left) and with our Design and Gaming profile applied (right).
Buy our profiles
Since our profiles are tailored for each individual display model, this article and its respective profile package are meant for MSI Vector GP66 (12Ux) configurations with 15.6″ QHD IPS Innolux N156KME-GNA (CMN152A).
*Should you have problems with downloading the purchased file, try using a different browser to open the link you'll receive via e-mail. If the download target is a .php file instead of an archive, change the file extension to .zip or contact us at [email protected].
Read more about the profiles HERE.
In addition to receiving efficient and health-friendly profiles, by buying LaptopMedia's products you also support the development of our labs, where we test devices in order to produce the most objective reviews possible.
4. Cooling
The laptop has a massive cooling setup, which consists of six heat pipes, two fans, and a total of four heatsinks, with two on the right and two on the left. Two heat pipes go to the CPU, three to the GPU, while the last one covers the VRMs and Graphics memory.

Max CPU load
In this test we use 100% on the CPU cores, monitoring their frequencies and chip temperature. The first column shows a computer's reaction to a short load (2-10 seconds), the second column simulates a serious task (between 15 and 30 seconds), and the third column is a good indicator of how good the laptop is for long loads such as video rendering.
Average core frequency (base frequency + X); CPU temp.
| Intel Core i7-12700H (45W TDP) | 0:02 – 0:10 sec | 0:15 – 0:30 sec | 10:00 – 15:00 min |
| --- | --- | --- | --- |
| MSI Vector GP66 (12Ux) | 3.81 GHz @ 2.91 GHz @ 81°C @ 116W | 3.54 GHz @ 2.72 GHz @ 83°C @ 98W | 3.30 GHz @ 2.57 GHz @ 79°C @ 86W |
| Acer Predator Triton 500 SE (PT516-52s) | 3.25 GHz @ 2.52 GHz @ 89°C @ 80W | 3.10 GHz @ 2.46 GHz @ 90°C @ 73W | 2.93 GHz @ 2.38 GHz @ 91°C @ 66W |
Against the only other laptop with the Core i7-12700H, the Vector's CPU manages to hit much higher clock speeds, while also being significantly cooler.

Real-life gaming
| NVIDIA GeForce RTX 3080 | GPU frequency/ Core temp (after 2 min) | GPU frequency/ Core temp (after 30 min) | GPU frequency/ Core temp (Max Fans) |
| --- | --- | --- | --- |
| MSI Vector GP66 (12Ux) | 1690 MHz @ 76°C @ 149W | 1671 MHz @ 81°C @ 149W | 1698 MHz @ 75°C @ 149W |
| Acer Predator Helios 500 (PH517-52) | 1737 MHz @ 69°C @ 155W | 1725 MHz @ 73°C @ 156W | 1768 MHz @ 63°C @ 154W |
| MSI GE76 Raider (2021) | 1719 MHz @ 82°C @ 159W | 1670 MHz @ 87°C @ 155W | 1715 MHz @ 84°C @ 161W |
| ASUS ROG Strix G17 G713 | 1523 MHz @ 81°C @ 129W | 1515 MHz @ 83°C @ 130W | – |
The GPU manages to maintain pretty good clock speeds and temperatures, but the Predator Helios 500 still holds the crown for the most powerful RTX 3080, being really cool, while offering performance that is out of this world.

Gaming comfort
On the outside, things are chilling. The external temperature of 41.8°C will serve as a nice hand warmer, so your fingers maintain their quick reflexes during those tense moments.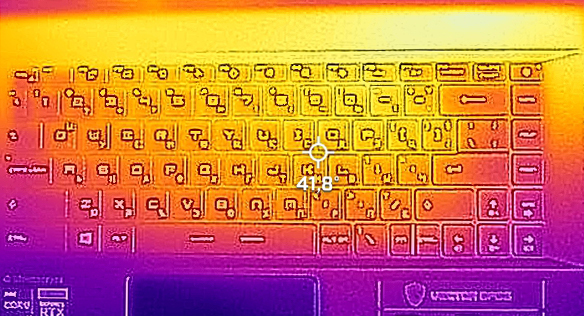 1 reason NOT to buy the MSI Vector GP66 (12Ux)
1. Battery life
The 65Wh battery unit isn't enough to maintain good battery life, but that's what happens when you put it together with a Core i7-12700H and an RTX 3080. The laptop lasts for 5 hours and 21 minutes of Web browsing, or 4 hours and 36 minutes of video playback. Now, we conduct the battery tests with the Windows Better performance setting turned on, screen brightness adjusted to 120 nits, and all other programs turned off except for the one we are testing the notebook with.

All MSI Vector GP66 (12Ux) configurations: