MSI GL62M with GeForce GTX 1050 Ti for $869.99 and big discounts on Windows tablets (+Promo codes)
Today we have some more great news for you. The discounts at GearBest seem to have no end – this time we are going to talk about MSI GL62M and two other amazing Windows offers. But the great news doesn't stop here – we have promo codes for you as well, which further reduce the price. What a bargain, don't you think so?
First off, we would like to start with MSI GL62M. This gaming laptop is currently available for $1024.97. However, if you use the code "1642CNGB", the price becomes only $869.99. You can check the laptop and the other offers over here. The MSI GL62M features a quad-core Intel i5-7300HQ CPU with clock speeds reaching up to 2.5GHz. Also, the GTX 1050Ti takes care of the graphics performance as its frequency is 1500MHz. Storage-wise, it is paired with 8GB of DDR4 RAM upgradeable up to 32GB and 1TB M.2 HHD with support of SD cards up to 128GB. In addition, this bad boy works with Microsoft Windows 10 operating system that not only offers more powerful performance but also brings smooth gaming experience.
As far as the display is concerned, it is a 15.6-inch IPS panel with FHD (1920 x 1080) resolution and 16:9 aspect ratio. This gaming laptop is powered by a 3834mAh Li-ion polymer battery which supposedly can last up to 5 hours, and the laptop weighs 2.3 kg.
Moving on to the connectivity options, here we are presented with a single USB2.0, USB Type-C and two USB3.0 ports, Mini HDMI slot, RJ45 connector, Mini DP Port, as well as a 3.5mm headphone jack. What's more, the specs are supplemented by 802.11b/g/n Wi-Fi, Bluetooth 4.0 and support of WLAN Card and LAN Card.
If you are intrigued by this gaming laptop, you can check it out over HERE.
Specs sheet
CPU
Intel Core i5-7300HQ (2.5GHz, 6MB cache)
RAM
8GB DDR4
Storage
1TB HDD
GPU
NVIDIA GeForce GTX 1050 Ti
Display
15.6-inch IPS with FHD (1920 x 1080) resolution
Connectivity

802.11b/g/n Wi-Fi
Bluetooth 4.0
WLAN card
LAN card

Features

2x USB 3.0
1x USB 2.0
1x USB Type-C
1x HDMI
Mini HDMI slot
RJ45 connector
3.5 mm headphone jack
Mini DP Port

Battery
3834mAh, Li-Polymer
Dimensions
38.80 x 26.00 x 1.50 cm / 15.28 x 10.24 x 0.59 inches
Weight
2.3 kg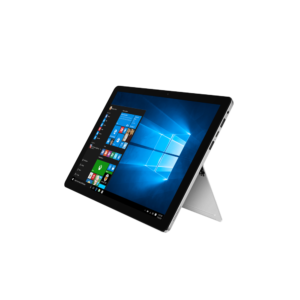 Other offers
Now, let's shed some light on the other two discounted offers. The first one is a 2 in 1 tablet PC called Chuwi SurBook. It is currently available for $532.02 but using the code "SurBookGB" makes the price $429.99. Chuwi SurBook equipped with 360-hinge features a 12.3 inch IPS display with 2736 x 1824 resolution. It runs on Intel Celeron N3450 CPU paired with 6GB RAM and 128GB ROM, while the operating system is Windows 10. The battery here is a 10000mAh Li-ion polymer unit.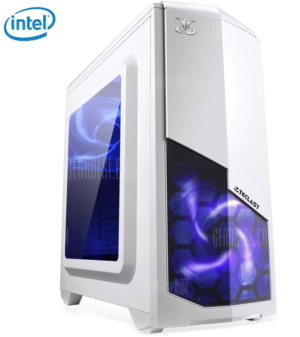 If you have interest, you can check Chuwi SurBook over HERE.
And last but certainly not least, we conclude this article with GETWORTH R12 at $864.66. However, here we also have a code for you – "R23GB" which reduces the price to $699.99. This device is equipped with Intel Core i5-7400 CPU and GTX1060 GPU paired with 8GB of DDR4 RAM and 120GB SSD. In addition, it works with Windows 10 OS.
If you happen to show interest, you can check out GETWORTH R12 over HERE.