MSI Delta 15 (A5Ex) – Top 5 Pros and Cons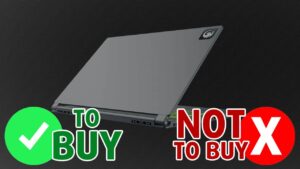 Deep integration between the CPU and GPU is becoming a big trend, especially now with Intel slated to release their Arc graphics, which are said to function better in an all Intel system. The same can be said for AMD, as so far, they are the only large-scale company to offer both CPUs and GPUs.
However, laptop manufacturers have been slow when it comes to adopting them, deciding to mostly rely on NVIDIA. Some have made the leap, like ASUS and their Advantage Edition ROG Strix G-series, along with MSI and their Delta 15 laptop, which we have today. It does use the slightly older Ryzen 5000H-series processors, but this will hardly make a difference in gaming. More importantly, we have an RX 6700M, which has a large 10GB frame buffer.
Today we present you with LaptopMedia's top 5 picks about the MSI Delta 15 (A5Ex).
MSI Delta 15 (A5Ex): Full Specs / In-depth Review
3 reasons to BUY the MSI Delta 15 (A5Ex)
1. Upgradeability
The device does offer two SODIMM RAM slots and two M.2 PCIe x4 slots, but it is hard to access them. After you remove the bottom panel, you have to take out the whole motherboard and flip it over, after which you can see all the available slots.
Here is our teardown video, which shows the whole process of accessing the RAM and SSD slots.
2. Display quality
There are two FHD displays with either a 144Hz or 240Hz refresh rate. We had the latter panel, which also brings comfortable viewing angles, high max brightness of 300 nits, and a max deviation of 11%. The contrast ratio is good enough – 1120:1. The panel brings sufficient coverage, with 96% of the sRGB gamut. It also brings sufficient PWM usage, which thankfully is only used up to 82 nits of brightness.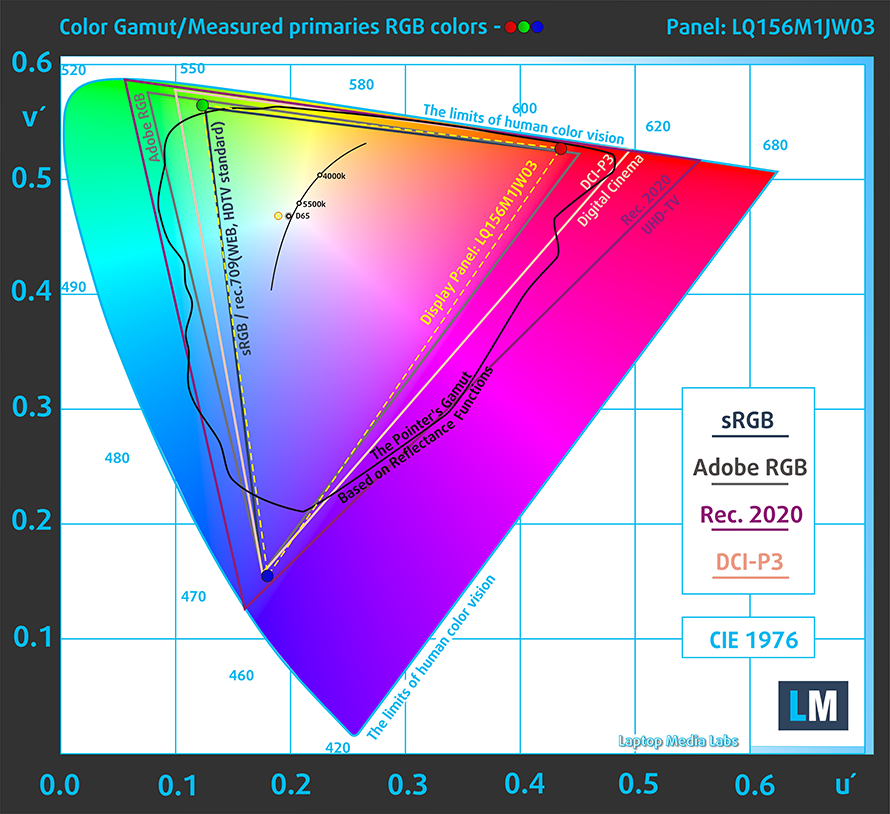 The color accuracy improves significantly with our Design and Gaming profile, resulting in a dE value of 0.9. Here are the results of the test with factory settings (left) and with our profile applied (right).
Buy our profiles
Since our profiles are tailored for each individual display model, this article and its respective profile package are meant for MSI Delta 15 (A5Ex) configurations with 15.6″ FHD IPS Sharp LQ156M1JW03 (SHP155D).
*Should you have problems with downloading the purchased file, try using a different browser to open the link you'll receive via e-mail. If the download target is a .php file instead of an archive, change the file extension to .zip or contact us at [email protected].
Read more about the profiles HERE.
In addition to receiving efficient and health-friendly profiles, by buying LaptopMedia's products you also support the development of our labs, where we test devices in order to produce the most objective reviews possible.
3. Battery life
Inside the machine, you can find an 82Wh battery pack that lasts for  11 hours and 28 minutes of Web browsing, or 10 hours and 33 minutes of video playback. Now, we conduct the battery tests with the Windows Better performance setting turned on, screen brightness adjusted to 120 nits, and all other programs turned off except for the one we are testing the notebook with.

2 reasons NOT to buy the MSI Delta 15 (A5Ex)
1. Cooling
On paper, the cooling passes as pretty decent, as there are two thinner-looking heat pipes for the CPU and two thicker ones for the GPU. There is a final fifth pipe that covers the VRM. However, once we set up the stress tests we see some faults with the way the cooling works.

Max CPU load
| AMD Ryzen 7 5800H (45W TDP) | 0:02 – 0:10 sec | 0:15 – 0:30 sec | 10:00 – 15:00 min |
| --- | --- | --- | --- |
| MSI Delta 15 (A5Ex) | 3.24 GHz (B+1%) @ 72°C | 3.16 GHz @ 78°C | 3.19 GHz @ 84°C |
The Ryzen 7 5800H struggles to keep up its base frequency, hovering around 3.20GHz.

Real-life gaming
| AMD Radeon RX 6700M | GPU frequency/ Core temp (after 2 min) | GPU frequency/ Core temp (after 30 min) | GPU frequency/ Core temp (Max fan) |
| --- | --- | --- | --- |
| MSI Delta 15 (A5Ex) | 2230 MHz @ 81°C @ 112W | 2127 MHz @ 86°C @ 105W | – |
RDNA 2 desktop GPUs are known to offer pretty high clock speeds, and the RX 6700M offers much of the same, clocking above 2.0GHz. However, after the 30-minute mark, there seems to be some throttling, as the wattage drops slightly.

Gaming comfort
The base heats up significantly, thanks to the thin aluminum sheet that the chassis is made of. This makes for an external temperature of 54.8°C.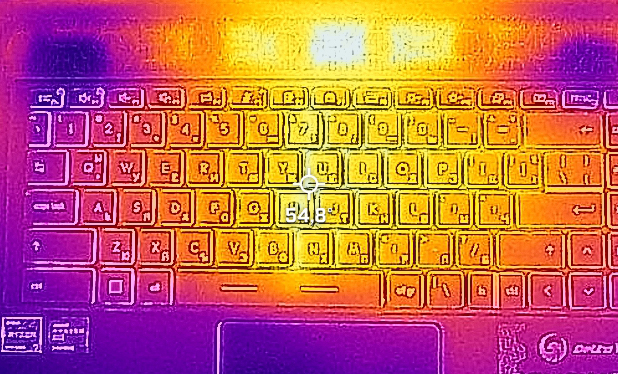 2. I/O
The I/O consists of two USB Type-A 3.2 (Gen. 2) ports and two USB Type-C 3.2 (Gen. 2) ports, an HDMI 2.0 port, and a 3.5 mm audio jack. Sadly, due to the use of AMD hardware, we lack Thunderbolt 4 support, while we have to scrutinize MSI a bit for forgetting the SD card reader, which we should get, considering the Creator capabilities of the display.
All MSI Delta 15 (A5Ex) configurations: