Lenovo ThinkPad T15g Gen 2 – Top 5 Pros and Cons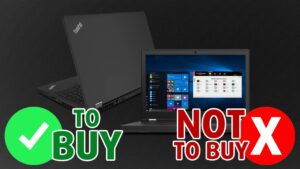 Gaming in the office? More like Game designing at the office. Thankfully, you won't be having to make a choice, as the ThinkPad T15g Gen 2 brings plenty of performance to do both, even at the same time.
The laptop is way thicker than its "normal" ThinkPad relatives, but there is a method to the madness, as it packs up to an 11th Gen Xeon-W 11995M, which has ECC memory, which means increased stability all around, something very important during productivity and professional work, where you need as fewer crashes and data corruption as possible.
On the GPU front, we are greeted by the RTX 3070 and RTX 3080, which have a 90W TGP according to Lenovo. Weirdly enough, the NVIDIA driver deems the 3080 to have a 110W TGP.
Today we present you with LaptopMedia's top 5 picks about the Lenovo ThinkPad T15g Gen 2.
Lenovo ThinkPad T15g Gen 2: Full Specs / In-depth Review
3 reasons to BUY the Lenovo ThinkPad T15g Gen 2
1. Upgradeability
The laptop offers insane upgradeability, thanks to a service hatch, which opens with a single screw. It holds two SODIMM RAM slots and two M.2 PCIe x4 slots.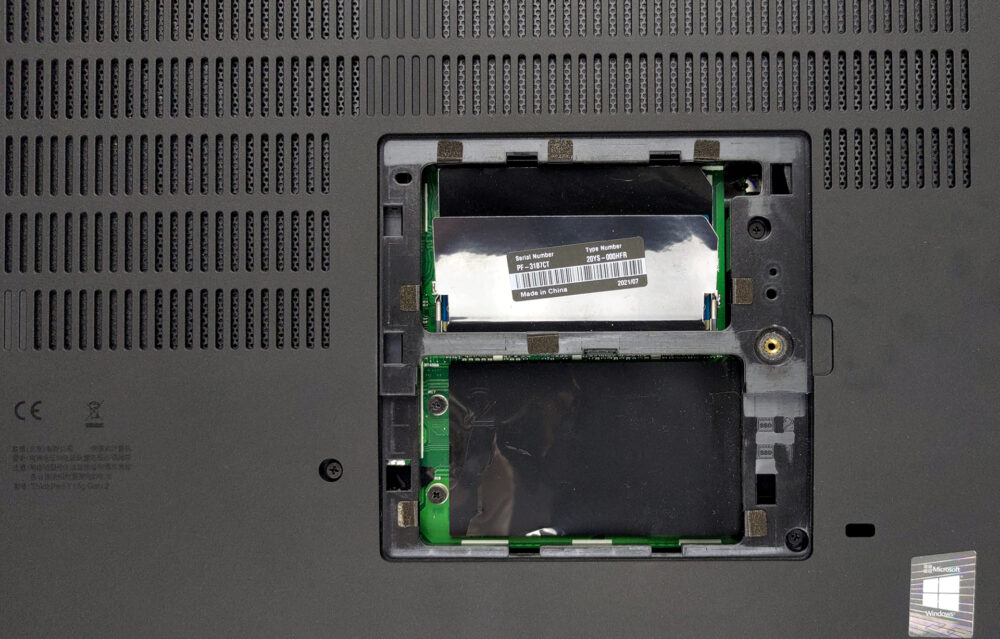 But wait, there's more since you can pop the keyboard to access two more RAM slots and an M.2 slot.
Here is our detailed teardown video, which shows how to access all of the slots.
2. I/O
The I/O here is on point, with two USB Type-A 3.2 (Gen. 1) ports, and three USB Type-C 3.2 (Gen. 2) ports, two of which offer Thunderbolt 4 support. There's also an HDMI 2.1 port, a MicroSD card slot, an Ethernet port, and a 3.5 mm audio jack.
3. Battery life
The 94Wh battery unit makes the device last for 10 hours and 33 minutes of Web browsing, or 7 hours and 40 minutes of video playback, despite the large and power-hungry Core i7-11800H. Now, we conduct the battery tests with the Windows Better performance setting turned on, screen brightness adjusted to 120 nits, and all other programs turned off except for the one we are testing the notebook with.

2 reasons NOT to buy the Lenovo ThinkPad T15g Gen 2
1. Portability
The laptop undoubtedly feels like a tank, sporting a chassis made from glass fibers and plastic, which are mixed together to form a polymer, retaining the strength of the glass, and the lightweight nature of plastic. The body is tough as nails, resisting all of our twisting and flexing. However, this comes with its disadvantages, as the laptop is incredibly bulky, weighing 2.87 kg which can grow up to 3.07 kg if you want the touch-enabled display. The profile is nothing to scoff at as well, measuring more than 3cm at its thickest point.

2. Cooling
The cooling on the laptop initially seems to be pretty good, relying on two thick heat pipes and two smaller ones. The CPU is covered by two heat pipes, while GPU is covered by three. This means that one pipe is shared between them. There are also four heat sinks and two fans.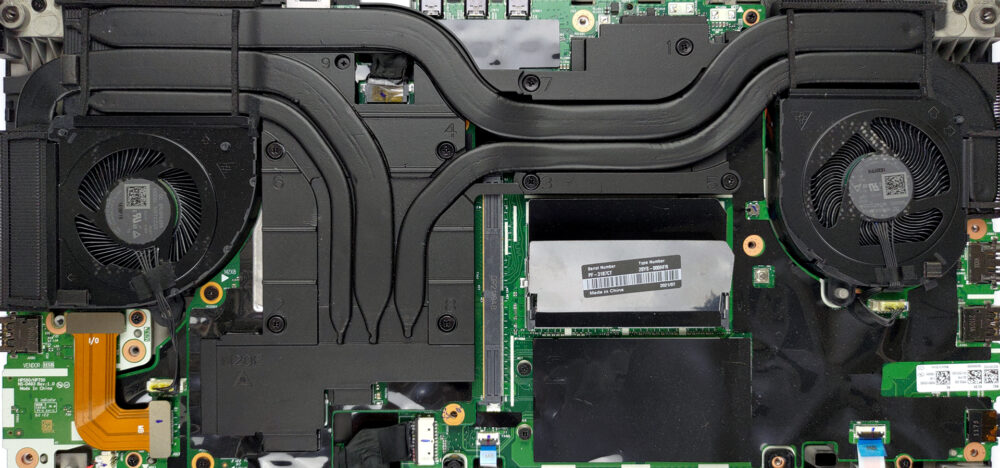 Max CPU load
| Intel Core i7-11800H (45W TDP) | 0:02 – 0:10 sec | 0:15 – 0:30 sec | 10:00 – 15:00 min |
| --- | --- | --- | --- |
| Lenovo ThinkPad T15g Gen 2 | 3.15 GHz (B+37%) @ 99°C @ 68W | 3.05 GHz (B+33%) @ 99°C @ 64W | 2.87 GHz (B+25%) @ 99°C @ 57W |
As you can see, the CPU struggles, keeping a temperature of 99°C throughout all three stages of the test. This leads to the wattage and clock speeds dropping down significantly.

Real-life gaming
| NVIDIA GeForce RTX 3080 | GPU frequency/ Core temp (after 2 min) | GPU frequency/ Core temp (after 30 min) | GPU frequency/ Core temp (Max Fans) |
| --- | --- | --- | --- |
| Lenovo ThinkPad T15g Gen 2 | 1362 MHz @ 78°C @ 103W | 1349 MHz @ 82°C @ 102W | – |
| MSI Vector GP66 (12Ux) | 1690 MHz @ 76°C @ 149W | 1671 MHz @ 81°C @ 149W | 1698 MHz @ 75°C @ 149W |
| Acer Predator Helios 500 (PH517-52) | 1737 MHz @ 69°C @ 155W | 1725 MHz @ 73°C @ 156W | 1768 MHz @ 63°C @ 154W |
| MSI GE76 Raider (2021) | 1719 MHz @ 82°C @ 159W | 1670 MHz @ 87°C @ 155W | 1715 MHz @ 84°C @ 161W |
| ASUS ROG Strix G17 G713 | 1523 MHz @ 81°C @ 129W | 1515 MHz @ 83°C @ 130W | – |
The GPU is brought down by the cooling as well, with the RTX 3080 inside being the weakest that we have tested, in terms of clock speeds. This means that it can't reach the 110W TGP that is available.

Gaming comfort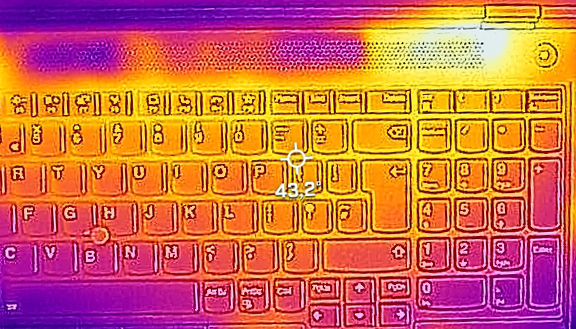 The outside temperature is pretty average, and shouldn't cause great discomfort. The fans are surprisingly quiet, despite the scorching CPU temps, which means that Lenovo could have used a more aggressive fan profile, which could have led to better performance.

All Lenovo ThinkPad T15g Gen 2 configurations: