KUGOO S1, S1 Pro and G-Booster electric scooters will change your lifestyle (starting from $319.99)
If you haven't heard of the scooter trend, you must be living on Mars. Although, soon someone might drive a scooter on Mars as well, let's focus on the Earth news. These devices are being super popular outside of China recently and there is a reason for that. First, the infrastructure of towns and cities all over the world is improving a lot – roads are becoming more suitable for bicycles and scooters, as there are more designated areas to ride the aforementioned – in a separate lane on the road, in parks and pretty much everywhere.
So what is wrong with the good ol' bicycle that drives people towards the scooters. Well, it's simple – the actual action. While it is super healthy for you to ride a bicycle, you can't pick it as an option if you have a meeting or something. Nobody wants to get sweaty there and this is inevitable when you are pedaling. This is the main reason people prefer scooters more and more lately.
However, as KUGOO shows us with their latest S1 S1 Pro and G-Booster devices, practicality is not everything. Take a look at the first of them – the KUGOO S1. It folds, so you can carry it easily, it can reach a maximum speed of 30 km/h via the 350W motor that drives the front wheel. Additionally, its battery lasts for 30 km of continuous riding. It weighs 11 kilos and can support up to 120 kg of load. You wonder, how can you break with this thing, if you're riding 30 km/h it's gonna be a disaster if something runs in front of you. Dual braking system – KUGOO lets you combine the throttle lever with the typical scooter rear brake. Additionally, the thing has an LED front light, break safety light on the back as well as a colorful dashboard. We almost forgot to mention that the scooter has IP54 water and dust resistance.
You can get the KUGOO S1 on Geekbuying for only $319.99 HERE.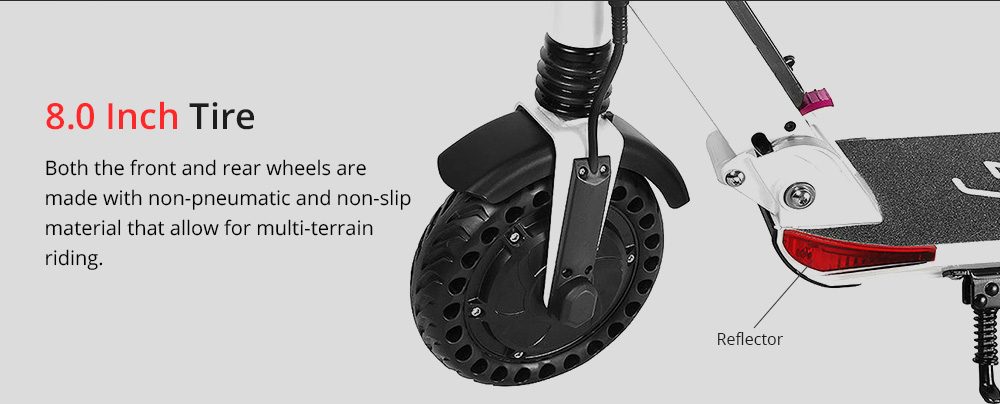 Next comes it's Pro brother. What does it offer more than the non-Pro version, though? Well, it has additional illumination on the sides of the handles, reflectors behind the front tire and yes, speaking of tires – it has a more durable one with deeper treads, more suitable for raining conditions. Another thing common for both scooters is the 4 hours charging time.
KUGOO S1 Pro will set you back some 40 bucks more – at $359.99 HERE.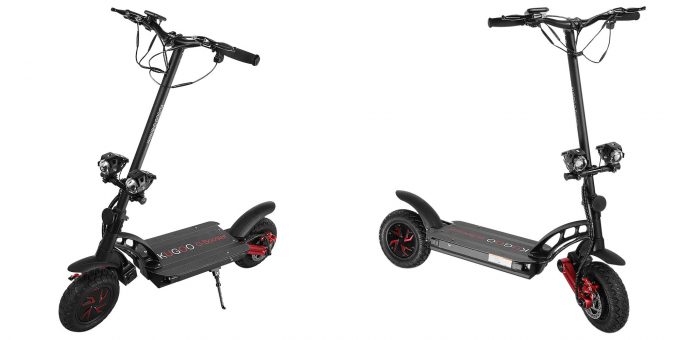 Last but not least, there is the flagship, the Goliath of the bunch – the KUGOO G-Boost. It is a whole different breed of a ride. Maximum speed jumps to 55 km/h, while the range goes all the way up to 85 km! That's not for amateurs. It has two 800W motors, uses 10-inch vulcanized tire, compared to the 8-inch rubber ones on the previous two and in order to break, there are a front and back disk brake. Additionally, it has two rather than one, headlamp and expectedly takes a lot more to charge – 10 hours as stated by the manufacturer.
KUGOO G-Boost is available at a price of $1099 at Geekbuying – HERE.
That's not all, though. If you buy one of the three scooters we've talked about (no matter which one) you are eligible of a $30 coupon for purchases in Geekbuying. Keep in mind you have to fill a Cashback form with details about your KUGOO scooter purchase. The coupon is valid for two weeks after you receive it and on products that have a value greater than $31.