Intel to announce its Kaby Lake-U next month and newly surfaced information supports these claims

A fresh leak from yesterday surfaced and revealed Intel's plans to launch its mobile Kaby Lake lineup, its branding and corresponding iGPUs with their EUs (Executable Units). However, from the screenshots we've noticed that there are some significant changes coming along with the new 7th Generation processors.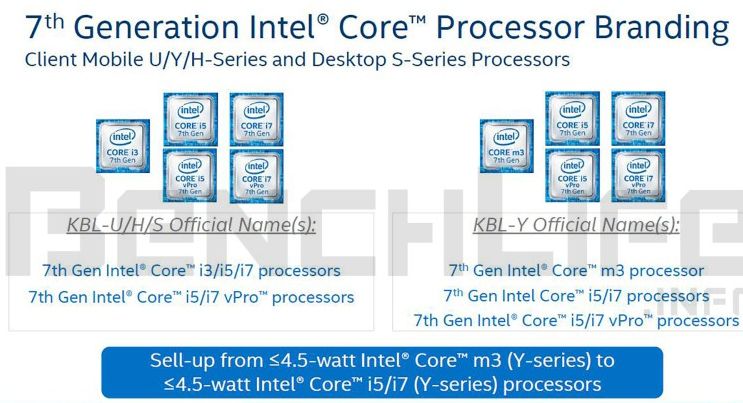 Firstly, the Y series chips were introduced with Broadwell two years back and Intel assigned the Core M chips as its representative but that's going to change with the new generation. The leak suggests that the Y series will also get extremely low-power Core i3, i5 and i7 processors, which were usually integrated into desktops and notebooks. This puts them into the same category as the Core M CPUs with a TDP of around 4.5W. We are quite eager to see how these will perform in 2-in-1 devices and fan-less ultrabooks. For now, we have only this as specifications:
Core M3-7Y30: 1 GHz – 2.6 GHz turbo boost and 300/900 MHz graphics
Core i5-7Y54: 1.2 GHz – 3.2 GHz turbo boost and 300/950 MHz graphics
Core i7-7Y75: 1.3 GHz – 3.6 GHz turbo boost and 300/1050 MHz graphics
Along with the Y series, the leak continues with some details regarding the U lineup or particularly the Core i3-7100U, Core i5-7200U and Core i7-7500U all of which receive a slight clock bumps:
Core i3-7100U: 2.4 GHz with 300/1000 MHz graphics (turbo boost N/A)
Core i5-7200U: 2.5 GHz – 3.1 GHz turbo boost and 300/1000 MHz graphics
Core i7-7500U: 2.7 GHz – 3.5 GHz turbo boost and 300/1050 MHz graphics
And finally, the inside info shows some details regarding the low-end Apollo Lake CPUs. The Apollo Lake-branded platform will be represented by Pentium and Celeron chips and will feature Intel HD Graphics 500 iGPUs based on Intel Core Skylake processors.

The last bit of information that's somehow logical but still interesting are the iGPU brandings suggesting new architecture. The Y series will receive Intel HD Graphics 515 while the U series will go with HD Graphics 620 – just like its predecessors. The executable units will again be 24 for both lineups.
All of this comes right after we received some inside information from our source that the company is planning to release its Core-U chips next month. However, with the recent leak, it's logical to assume that not only U chips will hit the market but also the low-end Apollo Lake and the newest Core-Y silicones as well. It turns out we will have to wait for the high-performance KBL-H and KBL-S desktop and mobile chips a little bit longer.
We are eager to test out the new Kaby Lake architecture so we are working on acquiring some testing samples.