Intel-related discounts at GearBest – Buy one, Get one for free + Intel coupon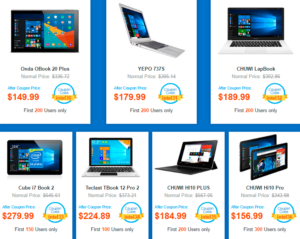 In the beginning of September we notified you as regards some pretty decent Intel-related promotions. But wait. Why are we talking about things which are now in the past? Well, it's because we have some good news for those of you who have missed the September promotion. From 09.11.2016 to 15.11.2016 you will be able to purchase tablets, laptops and other gadgets at a much more appealing price.
If you happen to show interest and want to find out more about prices, terms, availability, and so on, you can click HERE.
Now, let's take our time and look closely at some of the most notable offers out there.

Buy one, get one free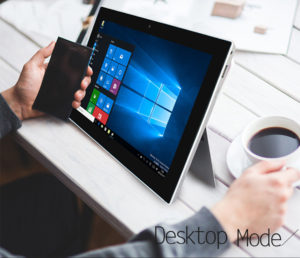 In this section of products with Intel chips you can find tablets that if you decide to purchase, you will receive keyboard docks for. And this is without you having to pay any additional amount of money. One of these offers is Jumper EZpad 5SE – a Windows 10 tablet with a quad-core Intel Cherry Trail Z8300 processor. The device has a 10.6-inch IPS display, 4 GB of RAM and 64 GB of internal memory (expandable via a microSD card slot). Of course, it is not the most powerful laptop you can find on the market but when one considers the price, there is not really much that one can complain about. After all, this bad boy is now offered for only $174.99 (discounted from $271.66). This, taken together with the free keyboard you can get these days, is more than an appealing deal.

Get your Intel coupon
Coupons are a good thing. They knock a few dollars more off the regular price which you could use to buy a useful accessory or something of this kind. If you think you can't get a 10-inch dual OS tablet with an IPS screen and a quad-core Intel chip for under $160, you are wrong – the Onda OBook 20 Plus is the way to go.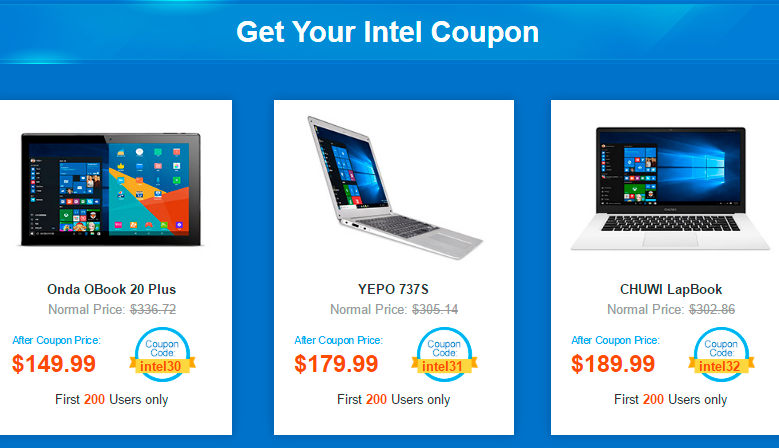 Of course, the promotion is not only about tablet devices. There are some laptops, too. You can have a look at the YEPO 737S – a $179.99 13.3-inch notebook with a Full HD IPS display, a quad-core Intel processor (it's an Intel promotion after all), 4 GB of RAM and a 64 GB of internal storage. Of course, you won't be able to play the latest and greatest games on this one but it still is a great solution for people on a tight budget who need a small and light laptop for their general tasks.

Other deals
Now, there are two other sections – "Cool tablets" and "TV Box". Among the representatives of the first category you can find some familiar names such as Teclast X98 Plus II. You may have read our article on this one. It is a budget 2-in-1 feature-rich device which is part of the autumn promotion. Among the most notable specifications of Teclast X98 Plus II are a 9.7-inch retina display (2048 x 1536 pixels), ultra-low-voltage Intel Cherry Trail Z8300 processor, Intel HD graphics Gen8 GPU, 4 GB of RAM, and a dual OS (Windows 10 + Android 5.1).
If you are interested in this budget hybrid device, you can check its specs, current price, and availability HERE.
As for the "TV Box" section, it presents you with set-top boxes and small media players. If you happen to show interest and want to find out more about prices, terms, availability, and so on, you can click HERE.
Gearbest is running a flash sale with great promotions – check it out here: GEARBEST Flash Sale