Intel Core i7-7500U (Kaby Lake) – benchmarks and specs

After we tested the Core i5-7200U CPU, it's time to take a closer look at what the Core i7-7500U has to offer in terms of performance and how it stacks against the previous two generations of CPUs. You are going to see this CPU pop up pretty often and mainly inside premium ultrabooks or mid-range everyday notebooks.
While the Core i7-7500U seems to be just a tad faster than the Core i5-7200U scoring just about 5-8% higher on benchmark tests, it sure does offer a plenty of performance increase compared to its predecessor. You can see in the table below that the Core i7-7500U is about 12% better in most tests and in NovaBench 3, the performance gap is a whopping 25%.
We assume the performance increase is mostly due to the big difference in clock rates. Also, digits are quite similar to the Core i5-6200 vs Core i5-7200U showdown where we found a maximum of 14% increase over the last generation. Here's a bit more about the Core i7-7500U CPU…

Intel Core i7-7500U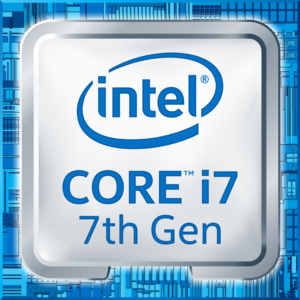 The Core i7-7500U is part of the latest Intel Kaby Lake generation of CPUs built upon 14nm manufacturing process – or 14nm+ as the company markets – and should offer marginal performance gains over the Skylake generation while improving overall power efficiency. It's a direct successor to the Core i7-6500U (Skylake) and Core i7-5500 (Broadwell) but opposed to previous architecture refreshes, the Kaby Lake Core i7-7500U is bringing much higher clock rates. Now the chip is clocked at 2.7 – 3.5 GHz (compared to the 2.5 – 3.1 GHz on the Skylake Core i7-6500U) and still adopting the 2/4 core/thread count using the HyperThreading technology with a maximum 4MB cache.
However, the Core i7-7500U's TDP is still rated at 15W including the iGPU and dual-channel memory controller that supports DDR4-2133, LPDDR3-1866 and DDR3L-1600. And as far as the iGPU is concerned, it integrates a slightly improved Intel HD Graphics 620 clocked at 300 – 1050 MHz, which is slightly higher than the iGPU on the Core i5-7200U (300 – 1000 MHz).
You can find some of hte available models with Core i7-7500U here: http://amzn.to/2gusGSy

Benchmarks
CPU/Benchmark
Cinebench 11.5 (Multi-core)
Cinebench 15 (Multi-core)
Novabench
Photoshop Speed test (CS6)
Fritz
Intel Core i7-6500U
3.54
304
416
17.68
6225
Intel Core i7-7500U
3.95 (

+12%

)
342 (

+13%

)
521 (

+25%

)
17.45 (

+1%

)
6946 (

+12%

)
Intel Core i5-7200U
3.66 (

-7%

)
326 (

-5%

)
484 (

-7%

)
17.66 (

-1%

)
6393 (

-8%

)