Intel Core i7-6700HQ – one of the top-shelf mobile Skylake CPUs gets benchmarked and added to our ranking table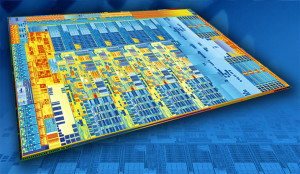 Another day another Skylake CPU is in our hands, but this time we've got the quad-core powerhouse – Core i7-6700HQ. This is a direct successor to the mainstream Haswell chip used in so many gaming notebooks – Core i7-4700HQ since Intel has decided to skip the Broadwell generation and jump directly on Skylake.
In contrary to the Broadwell – Skylake performance leap, we can expect a big difference between Skylake and Haswell. While the Core i7-4700HQ is clocked at 2.4-3.4 GHz, the new Core i7-6700HQ integrates 4 cores clocked at 2.6-3.5 GHz (for 1 core or 3.1 GHz for four or three active cores). That's even faster than the refreshed Core i7-4710HQ and par with the Core i7-4720HQ.
However, you can benefit from various features that the Skylake SoC offers and the Haswell generation doesn't. For example, the testing unit we currently have boasts a USB Type-C port and 8GB of DDR4 RAM ticking at 2133MHz. That came as a surprise because some leaks suggested that the first notebooks will ship with 1866MHz DDR4 RAM, but the best part is that the motherboard supports the so-called UniDIMM slot that can accommodate both standards – DDR3 and DDR4. So if your notebook comes with DDR3 RAM you can easily upgrade to DDR4 with a single swap. You can also check some of the CPUs specs in the CPU-Z screenshot below.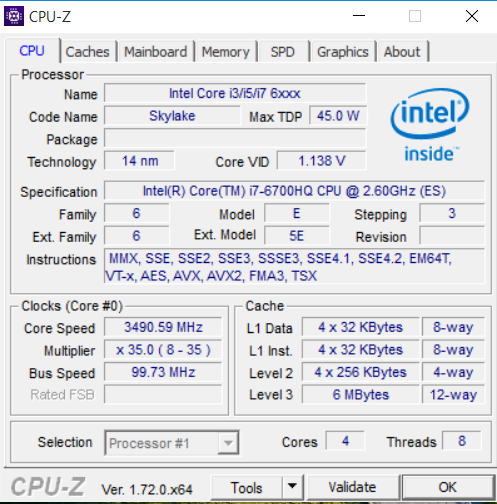 Also, here are some benchmarks indicating how the Core i7-6700HQ stacks up against other CPUs and its predecessors, but keep in mind that this is an engineering sample so results on the final unit will surely be better.
Check out our CPU ranking table to see which place the Core i7-6700HQ holds: http://laptopmedia.com/top-laptop-cpu-ranking/
Results are from our Photoshop benchmark test (the lower the score, the better)
Results are from the Fritz chess benchmark (the higher the score, the better)