Intel Core i3-1005G1 vs Pentium Silver N5000 – this Pentium CPU is 35% slower but still the smarter choice here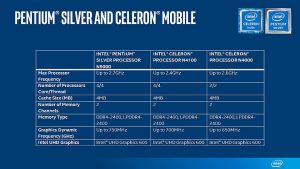 How many cores do we actually need for our usual daily tasks? Let's say that you are coming home after work, you play some YouTube musical videos, at the same time you're checking e-mails, and maybe you have opened Facebook, Twitter, Skype, etc. This is a typical daily situation and those tasks aren't heavy.
So, what is the minimum CPU power for a stutter-free daily experience – is a 2-core processor still enough or nowadays we need at least a 4-core CPU? Today Core i3-1005G1 and Pentium Silver N5000 are going to help us to find the right answer.
The first one is a modern 10th gen Ice Lake CPU with a 10nm tech process while the latter is a modest Gemini Lake processor. Maybe for a lot of people, the end of this battle is already clear because a Core i3 CPU is always faster than a Pentium. Maybe the Pentium Silver N5000 still has much to offer against its newer sibling?
Ice Lake vs Gemini Lake – let's check the graphs.

Quick Specs
As always, bulk prices – Intel is asking $281.00 for the Ice Lake processor and just $161.00 for the Pentium. That is a 75% price difference – $120 price premium for the 10th gen CPU.
Core i3-1005G1 has just 2 cores and 4 threads while Pentium Silver N5000 has 4 cores (no HT). Both CPUs have 4MB cache size each. The Ice Lake processor has an advantage with higher base and boost clocks (1.20 GHz – 3.40 GHz to 1.10 GHz – 2.70 GHz) and higher supported max memory frequencies –  DDR4-3200, LPDDR4-3733.
The i3-1005G1 has an Intel UHD G1 graphics with 32 CUs, that is faster than UHD 620. The Gemini Lake CPU has an Intel UHD Graphics 605 which is faster than (almost) nothing.
Detailed specs: Core i3-1005G1 / Pentium Silver N5000
This is our table for more clear specs comparison.
| | Intel Core i3-1005G1 | Intel Pentium Silver N5000 |
| --- | --- | --- |
| Cores / Threads | 2 / 4 | 4 / 4 |
| Base / Max frequency | 1.20 – 3.40 GHz | 1.10 – 2.70 GHz |
| Cache | 4 MB Intel Smart Cache | 4 MB Intel Smart Cache |
| TDP / up / down | 15W / – / 13W | 6W / – / – |
| Memory support | DDR4-3200, LPDDR4-3733 | DDR4/LPDDR4 |
CPU Benchmarks
Ok, the Ice Lake CPU is faster in 3D rendering (54%) and it has a 72% advantage in Photoshop despite the fact that it's just a 2-core CPU with HT.

Results are from the Cinebench 20 CPU test (the higher the score, the better)
Results are from our Photoshop benchmark test (the lower the score, the better)
GPU Benchmarks
Whoa, this UHD 605 is a really slow iGPU – a 252% worse score than UHD G1.

The final
The Core i3-1005G1 is the stronger package in this comparison – it has a decent processing power and much better iGPU than the Pentium one. This Ice Lake CPU will handle every usual daily task with ease if you have at least 8GB RAM – 20 browser tabs opened and some background processes are no joke these days (in terms of RAM). The Intel UHD G1 is a decent iGPU and you can have fun with some popular and light games such as DOTA 2. This CPU dissipates a small amount of heat and it can be fitted in some really small and thin machines.
The Pentium Silver N5000 has one advantage and that is its price – it cost $120 less than its Ice Lake contender. The CPU has a higher core count – you have 4 physical cores while the 10th gen processor has 2 physical and 2 logical cores. No matter what, the performance of this Pentium processor is enough for casual tasks. This CPU, despite its age, isn't power-hungry because it has just 6W TDP. Unfortunately, the iGPU is its biggest (and maybe the only) con – the UHD 605 is good enough for HD videos (up to 4K), games are a no go for this one.
Still, money is money and if you don't care about the iGPU performance and your budget is tight the Pentium Silver N5000 seems like a logical choice because it costs a lot less than i3-1005G1. The performance of the Gemini Lake processor is still enough for unpretentious users that doesn't use their laptops for heavy tasks like video edition or data compression.
The biggest drawback of the i3-1005G1 is its price – it's too much for a CPU with just 2 cores. From our previous comparisons, we know that the i5-1035G4 is a bit more expensive and much faster. As a verdict, we will say that the Pentium Silver N5000 is a good entry-level CPU and it's fast enough for most users that will use it for casual and light tasks. If you need more power, the Core i3-1005G1 is too expensive for its performance – the i5-1035G4 (or i5-1035G1) is a much better buy than it.

All laptops with Intel Core i3-1005G1:
All laptops with Intel Pentium Silver N5000: