Inside Toshiba Satellite Radius 12 – disassembly, internal photos and upgrade options
The ultra-slim portable 12-inch convertible from Toshiba has some neat build quality, but it's quite hard to disassemble and not as tricky at the same time. Here's what we found inside. If you are interested in the model, we suggest you read our first impression piece and also visit Amazon.com for prices, configurations and availability.
1. Removing the bottom cover
This one is a bit tricky. First you need to unscrew all the bolts at the bottom.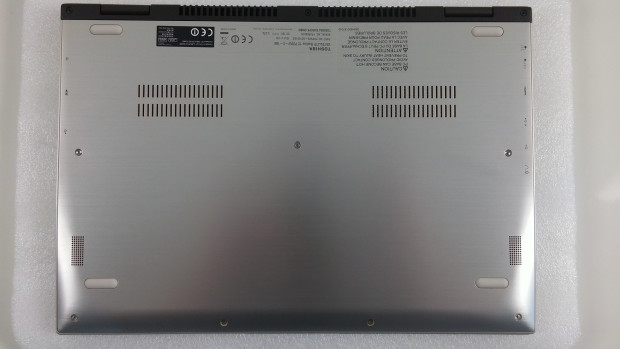 Then, on the contrary of what you think you should do, don't try prying up the bottom piece. You will need to crack open the keyboard tray, but we suggest you start with the back side of the machine – where the plastic element meets the metal piece. Pop out the back side near the main vents and proceed with the rest of the clips.
2. What we found inside
After you've popped out the keyboard tray, remove the bottom cover and proceed with the cleaning/upgrading but we suggest disconnecting the battery first.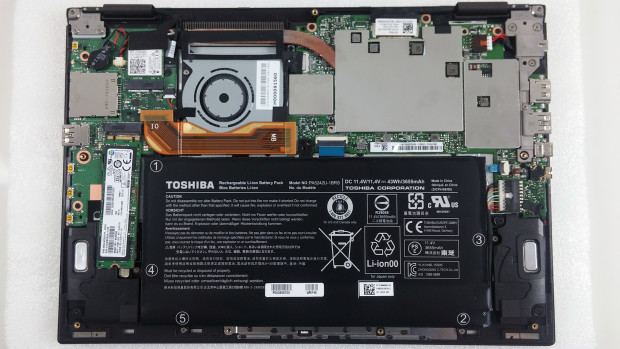 Anyway, we found an OEM version of the standard Samsung M.2 2280 SSD with B&M key inserted in a B-edge key connector, soldered LPDDR3 8GB RAM modules, of course, and a 3655 mAh Toshiba battery rated at 43Wh. We don't want to jump into any conclusions, but the battery seems a bit small to support a 4K UHD touch screen. We will know for sure in our full review.

Visit Amazon.com for more information about price and availability.