Inside Lenovo Yoga 710 (11-inch) – disassembly, internal photos and upgrade guide
We showed you the new Yoga 510/710 notebooks at MWC 2016 in Barcelona, and perhaps you've already read our first impressions of the smaller one – the 11-inch Yoga 710. Now it's time to take a look under the hood and see what Lenovo has managed to cram inside the little machine. We remind you that the new Yoga is equipped with a Full HD IPS panel, Intel Skylake processor, 8GBs of RAM and 256GB SSD storage. All of that is accompanied by a 40Wh battery, which lasts up to 8 hours on a single charge, according to Lenovo. How did the Chinese manufacturer squeeze that into a 1024g / 14.9mm chassis?
You can check the availability of Lenovo Yoga 710 and its price here: http://amzn.to/1L74D6e

1. Removing the bottom
We don't expect many upgrade options from the Yoga 710, but it looks like it can be easily opened, so we'll naturally take a look inside. You just have to remove 11 Torx screws and, with the help of a random plastic tool at your disposal, pry up the bottom.

2. Get access to everything you may need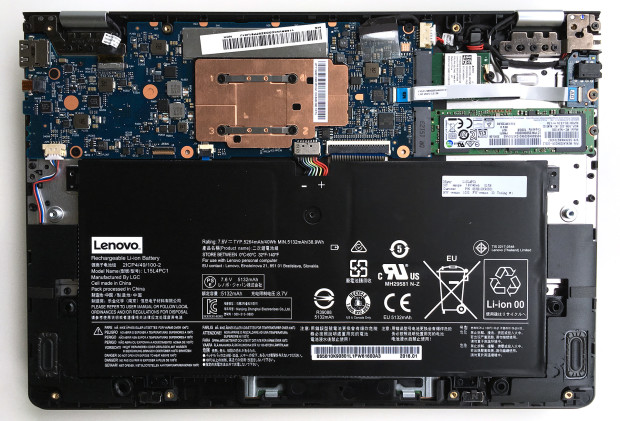 Now you can reach everything you might need, but this doesn't mean that you can upgrade it. You can replace the battery or change the Wi-Fi module and the SSD storage. Unfortunately, the latter isn't PCIe but SATA, so we don't expect great transfer speeds.
The battery takes most of the space on the inside and as we said in our first impressions article, there aren't any fans – the Intel Core M processor doesn't require active cooling. It has a TDP of 4.5W so the cooling system can do its work without moving parts, which makes the Yoga 710 more reliable for work on the go.
Here are the main components we found in our Lenovo Yoga 710 unit:
Storage: 128GB Samsung M.2 SSD MZ-NLN1280 (SATA)
Battery: 40 Wh / 5264 mAh LGC L15L4PC1
Wi-Fi: Realtek RTL8821AE 1x1AC + BT4.0
Specs sheet