Inside Lenovo Yoga 3 (14-inch) – disassembly, internal photos and upgrade options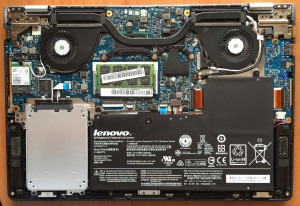 The latest generation of Lenovo Yoga is already on the market and you can find the non-Pro models in 11 and 14-inch variants. For our review and tests, we chose the latter, which is aimed at the people who want maximum portability but without sacrificing the screen diagonal. Actually, the thin-and-light notebook's display is 14.6-inch (35.56 cm) that gives you a plenty of workspace, especially given the fact that we're talking about 1.36 kg / 17.8 mm (3.5 lbs / 0.7") machine.
But is that body big enough to take the important components you'll need? How easy is the maintenance? Can you upgrade it? That's what we're going to check in this article, giving you the steps you have to go through, in order to get full access to your new laptop.
We're working on an in-depth review too, so you can rest assured that we'll give you all the information you might need to know about the new Lenovo Yoga 3.
Update: Here is the full review:
http://laptopmedia.com/review/lenovo-yoga-3-14-inch-review-a-powerful-convertible-that-you-can-actually-afford/

Video
Removing the bottom cover

First, you have to remove 11 Torx screws and pry up the bottom cover.

2.5" SSD drive, WLAN, RAM, Fans, Battery
That will give you access to all of the main components, including the battery, 2.5" SSD drive, WLAN, heat sinks and the cooling fans. The RAM memory slot is only one, but the good news is that it isn't soldered into the motherboard, so if you've got the 4GB configuration, you can easily upgrade it.
If you're planning to take out components or do an upgrade, be sure that you've disconnected the battery first (Photo 1).
The battery is SIMPLO "Haydn" 2S2P (7.4V / 45Wh)
The Wi-Fi card is Intel Dual-Band Wireless AC 3160 (3160NGW)
The RAM memory is 2rx8 Micron Technology (MT16KTF1G64HZ-1G6E1, PC3L-12800S-11-11-FP)
The SSD drive is Lite-On LDS-2569LS (256GB, SATA 6.0 Gbps)
You have to remove the battery if you want to access the touchpad.
The size of the SSD drive is 5 mm x 70 mm x 100 mm.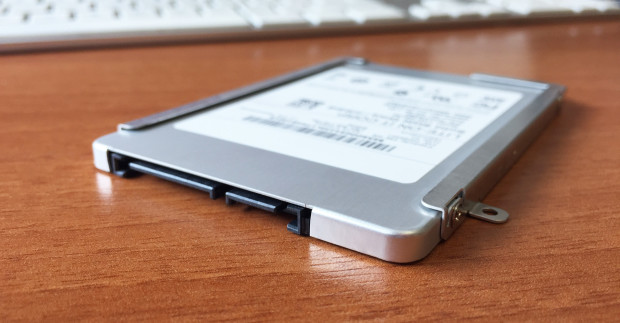 Unfortunately, there isn't an M.2 slot for an additional storage drive.