Inside HP Pavilion 15 (2016) – disassembly, internal photos and upgrade options
We already had the chance to teardown the 17-inch HP Pavilion and we are glad to see that it's just as easy to disassemble because usually, HP notebooks are kind of hard to maintain. Except for their strictly business lineups, though. Here's how you can access the most commonly upgradeable parts of your new Pavilion 15.
You can find more about pricing and information here: http://amzn.to/29DWl3J
1. Removing the bottom cover
It's done fairly easy and on contrary to the 17-inch variant, the 15-inch Pavilion doesn't have a user-replaceable battery so it requires only a few screws to be removed. Be careful when putting them back together, though, as some of them are a different size. After the bottom is loose, proceed to pry it up.
2. Storage options
The new Pavilion 15 offers not only the standard 2.5-inch drive slot but you can also fit in an M.2 SSD stick as well. We are not sure if the M.2 slot is present in other entry-level configurations, though, as this one falls into the "gaming" category due to the powerful CPU and GPU on board.
Anyway, our unit came with a 2.5-inch Seagate 1TB HDD.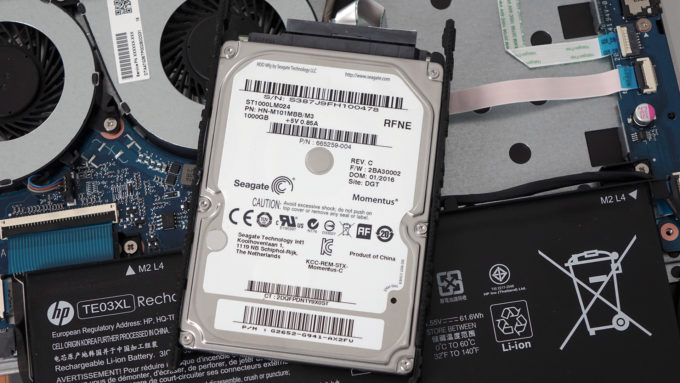 The M.2 slot is located near the battery and supports 2280 sticks with B-edge key or B&M connectors. We've also tried if the motherboard can recognize an NVMe drive but no luck. Lately, we've been testing some affordable machines with PCIe NVMe support (Lenovo Ideapad 700) so it was worth the try.
UPDATE: Apparently, the HP Pavilion 15 supports PCIe NVMe SSDs but our pre-production unit does not. On HP's official website, the notebook can be ordered with either M.2 SATA SSD or an M.2 PCIe NVMe SSD. Unfortunately, the 17-inch option is still a no go if you are looking for NVMe-enabled machine.
3. Battery, RAM and Wi-Fi module
The battery is rather big with 61.6Wh (5150 mAh) capacity located at the bottom right corner, or bottom left if you are looking at the keyboard tray from above.
The motherboard holds two RAM slots supporting DDR4-2133 chips. Our unit came with just one 4GB Samsung chip leaving the other one free for upgrade. The usual configs, however, will feature at least 8GB of RAM.
The Wi-Fi module is placed away from the rest of the hardware – near the left edge of the motherboard. It doesn't say the branding, except that it's an engineering sample, but it's probably an Intel Wireless Dual-Band AC module.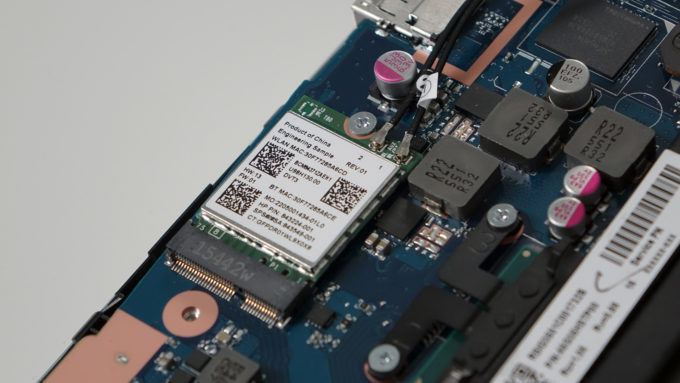 4. Cooling system
We will let you in on a little secret here. We are done with the temperature stress tests and the notebook came out perfectly fine but we would gladly see it in action with a Core i7-6700HQ CPU and GTX 960M GPU. It's unclear whether the current thermal design with two heat pipes sharing the heat and two adjacent fans will do enough to keep it cool. We've seen some similar cooling solutions that don't right cut it. It's important to note, though, that more powerful configurations that feature GTX 950M and GTX 960M GPUs come without an optical drive in order to make enough breathing room for the hardware.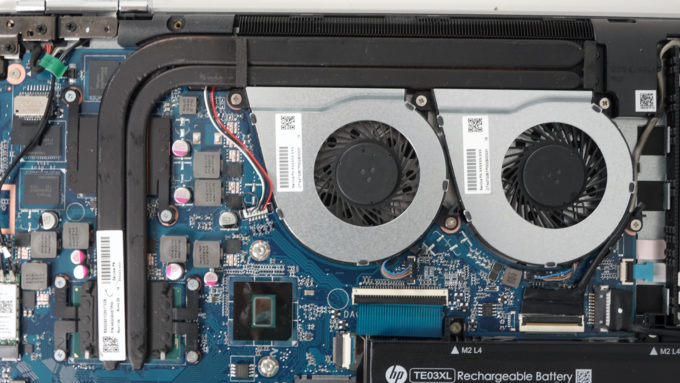 You can find more about pricing and information here: http://amzn.to/29DWl3J