Inside Dell Latitude E5570 – disassembly, internal photos and upgrade options
The next one to visit our white disassembly table is the Dell Latitude E5570. Pretty easy to service high-end business laptop that offers plenty of upgrade options, although some models are limited to only one M.2 SSD without any room for the HDD. Here's what we also found inside…
You can find some of the available configurations here: http://amzn.to/2ayMpt0
1. Removing the bottom
It's pretty easy to remove the bottom lid. You just need to unscrew all the bolts holding at and then pry it up. We can easily say that the bottom serves as a huge maintenance lid.
2. Storage options – M.2, 2.5-inch HDD
The unit we got for a review has a 62Wh battery pack, which means that our configuration features only one M.2 SSD stick. The battery is bigger and obstructs the insertion of a standard 2.5-inch drive and as you can see from the photos below, the latter is missing along with the HDD SATA III cable.
However, configurations with smaller batteries can house both storage devices. It just depends on what you need more – storage or battery life. Anyway, the M.2 stick we found inside was a Samsung PM871 SATA M.2 SSD in a 2280 form factor and 256GB capacity. The manufacturer doesn't say if the M.2 slot supports PCIe NVMe-enabled devices.
UPDATE: Users suggest that the NVMe standard is supported by the motherboard. If you have trouble with getting your PCIe NVMe drive to work, we suggest reading Dell's post for more information.
3. Battery, Wi-Fi card, 4G LTE module and RAM chips
As we already said, the battery inside our Latitude E5570 is rated at 62Wh (8260 mAh) and can be easily detached by removing the screws around it.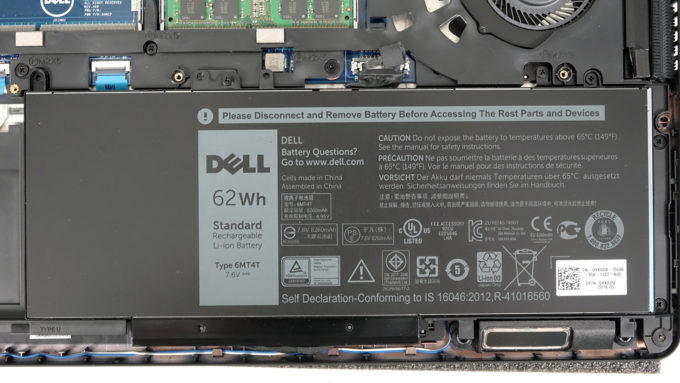 The Wi-Fi module is located near the upper left corner – when the notebook is turned around – and it's manufactured by Intel with model number 8260NGW.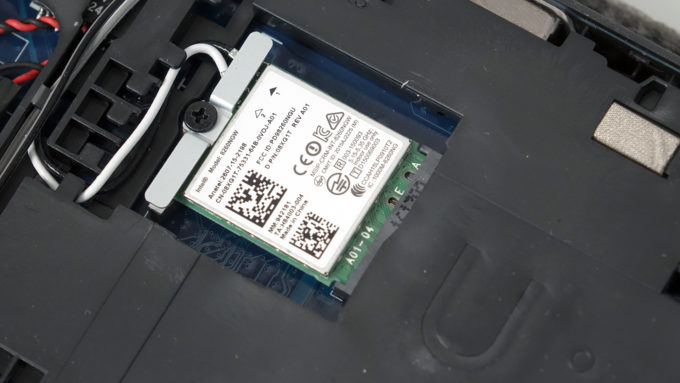 When ordering the notebook, you can add in a 4G LTE module for fast Internet connection on the go. However, our unit doesn't have this option and as you can see, the slot is empty.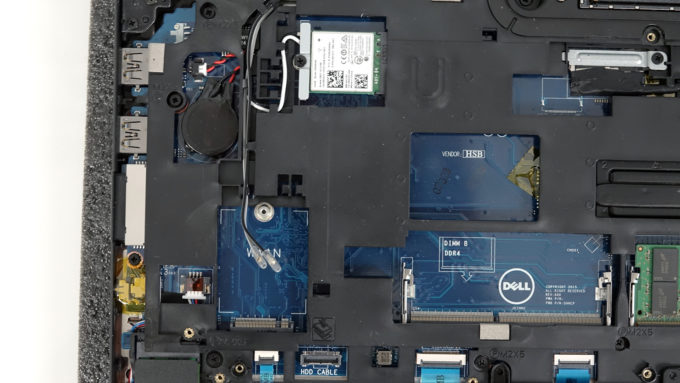 The laptop supports two RAM chip slots housing DDR4-2133 sticks. The reviewed unit came with an 8GB Micron MTA16ATF1G64HZ-2G1 chip while leaving the second slot free.
4. Cooling system
There isn't much to talk about the cooling system as it supports only one CPU using a standard heat pipe connected to the heat sink near the fan, which is located on the side of the machine. It pushes the hot air on the left side via a vent opening. We doubt that it will have trouble taking care of the Core i5-6300U chip inside but it will be interesting to see if the system can support configurations with discrete GPUs.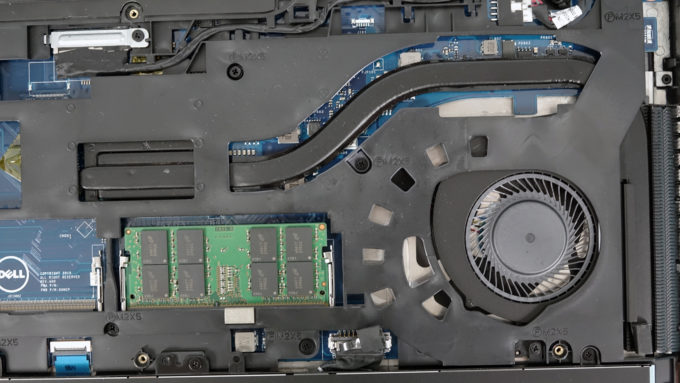 You can find some of the available configurations here: http://amzn.to/2ayMpt0