Inside Dell Inspiron 15 5555 – disassembly, internal photos and upgrade options
An AMD-powered laptop from Dell just landed in our office and we are preparing a full review of the model. It's kind of familiar as we already did a review on a machine that looks just like this one but in a 17-inch form factor. The disassembly steps are also pretty similar and it's quite a hassle to do a full teardown. However, simple upgrade of the RAM and HDD can be performed using only the service lid.
You can browse through the available configurations at the following link: http://amzn.to/1Qw6CgK
1. Removing the service cover
Only two screws hold the maintenance lid and it's quite easy to lift it up. You just need to pry it up.
In our case, the lid uncovered a 500GB Samsung Spinpoint 2.5-inch HDD working at 5400 rpm. Close to the HDD we also found two RAM slots, both of which were taken by 4GB SK hynix DDR3L-1600 chips. There's also the Wi-Fi module – Qualcomm Atheros QCNFA335 so if you ever need to change that. If you need to perform a full disassembly for whatever reason, continue reading.
2. Removing the keyboard
So we suggest you start off with the keyboard. It's fairly easy to remove and you will need a plastic tool or a credit card to pry it up. We suggest starting with the top right or top left corner as shown on the photos below. Then make sure you've disconnected all the cables and removed all the screws that hold the motherboard.

3. Full disassembly
After you're done with the keyboard, flip the laptop and unscrew all the bolts around the chassis. There are a couple of screws under the service lid and three under the battery. Speaking of which, it's rated at 40Wh and it's user-accessible. You can remove it by releasing the switch located next to the battery.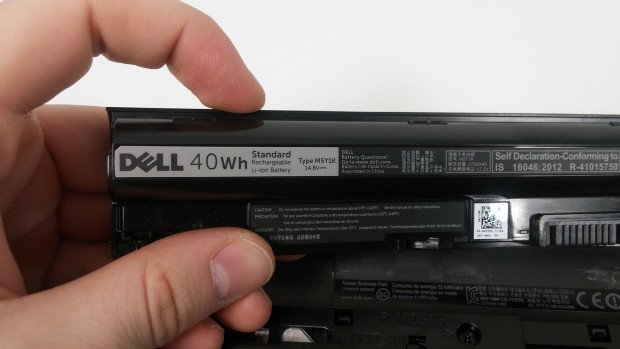 The next step is to remove the optical drive, which can be replaced with a 2.5-inch bracket for extra HDD, for example, since the laptop doesn't offer an M.2 SSD slot. There are three bolts hiding under the optical drive as well. Make sure you've removed them too.
The final step is to detach the whole bottom and you will see the motherboard and the cooling fan. At first glance, the cooling design doesn't seem sufficient to support the CPU and the discrete GPU, but we can't be really sure for now until we've run our tests. Stay tuned for our full review.

You can browse through the available configurations at the following link: http://amzn.to/1Qw6CgK