Inside ASUS ROG Strix GL553VE – disassembly, internal photos and upgrade options
Unlike the previous models from this lineup, the GL553VE doesn't have a dedicated service cover for your commonly upgradeable hardware. However, the disassembly is fairly easy but tricky if you don't know what you're doing.
You can find some of the available configurations here: http://amzn.to/2mcOXH4
1. Removing the backplate
First, make sure you've removed all the screws around the edges and then gently pry up the silicone cap in the middle of the plate. Under it, you will find another screw that you need to remove before prying up the whole backplate. You can see how it looks in the photos below.
2. Storage
It has become a standard for laptops at this price range to feature an M.2 SSD slot beside the standard 2.5-inch drive. In our case, the 2.5-inch HDD is manufactured by HGST with 1TB capacity and spinning at 7200 rpm. As for the M.2 SSD slot, it supports PCIe NVMe-enabled drives in 2280 size. Our unit, however, came with a standard M.2 SATA SSD, which is kind of disappointing because of the relatively high price of the machine. Anyway, the chip is manufactured by SK Hynix and it offers 256GB capacity.
3. RAM, Wi-Fi module and battery
The RAM chip slots hide under a black tape, which aids in dispersing the heat more easily. They are right next to the M.2 SSD slot and our unit came with a 16GB SK Hynix DDR4-2400 chip installed leaving the other slot free for an upgrade.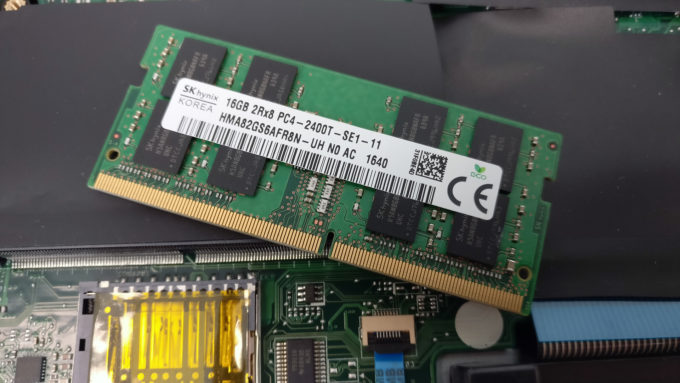 The Wi-Fi card can be found right next to the optical drive and it's Intel 7265NGW.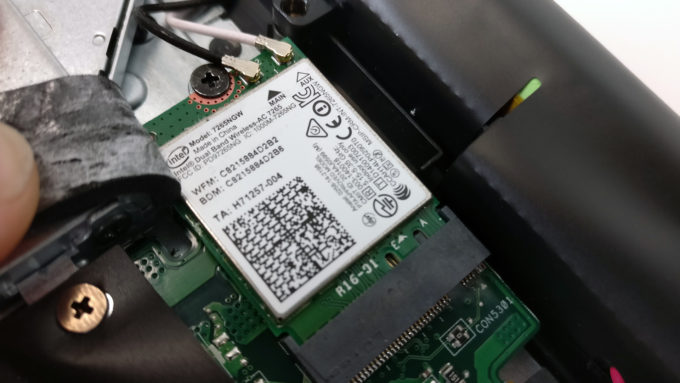 The battery is located in the upper part of the chassis right between the screen hinges. It's rated at 48Wh.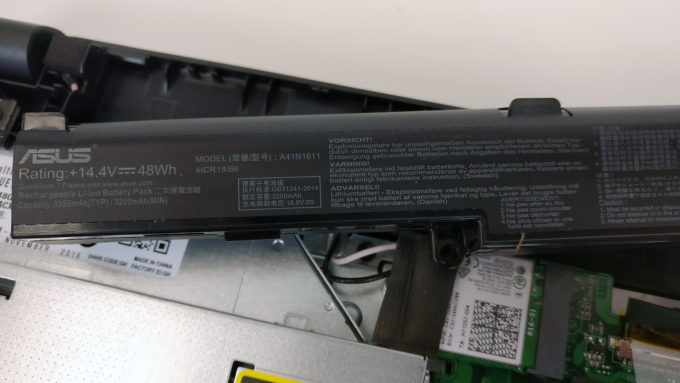 4. Cooling system
The cooling system's design remains practically the same for over three or four generations of N and G-series ASUS laptops. Two heat pipes connecting the CPU and GPU heatsinks and then leading to a big cooling fan. While the cooling design has worked before, we've now noticed a slight CPU throttling under heavy load so keep this in mind when considering the longevity of the system.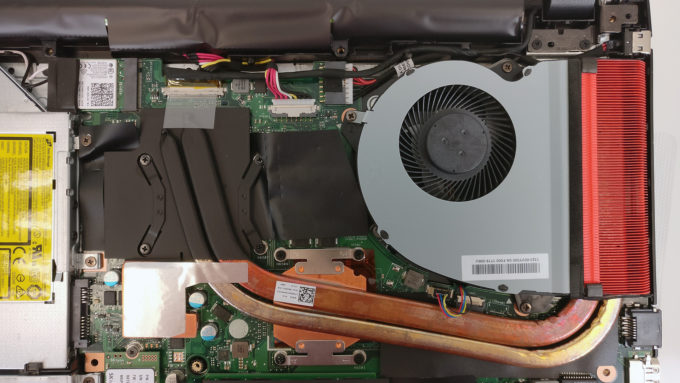 You can find some of the available configurations here: http://amzn.to/2mcOXH4