Inside ASUS ROG G501 – disassembly, internal photos and upgrade options

Maybe you've already read our detailed review of the new "Republic of Gamers" series G501, which in our opinion redefines the nature of gaming laptops thanks to its ultra-thin (20.6 mm) design, combined with high-performance components like Intel Core i7-4720HQ and NVIDIA GeForce GTX 960M. But how does it manage to cool these high-consumption components?
To find out, we're going to tear apart the machine and we'll show you the process, but before that, take a look at our "inside" video below.
Actually, disassembling G501 is pretty easy and you should start by…

Removing the back panel
To do this, you have to remove 10 Torx and 2 Philips screws. The latter are hidden under the upper rubber bumpers, which are glued to the bottom panel.
Now you can carefully remove the panel – don't apply too much force because the aluminum isn't very thick and if you need to, you can use some kind of pry tool (or credit card, for example).

HDD, M.2 SSD, Battery, Fans
Removing the panel gets you to everything you might need and the servicing is easy – the 2.5-inch SATA III slot, battery, Wi-Fi card, cooling system and even an M.2 slot for additional PCIe SSD.
G501 features a "Hyper Cool" cooling system with two independent fans and copper heat sinks for more efficient thermal management. Here you can read how it manages continuous 100% CPU + 100% GPU load.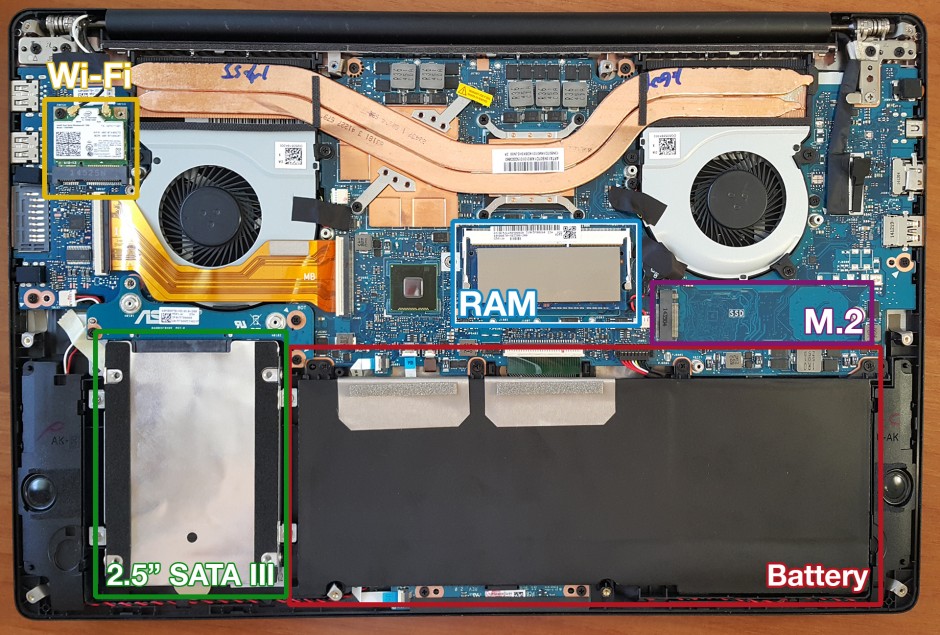 The battery is C14N1416 (60 Wh / 3800 mAh, 15.2 V)
The M.2 slot (in our case it's not populated) is 2280-sized, PCIe 2.0 x4 with B&M key.
The Wi-Fi card is Intel Dual-Band Wireless-AC 7260 HMW
If you're going to remove the motherboard or do any manipulation, be sure to disconnect the battery so you don't accidentally turn on the system. It's not a bad idea to remove the whole battery first (it's held by 4 Philips screws), because its connector is pretty tight and could make a contact even when it's unplugged.

Don't forget to read our in-depth review of ASUS ROG G501:
http://laptopmedia.com/review/asus-rog-g501-review-the-new-standard-for-next-generation-gaming-laptops