Inside Acer Aspire E15 (E5-573) – disassembly, internal photos and upgrade options
We already did a full review of the model and if you still haven't read it, follow this link. The only missing part of the puzzle, however, is the disassembly guide, so here we are. We can't expect much from the notebook as it falls into the budget class, but let's see what it has to offer.
You can always check the available configurations and their prices here: http://amzn.to/1P1DHW4
Removing the bottom cover
It's not that big of a deal, but you have to make sure that you've removed the optical drive before doing a full disassembly as three screws are hiding under it.
After you've unscrewed all the bolts you can proceed with removing the lid, but be careful with the small cable attached to the motherboard. You can see it on the image below.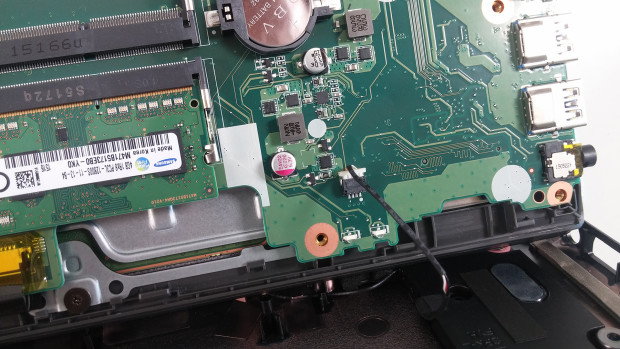 Upgrade options
it's rather unfortunate that you have to remove the whole cover in order to gain access to the RAM, HDD, battery etc. Anyway, you can see that one of the RAM slots is empty while the other one has a 4GB Samsung RAM chip. The HDD in our case is made by Western Digital with 1TB capacity and, of course, there's no M.2 SSD slot or any other form factor for that matter. However, you can always swap the optical drive for another 2.5-inch storage device.
Also, the battery used inside is with model number AL15A32 rated at 2500 mAh (37Wh) if you ever need to replace it.