HP updates its portfolio with tons of new ultra-portable notebooks and everyday solutions (Envy, EliteBook, Spectre, Pavilion, Omen)

Along with the new ultra-thin HP Spectre, the company dropped several new notebooks updating its mainstream lineup along with its premium portfolio with portable and versatile machines. Almost all notebooks like the Envy, EliteBook and Spectre have a flexible, convertible counterpart with rotatable hinge design but the most important thing here is that they are all super-thin and light with solid design and construction.
But HP didn't focus only on its premium products as the company announced an updated version of the gaming HP Omen notebook with an interesting selection of hardware but "downgraded" chassis as the representative told us. We will get back to that later. Also, the Pavilion family received a minor upgrade with new color options, roughly the same chassis but more hardware options expanding from lower-mid-range to upper-mid-range configurations including NVIDIA GeForce GTX 960M. It's going to be interesting to see if he new chassis, and supposedly new cooling system, can handle the extra heat from the powerful GPU.
EliteBook Folio G1
Okay, this one stole the show for sure, despite the presence of the new Spectre model. Well, at least in our opinion. It's believed to be the thinnest and lightest notebook in its class as a business notebook with 12.44 mm thickness and weighs less than 1 kg. The chassis, which is all-aluminum with diamond-cut edges, packs a mobile SoC – Core m5 and m7 CPUs with up to 8GB of RAM and 128GB M.2 SATA SSD. The screen is 12.5-inch with Ultra HD option but the standard is Full HD (1920×1080) with touch and non-touch variants. The screen can bend only to 180 degrees. Connectivity options are limited to only two USB-C ports, both of which support the Thunderbolt standard. Also, despite the fragile looks of the device, HP claims it has been tested for military-grade standards and can survive mine drops, shocks, dust and water splashes.
The notebook seems like a great hit for HP and will compete against Lenovo's Yoga 900S, although HP's solution drags behind with the SATA SSD standard while Yoga 900S boast NVMe support. On the other hand, the EliteBook Folio G1 has so much better touchpad and keyboard design, usability and ergonomics. In fact, we found it much better than the new Spectre from the OEM.
It starts shipping soon with a starting price of $999. You can check when it becomes available for purchase here: http://amzn.to/1Sp6yX5
Spectre x2
This one is out of the ordinary. It's a tablet with detachable keyboard and a stylus. The tablet itself has a kickstand to support the device in tablet mode but we were more impressed by the docking station itself. It's by far the best keyboard and touchpad we've used on a docking station. Of course, aluminum is again the main material used in the making and again the body packs a Core m7 or Core m3 processor with up to 8GB of RAM and 256GB… mSATA SSD. Yes, you read that right, 2016 model packs an mSATA storage. It might have been due to design limitations but we can't be exactly sure. It also has a fingerprint scanner placed at the back of the tablet in a very convenient spot to be honest.
Also, the tablet packs an unusual 1920 x 1280 resolution in a 12-inch diagonal and a big battery to support the whole hardware – 42Wh. Surfing on the go is possible as well as the device supports 4G LTE connectivity (only for Verizon LTE network, though) and offers two USB-C ports supporting 3.0 standard. And if you aren't still ready to switch to USB-C standard, you can use the provided USB Type-C to USB 3.0 adapter in the package. The whole package weighs 1.21 kg while the tablet is just 834 g.
The device starts at $799 and will be available soon. You can check when it becomes available for purchase here: http://amzn.to/1Vd1eq5
Spectre x360
Yep, the Spectre gets the x360 as well with a 360-degree rotatable hinge, which strongly resembles the one on lower-end Yoga devices. Aluminum is again an order of the day but this time housing Core i5 and Core i7 processors in 15-inch and 13-inch form factor. While the 13-inch variant is offered in Full HD and Quad HD options, the 15-incher goes from the standard Full HD up to Ultra HD with up to 512GB SSD, 16GB of RAM and a big 64.5 Wh battery to keep the show running.
We were able to test out the 13-inch model and we can say it feels pretty sturdy, the keyboard feels nice and the touchpad follows the usual design HP likes to use – wide and narrow. The 13-inch convertible weighs around 1.48 kg and it's just 16 mm thin. It's compact, portable and it has a good starting price at $899.
You can check when it becomes available for purchase here: http://amzn.to/1Vd1hSR
Envy
The new Envy sports a slightly different design with two screen options to choose from – either QHD+ (3200×1800) or Full HD (1920×1080) but interestingly enough, the notebook will start shipping with OLED display in the near future sharing the same panel from Samsung with the upcoming updated version of Alienware 13 and Lenovo ThinkPad X1 Yoga.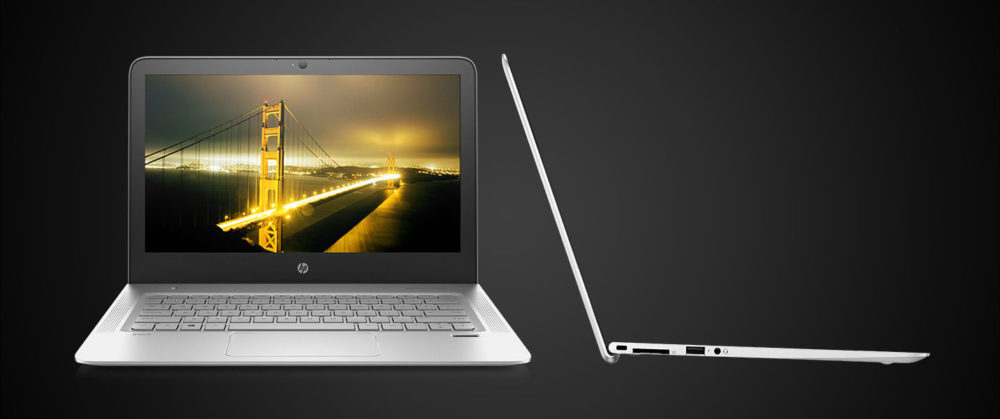 The envy also comes with Core i5 and Core i7 processors, up to 16GB of RAM and SSD options ranging from 128GB to 512GB. As a 13-incher with full-sized ports, the notebook offers 3x USB 3.0 ports and one HDMI packed in a little less than 13 mm thin chassis. The weight is also impressive – 1.36 kg so the new Envy is as portable as the other aforementioned devices from HP.
You can check when it becomes available here and also the notebook will start shipping in x360 variant as well if you still need the extra power and versatility.
Pavilion 15 (x360) and Omen
Despite the not so overhauled appearance of the Pavilion 15, the notebook will start shipping soon with tons of color options and most importantly – good range of hardware configurations. We were tipped that the new Pavilion 15 will be available with up to GTX 960M graphics card so we suspect that the company has reworked the cooling system in order to adapt to the extra heat. NVIDIA GeForce GTX 950M options will be available as well. Other than that, the keyboard and touchpad feel roughly the same as before but the OEM will be offering an x360 variant too so it's going to be a mainstream convertible.\
The notebook isn't out yet, but here's where to check its availability: http://amzn.to/1SUxBDP
And the last thing we would like to talk about is the Omen. It's no secret that the company wasn't able to push its Omen laptop and compete against other much cheaper, yet just as capable gaming options like the Acer Aspire V15 Nitro Black Edition, ASUS ROG GL552/G552, and Lenovo's Y700 so HP came out with a solution – downgrade the chassis and upgrade the hardware in order to reach similar price/performance ratio. We don't have any specific info on the hardware but we suspect the notebook comes with the Core i7-6700HQ and NVIDIA GeForce GTX 960M. Moreover, the interior resembles carbon-like finish, but it's actually soft-touch matte plastic – very similar to the one we saw on HP's Pavilion 15 Gaming Notebook. According to the representative we talked to, the notebook will still cost a little over its competitors in this class with around $1300 starting price but what's interesting here is that the OEM will be offering configurations with GTX 965M as well.
HP's new Omen isn't out again either, but regularly check here when it becomes available: http://amzn.to/20PEqwa