HP ProBook 455 G8 – Top 5 Pros and Cons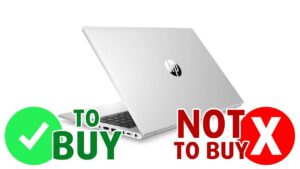 HP's hidden gem is the ProBook series, which is more affordable than the EliteBook series but is a big upgrade over the 200-series, which offers the barebones stuff that a laptop needs to work, and goes as far as to include TN screens.
In our review of the ProBook 450 G8, we were delightfully surprised by the good build quality and the wide variety of hardware options. As you can see from the title, today we are covering the ProBook 455 G8, which brings much of the same sauce, while swapping the Tiger Lake U-series CPUs for Ryzen 5000U SKUs.
Today we are presenting you with LaptopMedia's top 5 picks about the HP ProBook 455 G8.
HP ProBook 455 G8: Full Specs / In-depth Review
4 reasons to BUY the HP ProBook 455 G8
1. Design and build quality
The whole laptop is made out of aluminum, which puts HP ahead of other competitors when it comes to the build quality. The laptop feels very solid to use, despite the thin and light body. For a 15-inch device, it weighs only 1.74 kg and has a profile of 19.8 mm. The design itself is great, with sharp edges, rounded corners, and minimal branding, with a debossed HP logo in the center of the lid.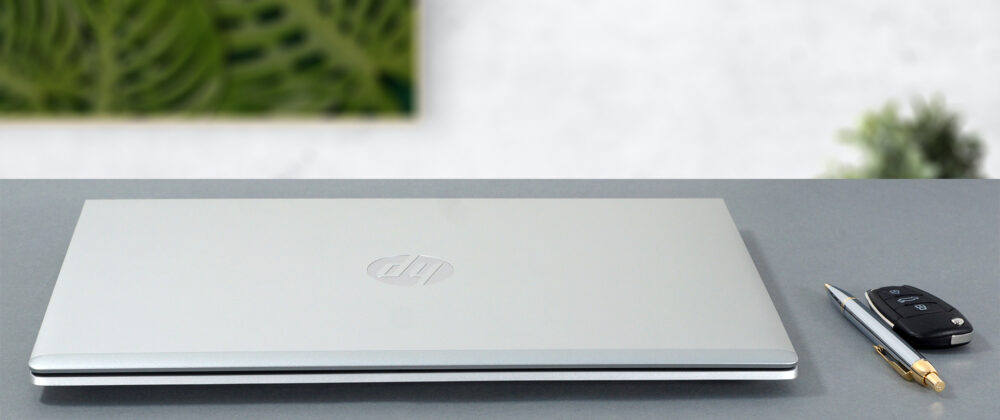 The lid opens with one hand, revealing a full keyboard unit with a NumPad, along with a fingerprint reader below it. The grill above houses the stereo speakers. The keyboard itself is one of the better units that we have tested, offering long key travel, and clicky feedback. It also comes with spill resistance, which is a nice feature to have.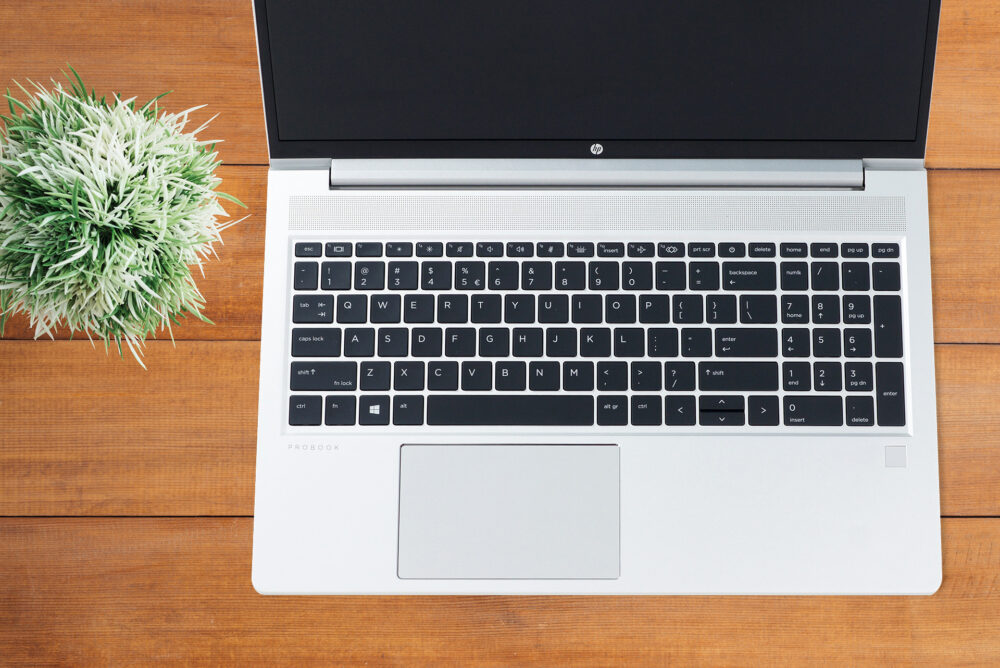 2. I/O
The I/O is quite wide, offering a wide coverage. It includes three USB Type-A 3.2 (Gen. 1) ports, an Ethernet port, a MicroSD card slot, a 3.5 mm audio jack, an HDMI 1.4b port, and a USB Type-C 3.2 (Gen. 2) port with DisplayPort and Power Delivery capabilities.
3. Battery life
The laptop makes use of a smaller 45Wh battery, which doesn't stop it from offering good battery life. The battery pack lasts for 12 hours and 24 minutes during web browsing, and 11 hours and 54 minutes during video playback. Now, we conduct the battery tests with the Windows Better performance setting turned on, screen brightness adjusted to 120 nits, and all other programs turned off except for the one we are testing the notebook with.

4. Performance
The laptop offers three Ryzen 5000U-series processors: the Ryzen 3 5400U, Ryzen 5 5600U, and Ryzen 7 5800U. All of them come with 2 threads per core, celebrating the overall performance. They are also very efficient, which makes for the aforementioned battery life results. For graphics, we have the integrated Vega units, which are totally fine for casual use and some gaming here and there on lower settings.

CPU benchmarks
The laptop that we tested used the top Ryzen 7 5800U, which is powerful enough to even challenge some H-series processors from Intel and AMD.
Results are from the Cinebench 20 CPU test (the higher the score, the better)
Results are from our Photoshop benchmark test (the lower the score, the better)
GPU benchmarks
Here we tested the Radeon RX Vega 8 iGPU, which has a TGP of 15W and performs as well as the rest of the iGPU field.
Gaming tests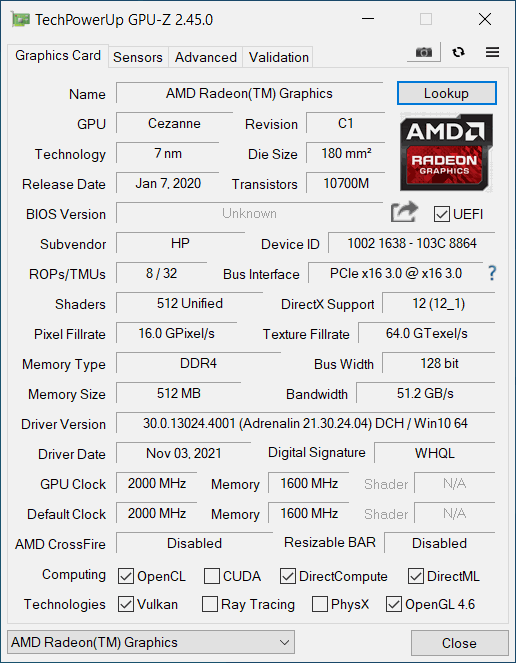 1 reason NOT to buy the HP ProBook 455 G8
1. Cooling
The cooling solution might be holding the hardware back, as it consists of only two heat pipes and a single fan.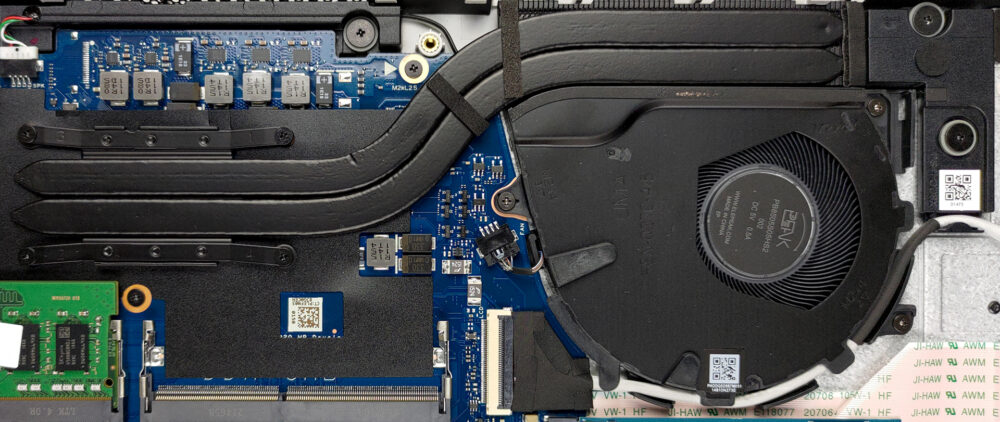 Max CPU load
Average core frequency (base frequency + X); CPU temp.
| AMD Ryzen 7 5800U (15W TDP) | 0:02 – 0:10 sec | 0:15 – 0:30 sec | 10:00 – 15:00 min |
| --- | --- | --- | --- |
| HP ProBook 455 G8 | 2.66 GHz (B+40%) @ 70°C | 2.45 GHz (B+28%) @ 79°C | 1.88 GHz @ 67°C |
| HP Pavilion Aero 13 (13-be0000) | 2.67 GHz (B+41%) @ 68°C | 2.46 GHz (B+29%) @ 76°C | 2.04 GHz (B+7%) @ 61°C |
| HP Envy x360 13 (13-ay1000) | 2.44 GHz (B+28%) @ 83°C | 2.47 GHz (B+30%) @ 79°C | 2.44 GHz (B+28%) @ 89°C |
| HP Envy x360 13 (13-ay1000) with cooling pad | 2.62 GHz (B+38%) @ 60°C | 2.46 GHz (B+29%) @ 66°C | 2.49 GHz (B+31%) @ 74°C |
| Acer Swift X (SFX14-41G) | 3.09 GHz (B+63%) @ 73°C | 2.99 GHz (B+57%) @ 75°C | 2.73 GHz (B+44%) @ 75°C |
| Lenovo IdeaPad 5 Pro (14″) | 2.31 GHz (B+22%) @ 55°C | 2.32 GHz (B+22%) @ 59°C | 2.41 GHz (B+27%) @ 66°C |
Compared to the rest of the field, you can see that the CPU for some reason doesn't clock as high as the competition, despite the temperatures being low enough to warrant more performance. This might also be due to how HP integrated the CPU into the device, including the firmware and clock settings.

Comfort during full load
The laptop is very cool on the outside, with a base temperature of 33.4°C.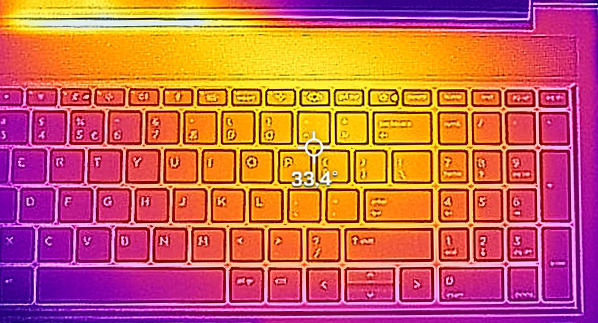 All HP ProBook 455 G8 configurations: