How Acer Predator 17X's overclocking turbo mode works and does it matter in real-life usage

It's been a while since we started testing Acer's newest extreme edition gaming laptop – the Predator 17X and we have lots of things to talk about. However, today we would like you to have a sneak peek of what the notebook is really capable of.
You can check here when the notebook hits the market: http://amzn.to/1sJ1wsW
You'd probably know by now that the laptop is equipped with unlocked CPU and GPU – Core i7-6820HK and desktop-grade NVIDIA GeForce GTX 980 GPU. This opens up a lot of possibilities and room for better performance when gaming. The best part is that Acer has provided a dedicated software with which you can monitor the temperatures on both chips, take control of the fans and clock speeds. The software, which is called Predator Sense, gives you a choice of three modes – normal, faster and turbo. As you've probably already guessed, the first one is always active while the other two squeeze out the best out of the hardware.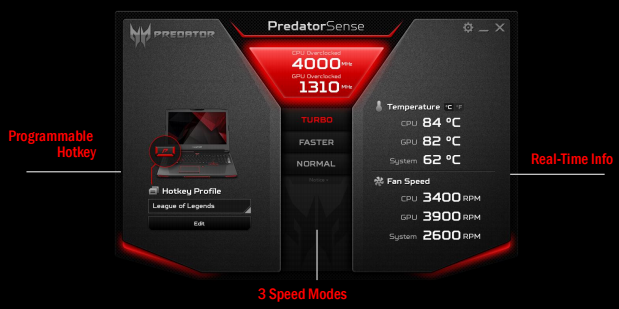 We had the chance to test out the performance of the CPU and GPU with some synthetic benchmarks and it turned out that the Turbo mode didn't deliver any performance boost but it did so in real-life usage. We ran some gaming benchmarks as well and with settings turned up to a maximum at 1080p, the overclocked state of the hardware delivered as low as 8-9% and as high as 16% performance increase, which translates, of course, into more frames per second. While this might not seem as much, we assure you that the performance difference will be even bigger when applied to medium and low settings. Also, when you consider the fact that the display runs at 75Hz refresh rate with the built-in G-Sync chip, these few extra frames will do wonders during gameplay. So jumping from the conventional 60Hz to 75Hz, which is 20% higher frame rate, and combined with the overclocked GTX 980, you will have yourself a fully grown desktop-like experience. It definitely beats carrying around a full desktop setup, doesn't it? However, you should ready your wallet with at least $2 799 for the base configuration – that portability comes at a price you know.
Anyway, here are the gaming tests we've talked about.

Gaming tests

| Tomb Raider (1080p, Low) | Tomb Raider (1080p, Medium) | Tomb Raider (1080p, Max) | Tomb Raider (1080p, Max @Turbo) |
| --- | --- | --- | --- |
| 375 fps | 204 fps | 101 fps | 111 fps (+9%) |

| F1 2015 (1080p, Low) | F1 2015 (1080p, Medium) | F1 2015 (1080p, Max) | F1 2015 (1080p, Max @Turbo) |
| --- | --- | --- | --- |
| 172 fps | 144 fps | 100 fps | 111 fps (+10%) |

| Thief (1080p, Low) | Thief (1080p, Medium) | Thief (1080p, Max) | Thief (1080p, Max @Turbo) |
| --- | --- | --- | --- |
| 73 fps | 71 fps | 68 fps | 81 fps (+16%) |

| GTA 5 (1080p, Low) | GTA 5 (1080p, Medium) | GTA 5 (1080p, Max) | GTA 5 (1080p, Max @Turbo) |
| --- | --- | --- | --- |
| 156 fps | 107 fps | 38 fps | 41 fps (+7%) |

| Middle-Earth: Shadow of Mordor (1080p, Low) | Middle-Earth: Shadow of Mordor (1080p, Medium) | Middle-Earth: Shadow of Mordor (1080p, Max) | Middle-Earth: Shadow of Mordor (1080p, Max @Turbo) |
| --- | --- | --- | --- |
| 186 fps | 147 fps | 93 fps | 102 fps (+9%) |

| Counter-Strike: Global Offensive (1080p, Low) | Counter-Strike: Global Offensive (1080p, Medium) | Counter-Strike: Global Offensive (1080p, Max) | Counter-Strike: Global Offensive (1080p, Max @Turbo) |
| --- | --- | --- | --- |
| 263 fps | 262 fps | 215 fps | 253 fps (+15%) |
You can check here when the notebook hits the market: http://amzn.to/1sJ1wsW