Here's how to unlock the full GPU potential of MSI GE76 / GE66 Raider, and GP66 Leopard (+ benchmark results)
R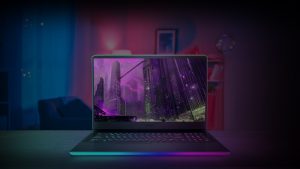 ecently we had our hands on an MSI GE76 Raider 11UH which is a monster device with a GeForce RTX 3080. The default TGP of the GPU is 155W which is hefty for a mobile video card. The good news is that MSI has bumped the power limit with a firmware update to 165W – 150W solely for the GPU and you have an additional 15W thanks to the Dynamic Boost feature.
The firmware update process is pretty straightforward. The file can be downloaded from the official support page of the laptop. This is an exe file so everything is almost automated. When the update is finished you have to restart your device and then you can enjoy the bigger TGP of your GeForceRTX 3080.
We decided to test the laptop before and after the update with 3DMark, Unigine Superposition, and Assassin's Creed Odyssey. Without further ado, let's see what the actual gains are after the new firmware update.
Synthetic benchmarks
Results are from the 3DMark: Fire Strike (Graphics) benchmark (higher the score, the better)
Results are from the Unigine Superposition benchmark (higher the score, the better)
Gaming tests and gameplay videos (ext. monitor)

Verdict
Actually, the gains are pretty small, at least when it comes to our benchmarks and Assassin's Creed Odyssey. This kind of TGP (165W) can be pretty handy when you decide to overclock the GPU (we have tried that too and you can see the results in this article) and you can squeeze more performance thanks to the bigger power limit by increasing the core and memory frequencies.
In addition, we can say that we didn't experience increased levels of heat and noise after the TGP update which is definitely good for the end-user – more potential performance without hurting the comfort during gaming.
MSI has also provided new firmware with bigger TGPs regarding the GeForce RTX 3080 and RTX 3070 for the following devices:
GE76 Raider 11UH (RTX3080)
GE76 Raider Dragon Tiamat 11UH (RTX3080)
GE66 Raider 11UH (RTX3080), 11UG (RTX3070)
GP66 Leopard 11UH(RTX 3080), 11UG (RTX 3070)
MSI GE76 Raider (11Ux) series
MSI GE66 Raider (11Ux) series
MSI GP66 Leopard (11Ux) series