Hands-on review: What's with the new ASUS ROG G552 or should we say rebranded GL552 – everything you need to know
The initial version of the budget ASUS ROG GL552 came around a few months back with the new Skylake processor, USB Type-C port and more. But another more refined model has been circling around – with thinner profile and aluminum build. ASUS has released this model with different names for different markets, but make no mistake – this is more of a GL552 than G552 and here's why…
You can find this notebook under the ROG GL552 name at Amazon.com for US or as G552 in Europe.
New design?
The new so-called G552 has more in common with the GL552 than with its predecessor. The change in the build quality and overall feel are really easy to spot because the old G551 felt a bit bulky – yes, but quite stable. However, the same cannot be said about the new G552. It features the same flexible keyboard tray as the GL552, rigid plastic at the bottom and new brushed aluminum plate on the lid.
The thickness of the notebook is now 33 mm which is a tad better than the conventional GL552 – 34.75 mm. The weight has also gone down, but not as much – 2.54 kg from 2.6 kg. In other words, nothing has changed much if we consider this a refreshed GL552 notebook, but a lot has changed if we treat this as an updated version of the G551. However, we can easily say that the real G552 will look a lot different, that's for sure.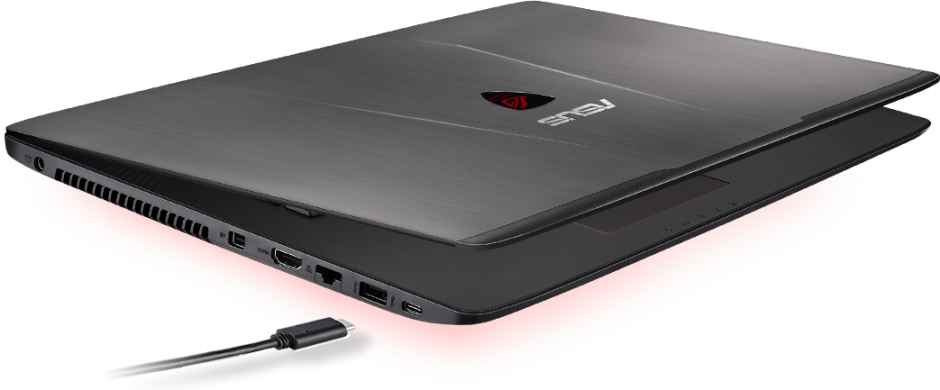 With the new aluminum lid, the price of the machine is considerably higher than the GL552VW that we reviewed a few months back. The only thing that's been updated is the lid. Now the "G552" sells for around €1 170 in Europe while the GL552VW is going around for €970. That's a lot of extra bucks to pay for an aluminum lid and small decrease in size and weight.
The hardware is practically the same
Both notebooks – the GL552 and G552 feature the same hardware – Core i7-6700HQ, 8GB of RAM, 1TB HDD and NVIDIA GeForce GTX 960M GPU for the base models and both offer support for M.2 SSD. The cooling system is absolutely the same so the performance difference between the two will actually be none.

Even the port placement is the same – USB Type-C, HDMI, USB 3.0 and LAN port on the left while the rest is on the right. So again, you can still go for the GL552VW because it's cheaper and offers the same hardware. Interestingly enough, ASUS is selling the GL552VW with the new design in the US under the same name, but if you type G552 in Europe, the refreshed GL552VW laptop will come up.
Furthermore, the new GL552VW and the "new G552VW" have the same Full HD IPS panel from LG, so there's no apparent reason to go for the more expensive version, nonetheless.
You can find this notebook under the ROG GL552 name at Amazon.com for US or as G552 in Europe.
Specs sheet
The technical specifications listed below are for the current model we are testing and may vary depending on your region

ASUS ROG GL552VW (old)
CPU
Intel Core i7-6700HQ (4-core, 2.60 -3.50 GHz, 6MB cache)
RAM
8GB (1x 8192MB) – DDR4, 2133GHz
GPU
NVIDIA GeForce GTX 960M (2GB GDDR5)
HDD/SSD
1TB HDD (7200 rpm)
Display
15.6-inch (39.62 cm.) – 1920×1080 (Full HD), IPS matte
Optical drive
DVD burner
Connectivity
LAN 10/100/1000 Mbps, Wi-Fi 802.11a/g/n, Bluetooth 4.0
Other features

3x USB 3.0, 1x USB 3.1 (Type-C)
built-in webcam
built-in microphone
2x 3.5 mm jack for headphones and external microphone
LAN
HDMI
card reader (SD, MMC, MS)
Sonic Master loudspeakers
keyboard LED backlight

Battery
4-cell 47Wh (3200 mAh) Li-Polymer Battery
Thickness
34.75 mm (1.37″)
Weight
2.6 kg (5.73 lbs)
ASUS ROG GL552VW (G552VW) (new)
CPU
Intel Core i7-6700HQ (4-core, 2.60 -3.50 GHz, 6MB cache)
RAM
8GB (1x 8192MB) – DDR4, 2133GHz
GPU
NVIDIA GeForce GTX 960M (2GB GDDR5)
HDD/SSD
1TB HDD (7200 rpm)
Display
15.6-inch (39.62 cm.) – 1920×1080 (Full HD), IPS matte
Optical drive
DVD burner
Connectivity
LAN 10/100/1000 Mbps, Wi-Fi 802.11a/g/n, Bluetooth 4.0
Other features

3x USB 3.0, 1x USB 3.1 (Type-C)
built-in webcam
built-in microphone
2x 3.5 mm jack for headphones and external microphone
LAN
HDMI
card reader (SD, MMC, MS)
Sonic Master loudspeakers
keyboard LED backlight

Battery
4-cell 47Wh (3200 mAh) Li-Polymer Battery
Thickness
33.02 mm (1.3″)
Weight
2.54 kg (5.6 lbs)