First impressions of the new ASUS ROG flagship – ROG G752
Much has been heard about the ASUS ROG G751's successor and now it's our turn. An engineering sample arrived at our office a few days ago and while we run our usual screen, performance, battery and temperature tests, we would like to share our initial impressions of the new ROG flagship.
You can take a look at the available configurations at Amazon.com.
Design
The concept behind the design remains the same, but the appearance got through a complete overhaul. Now we have slightly different choice of materials – the most part of the chassis uses aluminum-like plastic while only the lid is made of brushed aluminum. However, most of the surface around the keyboard features the same soft-touch matte plastic as before (G751).

ASUS was able to trim down a few millimeters off the profile – 48.26 mm from 53 mm, but the weight has gone up – 4.31 kg from 4.053 kg. That's a considerable increase in the weight and interestingly, the new model has even smaller battery capacity – 66 Wh while the G751 boasted an 88 Wh battery.
We also noticed slight change in the keyboard – macro keys are now further from the keyboard but it's definitely better now because we often miss clicked them. Also, the key travel appears to be shorter now, but the press of the buttons feels softer. Some users might like the change while others probably won't. And finally the touchpad – feels more or less the same but the mouse buttons are a tad bigger now.
Hardware
The new ASUS ROG G752 comes in variety of hardware choices ranging from GeForce GTX 965M to GTX 970M and GTX 980M, CPU variants are Core i7-6700HQ and the overclockable Core i7-6820HK. You can upgrade the RAM storage up to 64GB of DDR4 while the internal storage options include 2.5-inch HDD and two M.2 PCIe NVMe SSD slots. That's a great upgrade compared to last year's generation.
As we already mentioned, the battery is now smaller (66Wh compared to last year's 88Wh) and it would be interesting if the battery can keep up with all that powerful hardware including the 17.3-inch IPS screen. Speaking of which, there will be UHD version of the notebook but, for now, you can go as high as Full HD (1920×1080) with G-Sync chip.
Finally the connectors. There are the usual USB 3.0 ports but now we have a USB Type-C connector for ultra-fast data transfer and for external display. You can now attach up to three displays using mini DisplayPort, HDMI and USB 3.1 (Type-C).
How it looks on the inside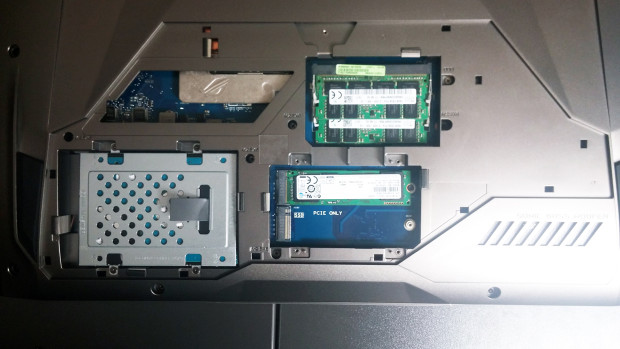 Specs sheet