First impressions of the new Acer Aspire V15 (V3-574) – a stylish hybrid of the powerful Nitro and the elegant V13

Style forged in metal – This is what happens when you combine impressive power with elegant nano-imprint patterning. That's how Acer introduces its latest Aspire line, whose biggest pride is the elegance factor . We can confirm that – we've already got our hands on the new model and we can say that it's not only good-looking, but goes beyond that thanks to the build quality.
Acer's new series is the missing link in the product line of the Taiwanese manufacturer, especially since it already introduced the gaming beast which all of us expected impatiently – Acer Predator.
The new Predator will take the gaming crown from Aspire V Nitro, which is a great notebook with an awesome performance/price ratio, but the fact that Acer doesn't offer it with GPU options faster than 960M is kind of a drawback for hardcore gamers. However, Aspire V15 Nitro wasn't intended to be a gaming flagship but rather an all-purpose high-end notebook at a mainstream price. And it's done that more than successfully.
Aspire V15 is something of a very close sibling to the Nitro but has a more affordable price and slightly lower (but still adequate) specs for a mainstream (surfing the Web, watching movies, playing light games…) machine.
The new V15 preserves the high-end position in terms of design, connectivity and features. One of the most interesting things here is the BlueLight Shield technology (find out more) which is a clever way to reduce the screen blue-light, which is harmful to your eyes. We have a Wi-Fi 802.11ac with a dual-band module for Multi-user MIMO and Bluetooth 4.0.
Acer Aspire V15 (V3-574) has a comfortable keyboard with a backlight for easier typing at night, and a Precision Touchpad with many gestures and palm rejection technology. The latter works pretty well, giving you the option of not worrying about where your hands are during when you write articles, message somebody online etc.
On the performance side, there are Broadwell CPUs, up to 16GB of system memory and entry-level NVIDIA GeForce GPUs. Check out all specs in the table below.
You can rest assured that we're going to put the new Aspire V15 (V3-574) through all of our tests,  and we'll cover everything you may need to know about it in an in-depth review. If you want us to check something specific, feel free to let us know in the comment section.
[ad_728]
Specs Sheet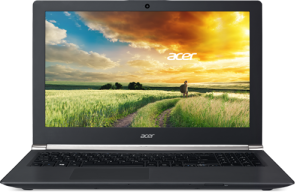 CPU
Intel Core i5-5200U (2-core, 2.2-2.7GHz, 3MB cache)
RAM
8GB (1x8192MB) – LPDDR3L, 1600MHz
GPU
NVIDIA GeForce 940M (4GB DDR3)
HDD/SSD
1TB, 5400rpm (standard configuration); 120GB Samsung SSD 840 (for our tests)
Display
15.6″ (39.62 cm) – 1920 x 1080 pixels (Full HD), IPS, matte
Optical Drive
DVD burner
Connectivity
LAN 10/100/1000 Mbps, Wi-Fi 802.11ac, Bluetooth 4.0
Other features

2x USB 2.0
1x USB 3.0
built-in Webcam
built-in microphone
3.5mm combo headphone/microphone audio jack
HDMI
VGA
RJ-45 Ethernet port
SD, SDHC, SDXC card reader
Kensington lock slot
Backlit keyboard

Battery
4-cell
Thickness
23.9mm (0.94″)
Weight
2.40kg (5.29 lbs)