First impressions of Lenovo Yoga 710 (11-inch) – the first affordable but well-built hybrid with 360-degree hinge

Good news, everyone! One of the new products that stole the show at MWC 2016 some days ago is now in our possession. It's the 11.6-inch Lenovo Yoga 710, which will be released in June. Its sole purpose is to bring high-end quality to the affordable ultra mobile class. Despite its weight and thinness, Yoga 710 has a Full HD IPS panel, 6th generation (Skylake) Intel Core M processor, up to 8GBs of RAM and up to 256GB M.2 SSD.
Here we'll share our first-minute impressions of the new ultra-light convertible 360-degree Yoga 710, and you'll be able to find it here when it's up for pre-order:
 http://amzn.to/1QpNio7

Design and construction
Lenovo Yoga 710's chassis is built of aluminum and magnesium, so despite the sub-$500 price tag, decent sturdiness was to be expected. Now we can confirm that – Yoga 710's panels don't bend even when high pressure is applied. Also, they don't collect fingerprints and smudges, which is good aesthetics-wise.
Yoga 710 weighs just over 1.0kg (1042 g) and it measures at 14.9 mm at its thickest point. Most of its volume is taken by the 40Wh battery, as you'll see in our Inside article. Speaking of that, the new Yoga has fanless design and given the fact that it doesn't use an HDD, it offers great reliability and can be used on-the-go with no hesitation whatsoever.
Lenovo Yoga 710 will be offered in Platinum Silver and Ebony Black colors, and as you see on the photos, our insiders have provided us with the latter option.

Display and Sound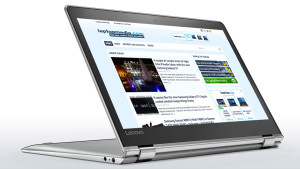 The small convertible has an 11.6-inch display with IPS panel and Full HD resolution. That means that the pixel density is 190 PPI or in other words, the screen becomes "Retina" when viewed at a distance of at least 46 cm (50-60cm is typical distance for working with a convertible of this size). We can't say much about the picture quality before we run our in-depth lab tests, but  IPS screens usually have a wide color gamut, accurate colors, and wide viewing angles
Lenovo have even found some space for stereo Dolby Audio speakers, which have good quality and are sufficiently powerful. If the battery lasts for 8 hours, as Lenovo says, Yoga 710 should be an awesome mini multimedia notebook.

Performance and connectivity
We don't expected high performance from a passively-cooled system, but the latest Intel Core M5 processor and the M.2 SSD should deliver great responsiveness for everyday tasks or even some business work. The CPU operates at 1.1 – 2.6 GHz and has an integrated Intel HD Graphics 5300 GPU. On the top of that, M-5Y70 has just 4.5W TDP.
You'll have the chance to choose from configurations with up to 8GBs of RAM and up to 256GB SSD, and that looks "future-proof", at least for the next couple of years. Our Yoga 710 has a 128GB Samsung SSD and 4GB RAM, and it its Windows 10 runs incredibly quickly.
Here's the drawback – Lenovo Yoga 710 has just one USB 3.0 port and that's the sacrifice for its thinness. We really would have liked at least an additional USB Type-C. Oh well, in addition to the full size USB, Yoga 710 also offers mini HDMI, DC-in and an audio jack. Yes, that's all.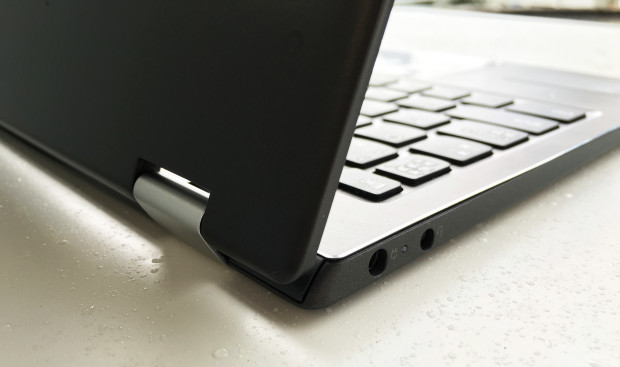 You can check whether Lenovo Yoga 710 has become available here: http://amzn.to/1QpNio7
Specs sheet
CPU
Intel Core M Skylake
RAM
8GB (1x 8192MB) – DDR3
GPU
Intel HD Graphics 5300
HDD/SSD
128GB SSD (M.2 Samsung)
Display
11.6-inch IPS multi-touch, Full HD (1920×1080) resolution, glossy
Optical Drive
–
Connectivity
1×1 Wi-Fi 802.11ac, Bluetooth 4.0
Other features

1x USB 3.0
1x mini HDMI
3.5 mm combo audio jack
360-degree rotatable hinge

Battery
40Wh
Thickness
14.9 mm (0.59″)
Weight
1042 g (2.3 lbs)