Dell Latitude 15 3570 – disassembly, internal photos and upgrade options
It's time for us to peek inside Dell's Latitude 15 3570 and see how easy is to change some of the hardware. Fortunately, the notebook sports a maintenance hatch making it very easy for us to replace most of the upgradeable parts but if you want to perform a full disassembly or you want to clean the fans, you are in for some hard time.
You can find some of the available models here: http://amzn.to/2gnRET4
1. Maintenance lid
The hatch gives access to the storage, RAM and Wi-Fi card.
The 2.5-inch HDD is WD Blue Slim spinning at 5400 rpm.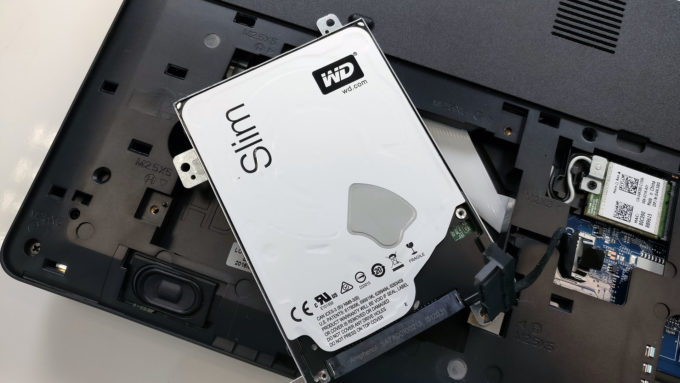 There are two DDR3L-1600 RAM slots and one of them is filled with an SK Hynix 8GB chip while the other one is free for an upgrade. That's, of course, what our unit has to offer.
And as for the Wi-Fi module, it's located right between the 2.5-inch drive and one of the RAM slots. It's manufactured by Qualcomm Atheros with model number QCNFA222.
2. Battery
The good news is that the battery is user-replaceable so you will only have to press the lever switch to release the unit as shown in the photos below. The bad news – for some – is that the battery is protruding on the bottom if you got the 66Wh configuration.
3. Full disassembly
The full disassembly of the notebook requires more attention and work. You will have to remove all the screws around the chassis, including the ones under the maintenance hatch.
Then, you have to pry up the keyboard, which is done fairly easy if you have the right tools. Then you will have to unscrew the rest of the bolts under the keyboard and don't forget to detach the cables as well.
You can find some of the available models here: http://amzn.to/2gnRET4