Dell Inspiron 5551 (15 5000) – first impression of Dell's new ultra-budget notebook
Like most of the manufacturers out there, Dell likes to keep a rich portfolio of notebooks available at different price ranges. Along with all the shiny high-end laptops, the company focuses on its ultra-budget models as well and the new Inspiron 15 5551 is here to prove it. Despite its low price the build quality of the machine is quite impressive and in our opinion this might be the key selling point.
Design
You will actually be pleasantly surprised by the build quality presented here. For a notebook costing around €350, you will not be expecting soft-touch plastic that isn't a fingerprint magnet and overall nice feel. The general appearance of the chassis strongly resembles the Latitude E series having the oval edges, flat sides and interior design. It sure can't match the build quality of the Latitude E5550, but stands out against its competitors.

We didn't find any irregularities, holes (that shouldn't be there) or screeching sounds when under pressure. More importantly, though, the lid doesn't bend easily so it seems a safe bet for a traveling companion. However, the keyboard isn't offering anything out of the ordinary. In fact, the key travel is too short for a comfortable feedback, but further testing will confirm that in our in-depth review.
The bottom has can be easily removed to access the most commonly upgraded parts like HDD, RAM and etc. Furthermore, the battery is also user-replaceable and this is another reason to cut on service expenses. More about the new Inspiron 15 5551 can be expected really soon in our full review of the model.

Hardware
Being an ultra-budget model, the notebook is only offered with either Intel Celeron N2840 or Pentium N3540 CPUs equipped with single-channel 4GB or 8GB DDR3L RAM, 500GB HDD and GPU – Intel HD Graphics. The screen comes in two variants – touch and non-touch with both options being 15.6-inch HD (1366×768) with glossy finish on top. In terms of connectivity, the notebook offers the usual – 2x USB 2.0, 1x USB 3.0, HDMI, SD card reader, and an optical drive. Unfortunately, LAN port is nowhere to be found and this can be a problem for some. A good old LAN cable is sometimes useful.
Configurations may differ depending on your region.
How it looks on the inside
The main service lid provides easy access to the usual upgradable parts like RAM, HDD and etc. With some unscrewing you can also swap the optical drive with an HDD or SSD. Here are some inside shots.
Specs sheet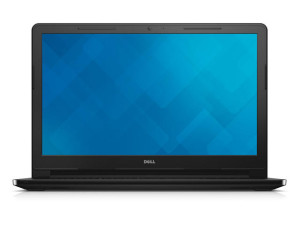 Processor
Intel Celeron N2840 (2-core, 2.16 – 2.58GHz, 1MB cache) / Intel Pentium N3540 (4-core, 2.16 – 2.66GHz, 2MB cache)
RAM
4GB (1x 4096MB) – DDR3, 1600MHz / 8GB (1x 8192MB) – DDR3, 1600MHz
Graphics card
Intel HD Graphics Bay Trail
HDD/SSD
500GB HDD (5400rpm)
Display
15.6-inch, 1366 x 768 (HD) resolution, glossy / 15.6-inch, 1366 x 768 (HD) resolution, glossy, touch-capacitive
Optical drive
DVD burner
Connectivity
Wi-Fi 802.11b/g/n, Bluetooth 4.0
Other features

1x USB 3.0
2x USB 2.0
built-in webcam
built-in microphone
HDMI
card reader (SD, SDHC, SDXC)
Security slot

Battery
40 Wh, 4-Cell Battery
Thickness
23.35 mm (0.92")
Weight
3.3 kg (2.0 lbs)