Cyber Monday at GearBest – ultrabooks, smartphones, wearable tech and more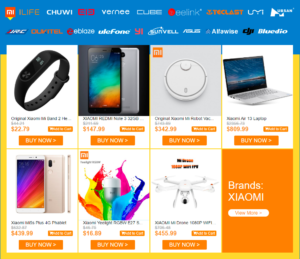 As it can be expected the Black Friday deals are followed by the Cyber Monday promotional offers. This means that those of you who have missed last week's sales can grab something while the discounts are still bigger than in a regular promotion. Of course, this is the reason for today's article – we want to share a couple of ideas related to what you are most likely to be after.
However, if you are really impatient, you can always go directly to the website and browse through the promotional products by clicking HERE.
On the other hand, you may wish to take a few moments and check what we have prepared for you. We must also note that the deals are only up for a limited time and the quantities are limited as well, so be make up your mind on time.

Monday Flash Deal
A variety of discounted products is to be found here – from smartphoneс to robotic vacuum cleaners, from drones to 3D printers, and more. Among them you will see some familiar names such as the Xiaomi Air 13 ultrabook about which we have spoken on more than one occasion. This time, however, we would like to pick the Elephone S7 4G Phablet.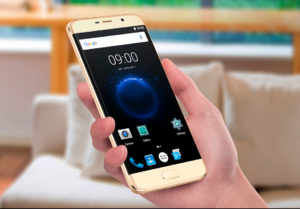 So, it's a 5.5-inch device with a Full HD display. The Elephone S7 has a deca-core Mediatek Helio X20 processor, a Mali T880 graphics card, and 4GB of RAM. Now, this is bound to result in absolutely snappy operation and lack of glitches. What's more, you will be presented with 64GB of internal storage (expandable via a microSD card slot) and a 3000 mAh battery. As for the OS, it is Android 6.0. Even more awesome is the fact that all this costs $229.99 during the promotional period.
If you happen to show interest, you can read more or purchase HERE.

EU, US & RU
If you keep scrolling down, you will encounter several buttons with the flags of some countries – Russia, the European Union, the USA and Spain. As you may guess, the promotions are various depending or where your live. You might be lucky enough and find what you have been after in one of these sections.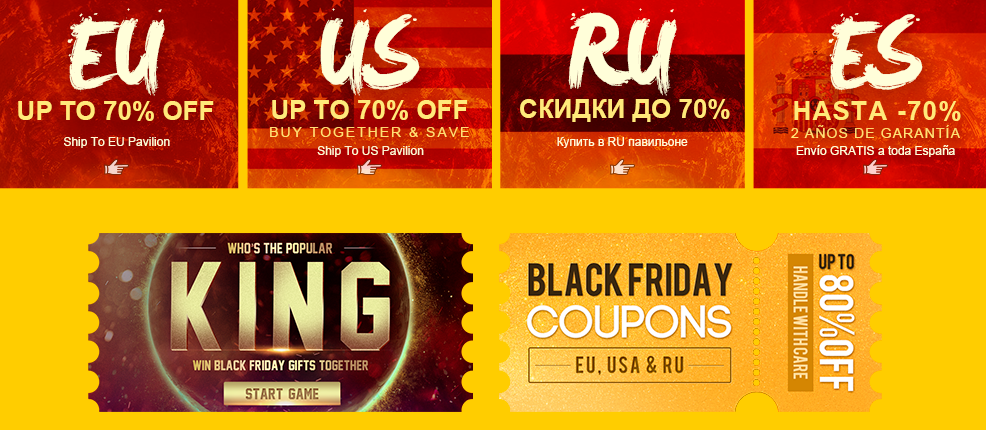 Categories maniac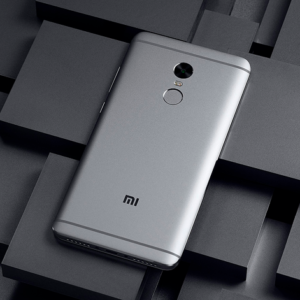 As the name suggests, this part of the promotion displays a great variety of product categories, first of which is the smartphone branch. Yes, perhaps this is the gadget that we change most often. One of these big boys is the Xiaomi Redmi Note 4 Phablet. This is a 5.5-inch phablet with a deca-core processor, 64 GB of storage, and 3 GB of RAM. What's more, this smartphone boasts a 13.0MP autofocus rear camera, accompanied by a flash, and a 5.0MP front-facing selfie camera. We must also note that Redmi Note 4 comes with a MIUI OS, Bluetooth 4.2, and a fingerprint scanner. Wait, all this comes at a very modest price – only $179.99. If you want to learn more about it or to purchase, you can use this link. You may remember that the price is the same as it was last week for the Black Friday promotional period, so good for those of you who have missed it.
Of course, there are many more goods out there on the website and if you wish to find out more about them, click HERE.
Gearbest is running a flash sale with great promotions – check it out here: GEARBEST Flash Sale