[Comparison] ASUS ROG Zephyrus M16 GU603 (2022) vs M16 GU603 – what are the differences?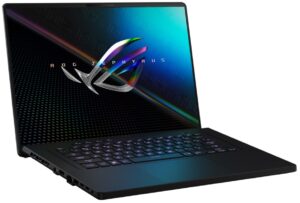 A big standout in 2021 gaming laptops was the Zephyrus line-up from ASUS, which really shook up the space, by presenting thin and light gaming devices that didn't compromise when it came to performance.
One, in particular, the Zephyrus M16 GU603, managed to fit a 16-inch display and a Core i9-11900H inside a chassis that weighs just 1.90 kg. The thing also performed well, managing to reach or exceed the performance levels of some heavier gaming competitors, mainly the AMD-powered Legion 7 and Zephyrus G15.
Here we will compare the new 2022 model against its predecessor, in order to see what are the differences.
Full Specs: ASUS ROG Zephyrus M16 GU603 (2022) / Zephyrus M16 GU603
On the outside, there are no changes, with the same hybrid construction body being present. Some parts of it are made of metal, while others are made of plastic. The Prismatic lid also makes a return, illuminating the surroundings and the lid itself in the colors of the Northern lights. The weight and height also remain the same.
The display choices are more limited when compared to the older device, with the FHD+ 144Hz panel now being gone. The remaining QHD+ 165Hz option is all that remains. You'd be pleased to hear that the available panel brings complete sRGB and DCI-P3 coverage.
In terms of hardware, the laptop replaces the Tiger Lake CPUs in favor of the newer Alder Lake chips, which bring a hybrid architecture, with two types of cores that vary in power and efficiency, thus being able to distribute tasks among them. Of course, when you need the full power output of the chip, all of the cores kick in, and the high core count should be more than enough for Multi-core applications like Blender and Adobe Premiere.
For graphics, we get a big upgrade. While previously you could only go as high as the RTX 3070, now you can buy the laptop with up to an RTX 3080 Ti, which is an enormous jump in performance, both in gaming and in productivity. The new Ti versions offer higher core counts as well as CUDA acceleration, which should have a big impact on rendering and compositing.
Dimensions
355 x 243 x 19.9 mm (13.98" x 9.57" x 0.78")
Price
Starting at $1499.00
Dimensions
355 x 243 x 19.9 mm (13.98" x 9.57" x 0.78")
Price
Starting at $1249.00
All ASUS ROG Zephyrus M16 GU603 (2022) configurations:
All ASUS ROG Zephyrus M16 GU603 configurations: