Buy NVIDIA GeForce GTX 1060 / 1050 / 1050 Ti and get a free VR game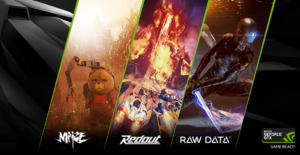 Are you a fan of Virtual Reality? If so, now's your chance to benefit from NVIDIA's special offer – Buy NVIDIA 1060 /1050 / 1050 Ti-powered desktop, laptop or graphic card and you will be given a free game of your choice.
You get to pick from three games:
Maize – first-person adventure game
Redout – racing game, for adrenaline lovers
Raw Data – dynamic VR First-Person Shooter (FPS)
If you have decided to immerse yourself into the virtual reality of Raw Data or other VR games, NVIDIA recommends choosing GTX 1060. It is available with either 3GB or 6GB GDDR5 RAM, with prices starting at $204,99 (3GB) and $259,99 (6GB). Here you can find the best offer for this model.
However, if you are on a tight budget you might want to go with GTX 1050 or GTX 1050 Ti. Available with 2GB or 4GB GDDR5 RAM, with prices between $119,99 (EVGA, 2GB) and $169,99 (GIGABYTE, Ti, 4GB) it is NVIDIA's budget alternative.
You can also buy a laptop or a desktop, and still benefit from the special promotion. A good choice for playing even the most demanding games would be ASUS GL702VM. It comes at a price of $1,510 with NVIDIA GTX 1060, Intel i7-6700HQ, 16GB RAM, 1TB HHD and 128GB SSD (The sizes of RAM,HDD and SSD are configurable).
Similar hardware is embedded into Eluktronics P670RP6, which is available with 15.6''($1349,95) and 17.3''($1399,95) screen.
For those of you who still wonder what is the right choice for them – have a look at the GPU rankings or check out the cheapest NVIDIA GeForce GTX 1060-powered notebooks you can find right now.
If you've bought a new 1060, 1050 or 1050 Ti, you can claim your game here: https://redeem.geforce.com/en-us/?campaignID=INDIEBUNDLE2