Best Gaming Laptops categorized by price (March 2017)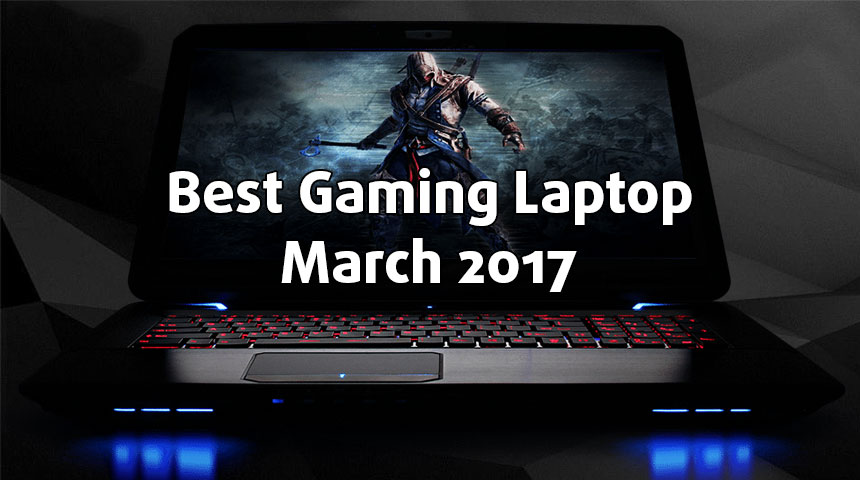 There are hundreds of models of gaming laptops out there and it could be hard or intimidating to choose the right one for you. Now that a couple months of 2017 have passed most manufacturers have already refreshed their lineup with the latest 7th generation Intel processors and NVIDIA 10 series graphics card. We have picked a few models that we think offer the best price-performance ratio.
To further help you we have put them into several categories so that you know where to look no matter if you are searching for an entry-level notebook or a high-end gaming beast.
In the end of the article you'll find a poll where you can pick your choice for best gaming laptop, or of course – leave your opinion in the comments section.
You can check out all available gaming laptops on the market here: http://amzn.to/2n5xYXo
Contents
The best gaming laptops under $1000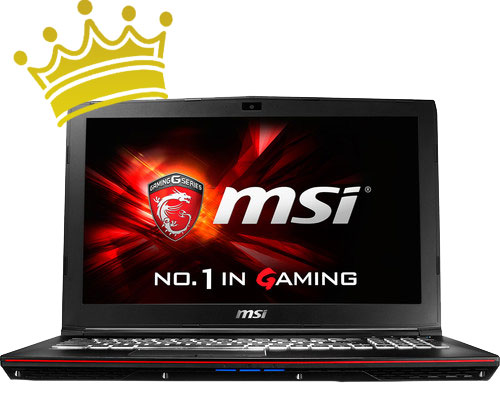 First, let's take a look at the budget gaming notebooks. Under $1000 you can't expect very high performance but still, you'll get enough power to dive into the gaming world and play AAA titles at least as if it was on a console.
In this category, we have picked two great deals. The first one is the Acer Aspire VX 15 – http://amzn.to/2nmu7m4
You can check out its full review over here: http://laptopmedia.com/review/acer-aspire-vx-15-vx5-591g-review-a-new-breed-of-budget-gaming-laptops/
The Acer Aspire VX 15 packs a Core i7 CPU from the latest Kaby Lake generation and a GeForce GTX 1050 Ti graphics card so performance won't be an issue if you aren't into super demanding games. eSports will run perfectly while the hardware will most probably limit you to low or maybe medium settings when playing AAA titles. As you'll read in our review, we are quite satisfied with the battery life which is above average for an entry-level gaming notebook. It also has an M.2 SATA slot so you will be able to upgrade with the best SSDs out there. What we didn't like is the fact that the display is not of a high quality. It uses PWM across all brightness levels and the color reproduction isn't the best.
The other model we recommend is the MSI GP62MVR – http://amzn.to/2nxlCnv
This little bad boy stands out in the crowd with its graphics cards. Most laptops in this price range pack a GTX 1050 or 1050 Ti but the MSI GP62MVR is equipped with the VR-ready NVIDIA GeForce GTX 1060. Unfortunately, we do not have a detailed review on this particular model but what we can say for sure is that the GTX 1060 just makes it a good choice when we take the price in mind – $999.
WINNER: MSI GP62MVR
The best gaming laptops under $1500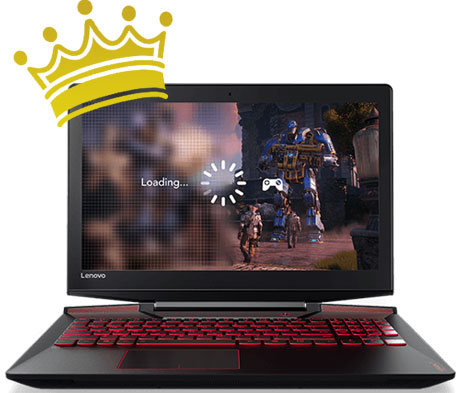 Let's move on to a higher price range. When we bump our budget to $1500 we have some great opportunities. Take a look at this two:
The Acer Predator 17 (G5-793, GTX 1060) – http://amzn.to/2nml18S
You can check out its full review here: http://laptopmedia.com/review/acer-predator-17-g5-793-review-hefty-but-solid-as-always/
The Acer Predator 17 packs an Intel Core i7-6700HQ and a GTX 1060 graphics card which are the usual components of a notebook of that price. This Predator also has a 17.3-ich display as the name suggests. This makes him a one-of-a-kind offer as most 17.3-inch models are more expensive. The screen is not only bigger it's also a high-quality one with no PWM, 75Hz refresh rate, and NVIDIA G-Sync support. However the big screen has its disadvantages – the notebook is bulky and weighs a ton and the battery life is poor.
The other contestant for the best gaming notebook under $1500 is the Lenovo Legion Y720 (GTX 1060) – http://amzn.to/2mk1vJb
This model isn't released yet but you should definitely wait for it. It packs the usual for Legion set of high quality and high performance hardware (i7-7700HQ, GTX 1060). Y720 is already in our office, so you can expect a review soon. Meanwhile, you can check the review of the Y520 here:
http://laptopmedia.com/review/lenovo-legion-y520-gtx-1050-ti-review-the-y-series-are-finally-on-the-right-track/
WINNER: Lenovo Legion Y720
The best gaming laptops under $2000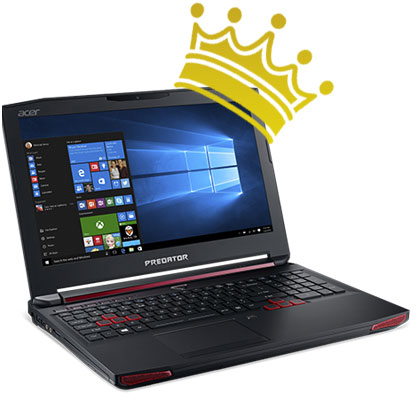 Up next – notebooks under $2000. We are entering the realm of the high-end gaming machines.
Starting off with the ASUS ROG G752VS – http://amzn.to/2mT41JH
You can check its detailed review here:
http://laptopmedia.com/review/asus-rog-g752vs-gtx-1070-review-cool-and-powerful/
This bad boy costs around $1599 and is another 17.3-inch model. As you can see it costs a few hundred dollars more than the Acer Predator 17 but it comes with a GeForce GTX 1070 which is a high-end graphics card. Thanks to it you will be able to play AAA titles on high graphics settings with reasonable frame rates. ROG G752VS grabs our attention with its excellent build quality, beautiful G-Sync enabled display and two M.2 PCIe NVMe SSD slots. However, it shares the disadvantages of the Predator 17 (G5-793) – bulky with not so good battery life.
The other notebook that falls in this category is the Acer Predator 15 (G9-593) – http://amzn.to/2mED7on
The full review is available over here:
http://laptopmedia.com/review/acer-predator-15-g9-593-with-gtx-1070-review-the-second-attack/
Again for a price of around $1599 an Intel Core i7-6700HQ and a GTX 1070 but this time the screen is 15.6 inches in diagonal. A larger screen is preferable for gaming but the smaller form factor makes the notebook more light-weight thus more portable. What makes the Predator 15 (G9-593) so attractive is the aggressive and good-looking design with its big exhaust vents. It shares the main properties of its bigger brother Predator 17 (G5-793) – excellent build quality and beautiful display but sub-par battery life.
WINNER: Acer Predator 15 (G9-593)
The best super high-end gaming laptops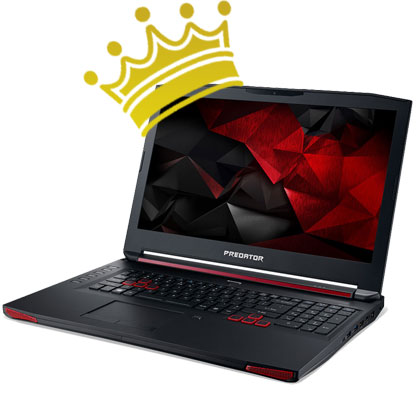 And finally, let's talk about the most powerful gaming notebooks. Those designed for enthusiasts who like yo push it to the limit even on the go.
First in line is the Acer Predator 17 X (GX-792) – http://amzn.to/2mnx44e
You can check out the full review over here: http://laptopmedia.com/review/acer-predator-17x-gx-792-gtx-1080-review-4k-gaming-on-a-laptop-finally-worth-it/
This ultimate Predator is equipped with latest 7th gen Intel Core i7-7820HK processor which is unlocked for overclocking and NVIDIA's flagship graphics card – GeForce GTX 1080 (that is we do not take the 1080 Ti in mind because there are no laptops currently available that feature it). This gaming beast has anything you can ask for – high-quality 17.3-inch screen, uncompromising desktop-grade performance and of course lots of connectivity and upgrade options. With this notebook, you will be able to play almost every new title on high graphics settings and around 60fps.
Our other pick is the MSI GT73VR – http://amzn.to/2noHh1Y
We haven't tested this model yet but you can check the review of the MSI GT83VR which is essentially the same but features two GTX 1070 cards in SLI configuration: http://laptopmedia.com/review/msi-gt83vr-6re-titan-sli-review-has-the-desktop-performance-cliche-just-been-shattered/
The MSI GT73VR features an unlocked Core i7 CPU and a GTX 1070 or 1080. As the VR suffix suggests the GT73VR is 100% VR-ready. Combined with the high-quality high definition surround sound speakers you are about to have an immersive VR experience with this notebook, that's for sure.
WINNER: Acer Predator 17 X (GX-792)
Poll
[poll id="6″]