Battle of the selfies – HTC One A9 and its UltraPixel camera vs Lenovo Vibe S1 with the double front-facing shooter

One of the aspects, which the smartphone manufacturers take emphasize on for some time now, is the selfie camera of their devices. Since the selfie trend is continuously growing and it's not going away soon, more companies release new models that excel with their front-facing cameras. They're trying to improve the selfie experience by providing more megapixels, shooting modes, manual settings, etc.
Today we're going to compare HTC One A9 and its UltraPixel camera to Lenovo Vibe S1 that boasts double front-facing camera. In order to adequately evaluate their capabilities, we're going to compare their specs, manual settings, modes and some selfies we took with them.
If you're interested in the price and availability of either device, you'll find information at the following links:
Lenovo Vibe S1 – http://amzn.to/1PQaXQW
HTC One A9 – http://amzn.to/1TTaMmj

Specs
The Vibe S1 isn't the first smartphone from the Chinese powerhouse that boasts cool front-facing camera features, but perhaps the best selfie-centric handset is the Lenovo Vibe S1. It's going to receive a proper review in the near future but for now let's take a look at the selfies. The first unit has 8MP front-facing CMOS BSI sensor with f/2.2 aperture while the second camera uses 2MP sensor adding depth to the images.
While HTC's A9 isn't a selfie-centric smartphone, the OEM includes several neat features worth considering. Starting with the well-know UltraPixel technology integrated by the front-facing camera – it boasts CMOS BSI sensor and f/2.0 aperture, making it perfect for selfies in low-light conditions. HTC One A9 is also a model we're currently testing and we'll make sure to share its review as soon as it's done.
| Lenovo | Vibe S1 |
| --- | --- |
| Front-facing camera | 8MP / 2MP |
| Sensor | CMOS BSI |
| Aperture | f/2.2 |
| Video | 1920 х 1080 / 30FPS |
| HTC | One A9 |
| --- | --- |
| Front-facing camera | UltraPixel 4.09MP |
| Sensor | CMOS BSI |
| Aperture | f/2.0 |
| Video | 1920 х 1080 / 30FPS |
Photo comparison
Even though the phones we're comparing in this article don't belong to the same price range, we thought it'd be interesting to see how these two unconventional front-facing shooters stack agains each other and how's the photo quality. Below you can see four selfies – two with Lenovo Vibe S1 (left) and two with HTC One A9 (right). We're leaving the assessment of the image quality to you.

Camera settings and options
Moving on to the settings and options of the camera menu, we should note that Lenovo Vibe S1 definitely has the upper hand, due to the aforementioned additional front-facing camera. You can enjoy various shooting modes, such as the bokeh effect. You can also crop out various elements from your selfies with great precision and proceed to create hilarious collages with the large variety of templates. Among the other options, we find the ability to take photos with a hand gesture as well as a "Beauty" effect, which strenght you can adjust via slider. The latter improves the appearance of your face, without making it look too artificial.
On the other hand, One A9 also has some neat options to surprise the users with, even though they aren't as much as those of Vibe S1. We see the same "Beauty" mode and HDR too. You can see all the available settings and modes in the images below.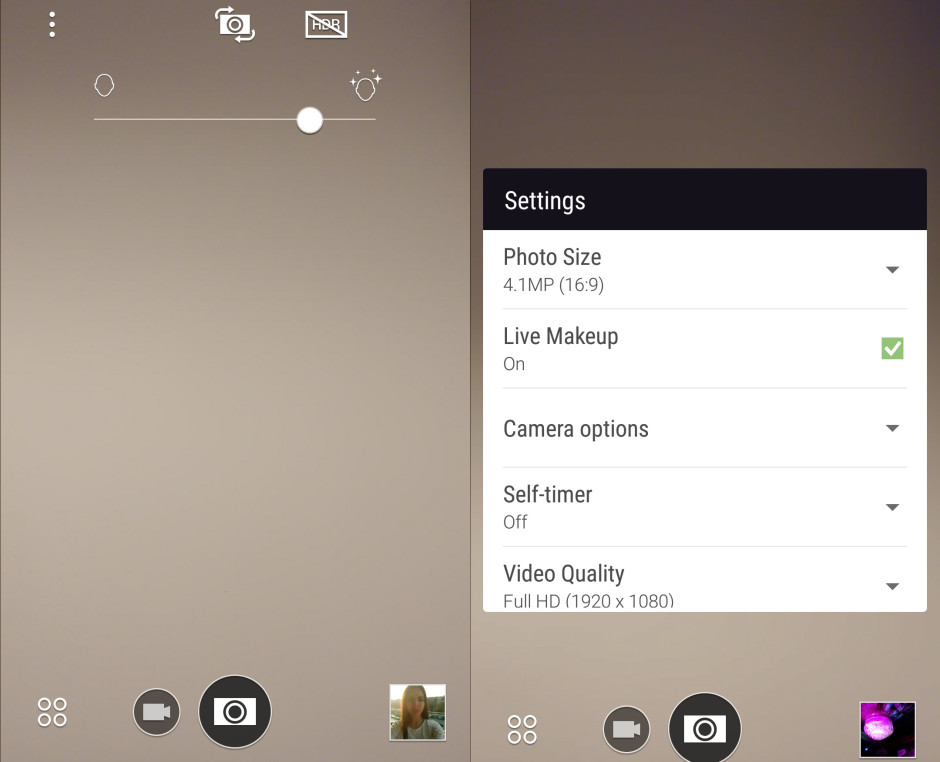 If you're interested in the price and availability of either device, you'll find information about them at the following links:
Lenovo Vibe S1: http://amzn.to/1PQaXQW
HTC One A9: http://amzn.to/1TTaMmj