ASUS ZenBook Pro UX501 – first impression of the new MacBook Pro alternative
We've got a shiny new toy in our office right now and it's called ASUS ZenBook Pro UX501 – thin, light and powerful notebook that shares the aesthetics we see in the MacBook Pro as well as the elegant design of the ASUS ROG G501 we reviewed a few months back. It was about time ASUS upped their game and offered a strong alternative to the famous MacBook Pro and they really have outdone themselves this time.
Despite the almost identical specs sheet that the UX501 and G501 share, this one offers stunning UHD touchscreen that we are eager to test and see the quality of the IPS panel used here. Stay tuned for our full review as we have a lot more tests in stored for you.
Design
At first glance, it's hard to set apart the UX501 from the MacBook Pro with these round edges, thin design, and flat sides. The all-aluminum body also gives you the desired premium feel that we are used to dealing with the Apple's notebook, but it's more of a G501 sibling, nonetheless. The only thing that sets the G501 and UX501 apart visually is the color used for the anodized aluminum.
Other than that, we are presented with brushed aluminum cover, thin and flat profile with chamfered and round edges as well as super-comfortable touchpad and sturdy keyboard that we are already used to from using several other ASUS models.
There's nothing more to be said rather than sweet-talk about the design, build quality and overall appearance. However, you can read more about the notebook in details in our full review that's due in the next few days, so stay tuned.
Hardware
The hardware of the UX501 that's offered with is quite limited and only various storage options are available for you to customize. We've got Intel Core i7-4720HQ CPU on board, up to 16GB of DDR3L 1600MHz memory, NVIDIA GeForce GTX 960M 2GB GDDR5 GPU, UHD (3840×2160) touchscreen and PCIe x4 SSD up to 512GB. There's an additional 2.5″ inch HDD up to 1TB at your disposal as well. Nevertheless, all of the components and configurations may vary depending on your region.
One of the biggest advantages of the UX501 over other Windows notebooks is the Thunderbolt port that can be used for super-fast data transfer, display adapter, charging and etc. The notebook also integrates 3x USB 3.0 ports, 1x HDMI and 1x 3.5 mm jack for headphones. All this hardware is running on 6-cell 96Wh Polymer battery, but don't keep our hopes high in terms of battery performance. It's a really demanding hardware on board plus a pixel-packed display.
Specs sheet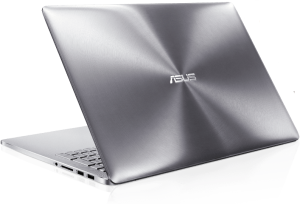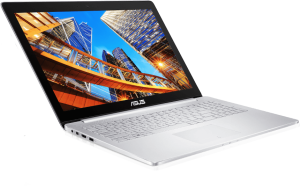 CPU
Intel Core i7-4720HQ (4-core, 2.60 – 3.60 Ghz, 6MB cache)
RAM
8/12/16GB DDR3, 1600Mhz
GPU

NVIDIA GeForce GTX 960M (2GB GDDR5) / NVIDIA GeForce GTX 960M (4GB GDDR5)

HDD/SSD
128/256/512GB SSD + 1TB HDD (5400 rpm)
Display
15.6-inch (39.62 cm.) – 3840×2160 (4К UHD), IPS touchscreen
Optical Drive
–
Connectivity
Wi-Fi 802.11 ac, Bluetooth 4.0
Other features

3x USB 3.0
built-in webcam
built-in microphone
1x HDMI 1.4
1x Thunderbolt port
SD card reader
built-in loudspeakers – Bang & Olufsen ICEpower

Battery
96WHr, 6-cell Lithium Ion
Thickness
21.3 mm (0.8″)
Weight
2.06kg (4.5 lbs)