ASUS ZenBook 14 Flip OLED (UP5401) – Top 5 Pros and Cons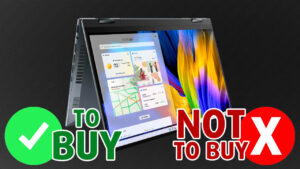 ZenBooks have been ASUS's halo devices, striving to be as innovative as ever, being the first to implement new technologies and hardware. Today's laptop is a smaller one, coming with a portable and high-end design, along with a smaller 14-inch display, Tiger Lake processors, and integrated graphics.
Obviously, performance won't be on par with bigger and better laptops, but we are talking about a very portable device that you can take anywhere with you and not be a hassle.
Today we are presenting you with LaptopMedia's top 5 picks about the ASUS ZenBook 14 Flip OLED (UP5401).
ASUS ZenBook 14 Flip OLED (UP5401): Full Specs / In-depth Review
4 reasons to BUY the ASUS ZenBook 14 Flip OLED (UP5401)
1. Design and build quality
The laptop comes with an exceptionally sturdy aluminum body. The lid is incredibly durable, thanks to both the aluminum construction and the glass display cover. On the back, we find the ZenBook's calling card, the circular brushed finish, with a glossy ASUS logo that is off-centered, and the whole design revolves around it. The hinges are very well balanced, allowing the lid to open with one hand. In terms of dimensions, the laptop stops the scales at 1.40 kg and has a profile of 15.9 mm.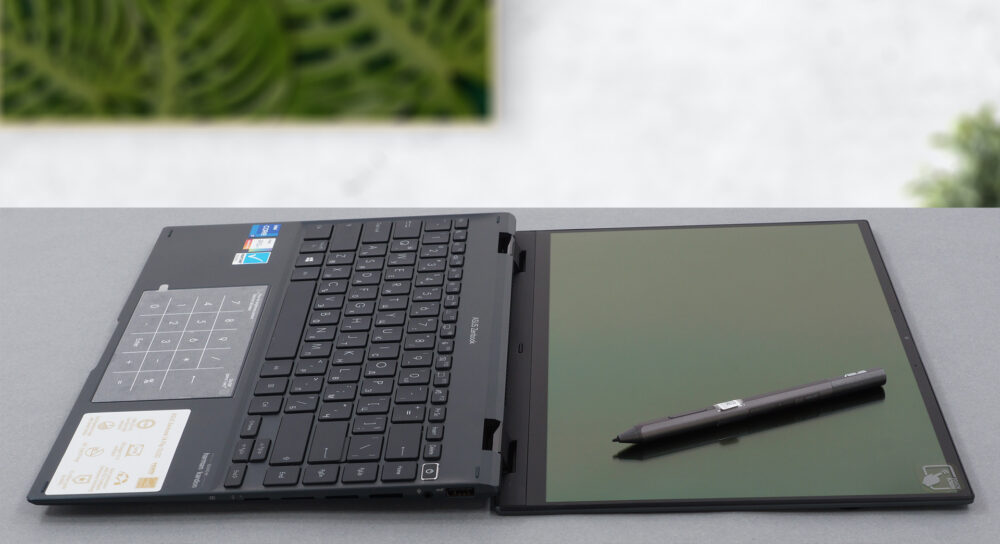 2. I/O
Despite its small stature, the laptop packs two Thunderbolt 4 ports, a single USB Type-A 3.2 (Gen. 2) port, an HDMI 2.0 port, a 3.5 mm audio jack, and a MicroSD card reader.
3. Display quality
The 2.8K OLED panel that we have here is great, but not perfect. It struggles with some problems, but first, let's spew out what it gets right. The viewing angles are fantastic, and the peak brightness is very high, measuring at 361 nits (cd/m2) in the middle of the screen and 362 nits (cd/m2) as an average, with a maximum deviation of only 1%, leading to some of the best brightness uniformity that we have seen. This means that the brightness is even across the entire display area, leading to even color representation. Due to the nature of OLED panels, the contrast ratio is infinite. The color coverage is very good as well, as the panel covers the sRGB and DCI-P3 gamuts fully.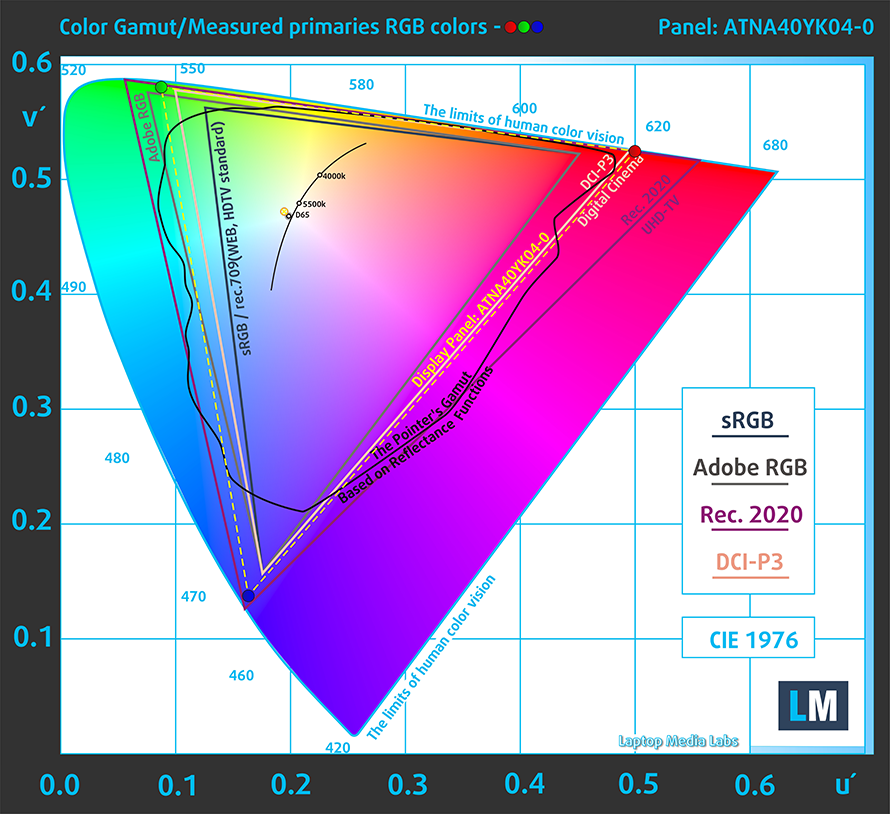 Something which we dislike is the PWM usage, as the notebook uses it at all times. Up to 80 nits, the pulsations are low-frequency, leading to high eye strain. After 80 nits, there are small pulsations, which are relatively safe. Still, our Health-Guard profile eliminates the PWM completely.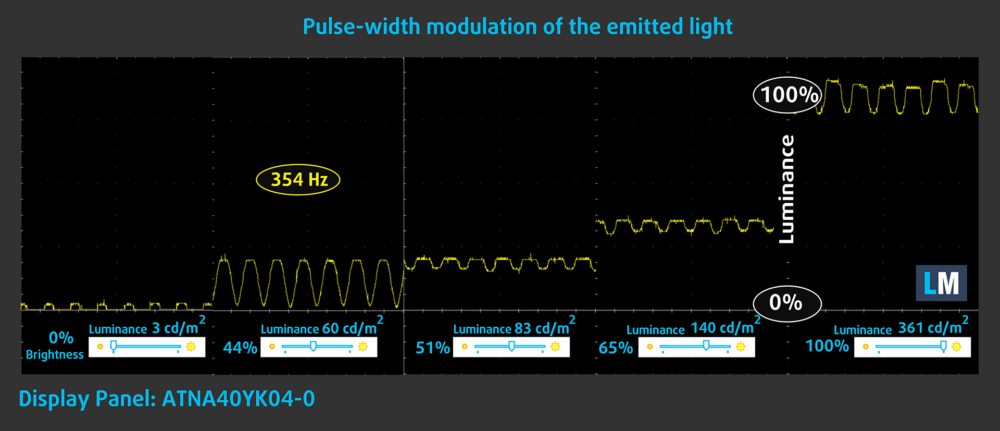 We tested the accuracy with both stock settings and with our Design and Gaming profile, in both the sRGB gamut and in the DCI-P3 gamut using a D65 white point, which is how we got our best result, reaching a dE value of 2.3, which is still higher than the desired <2 but we'll take what we can get. Here are the results in factory condition (left) and with our profile applied (right).
Buy our profiles
Since our profiles are tailored for each individual display model, this article and its respective profile package are meant for ASUS Zenbook 14 Flip OLED (UP5401) configurations with 14.0″ Samsung ATNA40YK04-0 (SDC4154) (2880 x 1800p) OLED panel.
*Should you have problems with downloading the purchased file, try using a different browser to open the link you'll receive via e-mail. If the download target is a .php file instead of an archive, change the file extension to .zip or contact us at [email protected]
Read more about the profiles HERE.
In addition to receiving efficient and health-friendly profiles, by buying LaptopMedia's products you also support the development of our labs, where we test devices in order to produce the most objective reviews possible.
4. Battery life
Now, we conduct the battery tests with the Windows Better performance setting turned on, screen brightness adjusted to 120 nits, and all other programs turned off except for the one we are testing the notebook with. The 63Wh battery pack does pairs decently well with the Tiger Lake U-series chips, delivering up to  10 hours and 53 minutes of Web browsing, or 8 hours and 44 minutes of video playback.

1 reason NOT to buy the ASUS ZenBook 14 Flip OLED (UP5401)
1. Upgradeability
While it didn't compromise the I/O, the portable dimensions of the device definitely interfered with the upgradeability, leaving it with soldered RAM, of which you can pick either 8GB or 16GB of LPDDR4x memory. Storage-wise, there is a single M.2 PCIe x4 slot for storage expansion.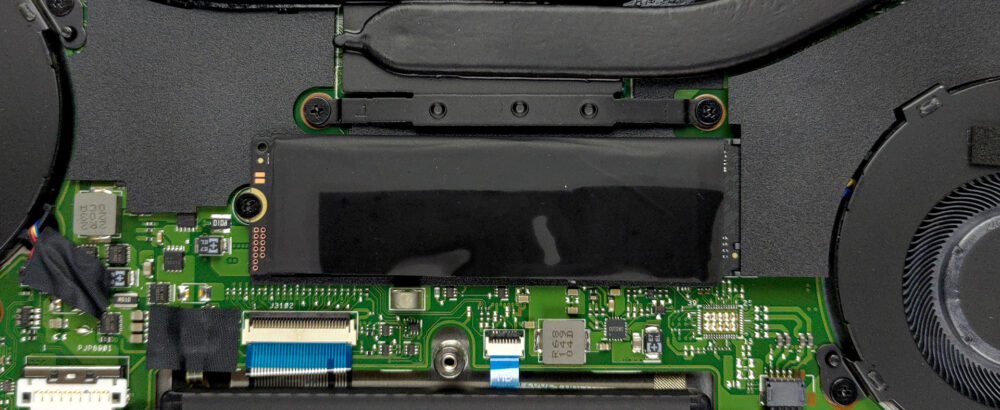 Here is our detailed teardown video, which shows how to access the inside of the device.
All ASUS ZenBook 14 Flip OLED (UP5401) configurations: