ASUS ROG Strix SCAR 15 G533 (2022) – Top 5 Pros and Cons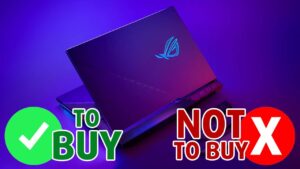 Like it or not, ASUS has remained on top of the gaming market for a while, offering interesting devices with huge potential for performance. Their scariest offerings the Strix SCAR laptops have never shied away from toying with the most powerful components available, and we see that on display one more time with the 2022 model of the SCAR 15 G533, delivering up to a Core i9-12900H and a 150W RTX 3080 Ti.
Today we present you with LaptopMedia's top 5 picks about the ASUS ROG Strix SCAR 15 G533 (2022).
ASUS ROG Strix SCAR 15 G533 (2022): Full Specs / In-depth Review
3 reasons to BUY the ASUS ROG Strix SCAR 15 G533 (2022)
1. Upgradeability
The laptop is easily upgradeable, with 10 Phillips head screws + an additional captive screw that hold the chassis together. From there, you can start prying, to access two SODIMM RAM slots which have DDR5 memory, along with two M.2 slots that are next to each other, making for a better internal appearance.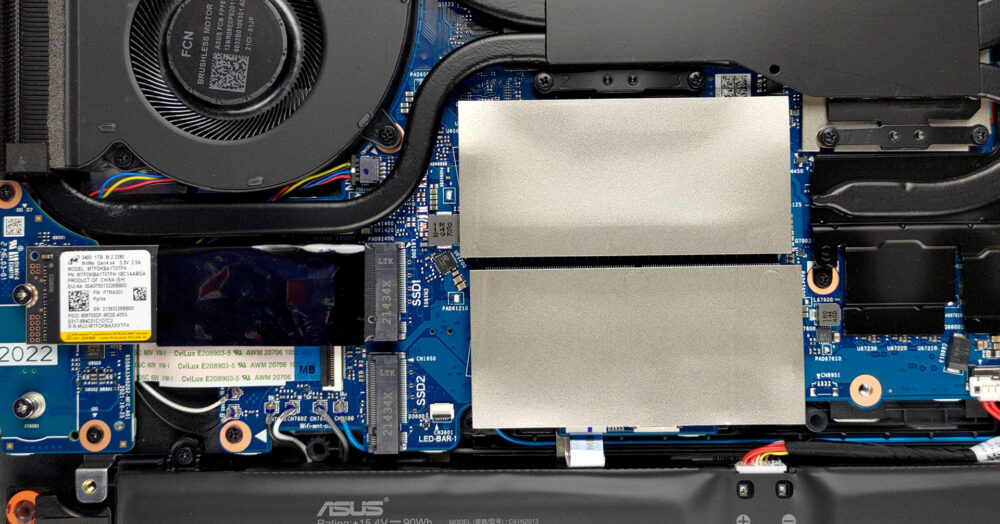 Here is our detailed teardown video, which shows how to access both the RAM and SSD slots.
2. Display quality
The panel that we tested comes with a QHD resolution and a 240Hz refresh rate. The IPS panel has excellent viewing angles, a max brightness of 346 nits in the middle of the screen and 332 nits as an average for the whole area, with a maximum deviation of 9%. The contrast ratio is also good enough – 1030:1. We are glad to see a lack of PWM usage and a quick response time of 9 ms. In terms of Creator work, the panel fully covers the sRGB gamut and offers 99% DCI-P3 coverage.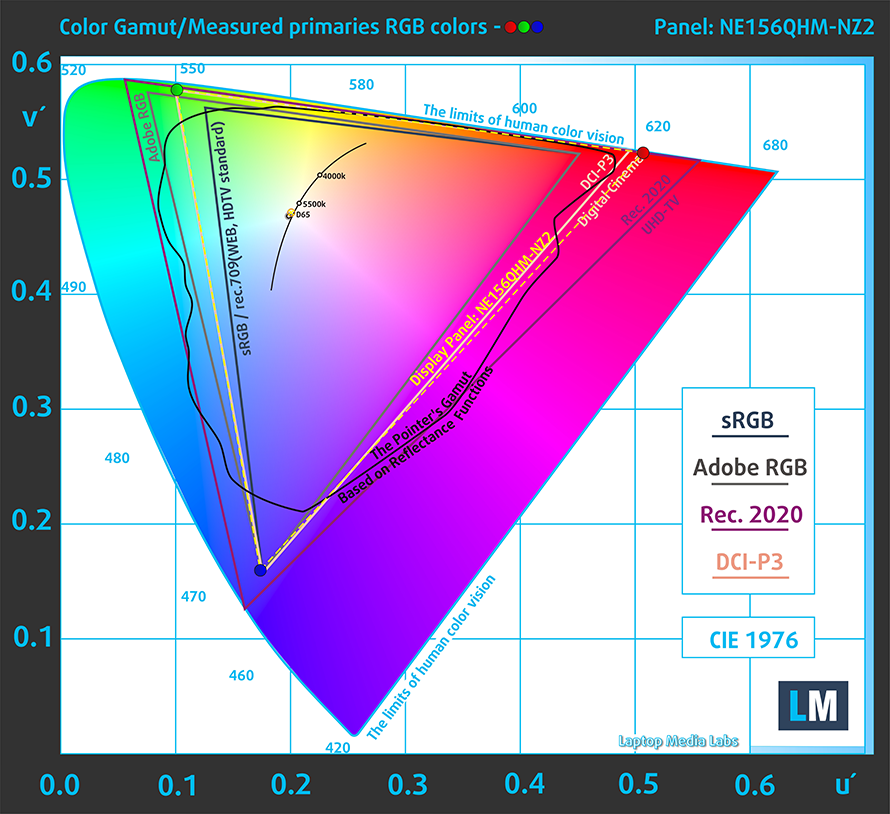 As for the accuracy, we got the best results in the DCI-P3 color space along with a D65 white point. When you pair that with the Design and Gaming profile, the panel reached a dE value of 0.7. Here are the results of our test with the stock settings (left) and with our profile applied (right).
Buy our profiles
Since our profiles are tailored for each individual display model, this article and its respective profile package are meant for ASUS ROG Strix SCAR 15 G533 (2022) configurations with 15.6″ QHD IPS BOE NE156QHM-NZ2 (BOE0A55).
*Should you have problems with downloading the purchased file, try using a different browser to open the link you'll receive via e-mail. If the download target is a .php file instead of an archive, change the file extension to .zip or contact us at [email protected].
Read more about the profiles HERE.
In addition to receiving efficient and health-friendly profiles, by buying LaptopMedia's products you also support the development of our labs, where we test devices in order to produce the most objective reviews possible.
3. Cooling
The cooling setup here is fantastic, with a total of six heat pipes. Both the CPU and GPU get one shared and two separate pipes. The sixth one covers the VRMs and graphics memory. The pipes are connected to a total of four heatsinks and two fans. The CPU also uses liquid metal.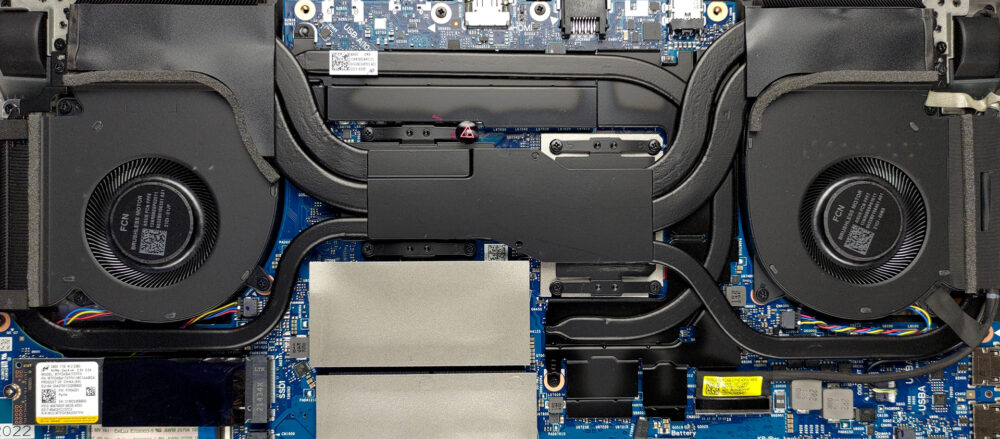 Max CPU load
| Intel Core i9-12900H (45W TDP) | 0:02 – 0:10 sec | 0:15 – 0:30 sec | 10:00 – 15:00 min |
| --- | --- | --- | --- |
| ASUS ROG Strix SCAR 15 G533 (2022) | 4.00 GHz @ 3.06 GHz @ 77°C @ 126W | 3.97 GHz @ 3.04 GHz @ 85°C @ 125W | 3.93 GHz @ 2.96 GHz @ 86°C @ 121W |
The CPU maintains good temperatures and high clock speeds during the entire 15 minutes of the test, which is absurd.

Real-life gaming
| NVIDIA GeForce RTX 3070 Ti | GPU frequency/ Core temp (after 2 min) | GPU frequency/ Core temp (after 30 min) | GPU frequency/ Core temp (Max Fan) |
| --- | --- | --- | --- |
| ASUS ROG Strix SCAR 15 G533 (2022) | 1631 MHz @ 80°C @ 149W | 1614 MHz @ 81°C @ 149W | – |
The GPU reaches the advertised 150W TGP while keeping a low temperature of around 80°C. The clock speeds are also some of the highest that we have seen from the RTX 3070 Ti.

Gaming comfort
Even in the Turbo mode, the laptop isn't very loud, which is good for comfort. The base also doesn't get very hot, with the hotspot on the keyboard centering around the V and B keys and maxing out at 39.5°C.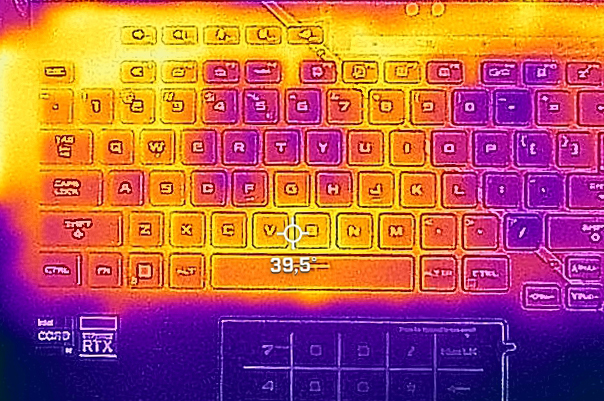 2 reasons NOT to buy the ASUS ROG Strix SCAR 15 G533 (2022)
1. No webcam
The laptop makes a pretty stupid sacrifice, as adding a webcam won't exactly increase the thickness of the bezels that much, and you're paying a bucket of money for it regardless, it might as well have one. Other fierce competitors from MSI, Lenovo, and Acer don't make the same sacrifices, resulting in better value.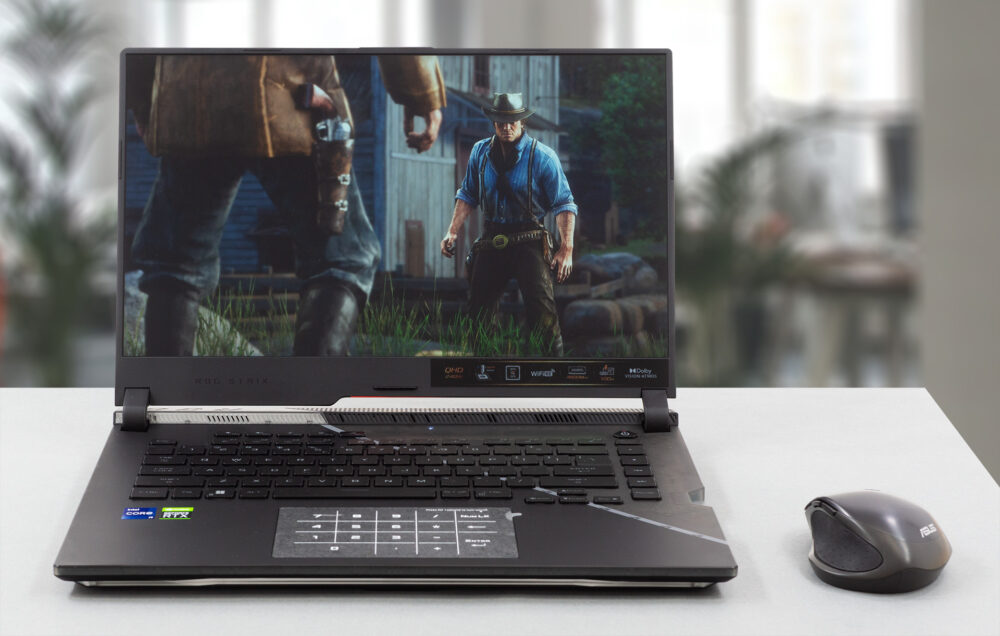 2. Lack of an SD card reader
Lastly, there's also no SD card reader of any kind. If the display didn't have the Creator qualities that it does, we wouldn't be mad, but since it brings adequate coverage and accuracy, ASUS should make it easier for photographers that like to game, by making file transfer an easier process.
All ASUS ROG Strix SCAR 15 G533 (2022) configurations: