ASUS ROG Strix GL502VS vs Acer Predator 15 (G9-593) – choosing from the best

Today we want to provide you with a detailed comparison of two great gaming notebooks. Both models were released at the end of last year and were one of the first to incorporate the latest NVIDIA Pascal generation of graphics cards. Speaking of which both models are equipped with the powerful NVIDIA GeForce GTX 1070.
On one side of the ring, we have the elegant ASUS ROG Strix GL502VS and on the other side – the mighty Acer Predator 15 (G9-593). In terms of specs, both notebooks are nearly identical so it will be a ferocious fight but in the end, one of them will take the crown or who knows – maybe where one falls short the other will compensate and vice versa. Stick around and find out.
ASUS ROG Strix GL502VS: Full review / Check price
Acer Predator 15 (G9-593): Full review / Check price

Design and construction
ASUS ROG Strix GL502VS offers a design worthy for a premium gaming notebook. The overall build feels solid and stable. The lid catches the eye with its LED-illuminated ROG logo and two stripes in the middle that are in contrast to the black brushed aluminum. The lid itself is easily bendable but no ripples occur on the LCD panel so that's not a problem. The hinges are sturdy but you can open the laptop using one hand nonetheless. We are not particularly happy with the fact that the bottom piece is made from plastic but we guess that ASUS had to cut corners somewhere (it's better in the construction than in performance).
Acer Predator 15 (G9-593) is a bit of a different story. While GL502VS have more of an elegant design the Predator 15 is looking aggressive (proper for the name) with its huge main exhaust vents on the rear side. This model is also built to last as the lid consists out of 40% fiberglass – a strong yet lightweight material used in elevator spools which hold their steel wire ropes. However, despite the fiberglass the device weights 3742 g (8.25 lbs) which is quite heavy for a 15-incher.
Moving on to the interior, the Strix GL502VS disappoints a little bit because again it uses plastic instead of aluminum as in the bottom piece. Plastic materials reduce the spread of heat along the keyboard tray which might lead to higher surface temperatures in certain areas. The keyboard isn't anything special but at least there is a good LED backlight and the WASD keys are highlighted in bright orange that lights up in the dark. We are missing the media control buttons and the touchpad isn't the best either.
The interior of the Predator 15 is definitely more pleasing. The WASD and Arrow keys are highlighted as well as the power button over the keyboard and the six special buttons on the left. Speaking of which- you get five keys (1-5) and one labeled with a capital "P". They can be assigned to different actions from the Predator Sense software. Every button can have up to three tasks assigned depending on the color they are glowing in (you can change the color with the "P" button).
ASUS ROG Strix GL502VS: Detailed information about design and construction
Acer Predator 15 (G9-593): Detailed information about design and construction

Display
Both models come with a 15-inch IPS panel with Full HD resolution (1920 x 1080p). This means that both models have a pixel density of 142 ppi and pixel become indistinguishable when viewing from more than 60 cm. Both panels are manufactured by LG Phillips (LP156WF6-SPB6 on the ASUS and LP156WF6-SPP1 on the Acer).
Both models have great viewing angles and are quite bright – maximum brightness of 324 cd/m2 in the middle of the screen for the Strix GL502VS and 343 cd/m2 for the Predator 15. The stock contrast ratio is also very similar in both models and also good – 1020:1 and 1000:1 for the ASUS and Acer respectively. There is a difference in the color temperature. GL502VS offers a temperature of 6770K which is very close to the optimal 6500K while the Predator 15 is a bit off with its 7500K (colors will appear colder).
Color reproduction in both models is almost identical. The Strix GL502VS covers 90% of the sRGB color space while Predator 15's range is 89% (sRGB/ITU-R BT.709 ). In other words, the screen can reproduce almost every color used in Internet and HDTV.  Unfortunately, both models use Pulse-Width Modulation for all brightness levels below 100%. However, the frequency used is very high – 21.2 kHz in the ASUS ROG and 20 kHz in the Acer Predator. This means that the negative effect is severely reduced but users with more sensitive eyes might feel some of the negative effects after long hours of on-screen time. Our Health-Guard profile can fix this issue.
To sum things up we can say that both panels are great and you won't make a mistake if you go for either of them but if we have to pick a winner we would probably go for the ASUS because of the slightly higher frequency PWM.
ASUS ROG Strix GL502VS: Detailed display tests
Acer Predator 15 (G9-593): Detailed display tests

Specs sheet
Both models feature the same components so we can expect a similar performance when gaming. We will check this in the "Performance" section. They both use the Intel Core i7-6700HQ which is a four core Hyper-Threaded CPU from the Skylake generation. The chip's consumption is 45 Watts, and its maximum operating temperature is 100 degrees Celsius.
More information about Intel Core i7-6700HQ and its position in our Top CPU Ranking you can find HERE.
The graphics card is also the same. As we already mention in the introductory these two notebooks are one of the first to bring the new Pascal generation to the market. The chip inside them is the NVIDIA GeForce GTX 1070 with 8GB of GDDR5 video memory
More information about the GPU and its place in our Top GPU Ranking you can find HERE.
–
ASUS ROG Strix GL502VS
Acer Predator 15 (G9-593)
CPU
Intel Core i7-6700HQ (4-core, 2.60 -3.50 GHz, 6MB cache)
Intel Core i7-6700HQ (4-core, 2.60 -3.50 GHz, 6MB cache)
RAM
8GB RAM – DDR4, 2133 MHz
up to 64GB (4x 16384MB) – DDR4, 2133MHz
GPU
NVIDIA GeForce GTX 1070 (8GB GDDR5)
NVIDIA GeForce GTX 1070 (8GB GDDR5)
HDD/SSD
256GB M.2 SATA SSD + Free 2.5-inch HDD/SSD slot
2x M.2 SSD + HDD
Display
15.6-inch Full HD IPS, matte + G-Sync
15.6-inch Full HD IPS, matte + G-Sync
Features

3x USB 3.0
1x USB 3.1 Type-C (supports Thunderbolt 3)
Ethernet LAN port
mini DisplayPort
SD/MMC card reader
3.5 mm combo audio jack
HDMI 2.0
RJ-45
Kensington Lock security port
Built-in microphones with ambient noise reduction
ICEpower loudspeakers

4x USB 3.0
1x USB 3.1 Type-C
LED keyboard backlight with different zones
Webcam
5 programmable macro keys
 3.5 mm combo audio jack
RJ-45
DisplayPort
HDMI 2.0
memory card reader
2x built-in loudspeakers + subwoofer

Battery
64 Wh / 4240 mAh Li-Polymer battery
88.8Wh / 6000 mAh Li-Polymer battery
Profile thickness
30 mm (1.18″)
29.9 mm
Weight
2.6 kg (5.73 lbs)
3.74 kg (8.25 lbs)
Price
Check price
Check price
Battery
Both models feature identical components so they should perform similarly in our battery test. However, the Acer Predator 15 has a bigger battery – 88.8Wh compared to the 64 Wh one of the ASUS GL502VS. This plays a major role in the end result and it's clear that the Acer performs way better.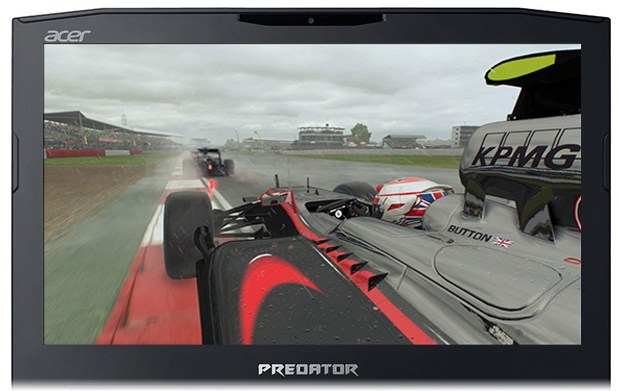 In the Web browsing test that simulates real life by automatically browse through over 70 websites, the Predator managed to squeeze 276 minutes (4 hours and 36 minutes) out of the battery. This is not a great result but it's considerably better than the GL502VS which managed 223 minutes (3 hours and 43 minutes). In the video playback test, the case is similar – 257 minutes (4 hours and 17 minutes) vs 197 minutes (3 hours and 17 minutes) for the Acer and the ASUS respectively. And finally, in the most important battery test for a gaming laptop (that's gaming of course) the Predator scored 113 minutes (1 hour and 53 minutes) while the GL502VS managed just 78 minutes (1 hour and 18 minutes).
We can clearly see that the bigger battery provides anywhere from half an hour to an hour of additional on-screen time in every scenario.
ASUS ROG Strix GL502VS: Detailed battery tests
Acer Predator 15 (G9-593): Detailed battery tests

Performance
We already mentioned that both laptops are equipped with the same hardware so we can expect similar performance and our gaming test prove this statement. However, the Acer Predator 15 seems to be hitting higher framerates in most cases.




ASUS ROG Strix GL502VS: Gaming tests
Acer Predator 15 (G9-593): Gaming tests

Temperatures
If you have read one of our reviews before you would know how we conduct our temperature tests. First, we put 100% load on the CPU for about an hour to see how the cooling system handles it and then we add 100% GPU load to further stress things up.
After an hour of 100% CPU load, the ROG Strix GL502VS managed to keep temperatures fairly cool (~75 °C) and the clock speeds at 3.1  GHz (Turbo Boost frequency). After we turned on the GPU stress test as well things changed a bit – the CPU temperatures rose to 97 °C while the GPU was running at 86 °C. The clock of the CPU decreased to 2.7 GHz which is the base frequency and the GPU ran at 1645 MHz for a while but then slowly slowed down the tempo to 1450 – 1550 MHz. These results aren't bad. However, the surface temperature was higher than what we are used to seeing with some areas reaching 47 °C. Note that this is after a two-hour stress test and a normal gaming session won't push things so far.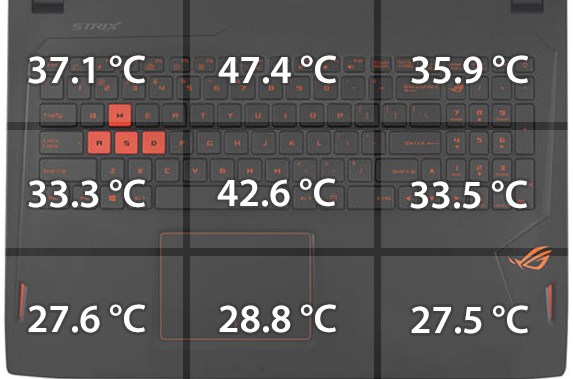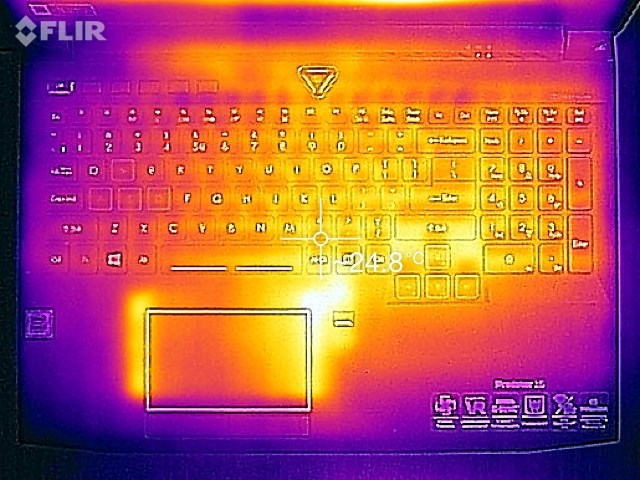 Similar results were observed when testing the Acer Predator 15. One hour after the initiation of the CPU test the temperatures were 55-56 °C for two of the cores and 80-85 °C for the other two and the Turbo frequency of 3.1 GHz was kept. One hour later after the GPU test ran for a while core temperature rose to 72/73/93/96 °C and the frequency went down to 2.9 GHz. The graphics card was running at 1240 MHz and around 70 °C. Surface temperatures were similar to the GL502VS. We should take a moment to talk about the additional fan called FrostCore which can be swapped with the DVD optical drive. Unfortunately, it didn't do anything.

Verdict
Both models are great. They have lots of connectivity options, excellent performance, lots of features and good thermal control. Acer Predator 15 (G9-593) takes the lead with its aggressive design, customizable keys, and longer battery life. However, all these goodies come at a certain price – the Predator is quite heavy – 3.74 kg (8.25 lbs) and bulky and it also costs a bit more. We would recommend the Acer Predator 15 (G9-593) but if you aren't that serious into gaming the ASUS ROG Strix GL502VS might be the better choice for you.
ASUS ROG Strix GL502VS: Full review / Check price
Acer Predator 15 (G9-593): Full review / Check price
Why choose ASUS ROG Strix GL502VS?
significantly more lightweight
lower starting price
Why choose Acer Predator 15 (G9-593)?
better battery life
more reliable cooling system
better design and build quality