ASUS ROG G502 / GL502 – detailed specs, price, configurations and photo gallery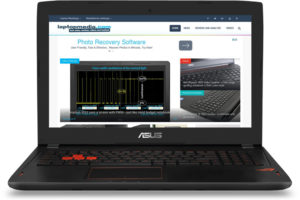 Following the good news about the price (edit: even better!) of the new ASUS G502, we would like to sum up and share everything you should know about the latest ultra-slim gaming hit. We expect it'll be in our office any time now, so you'll be able to read our in-depth review soon.
Until then, you can also take a look at our preview to read what you can expect in terms of performance, build quality, cooling system and features.
Simply put, ASUS Strix G502/GL502 will almost certainly become Republic of Gamers' next big hit with its ultra-thin and light chassis and top class performance (GTX 970M/980M + 6700HQ + M.2 PCIe NVMe). The price is 1499 EUR for a configuration with 970M, 6700HQ, 16GBs of RAM, and 1TB. If you want the top tier GTX 980M, you have to set aside 1799 EUR (6700HQ, 8GB RAM, 1TB). This is the best choice, in our opinion.
We also found a version with 970M, 6700HQ, 1GB RAM and 512GB PCIe SSD, priced at 1699 EUR. That said, the most expensive configuration (6700HQ, 980M, 16GB RAM and 512GB SSD) should cost you around 1999 EUR. Not bad.
Here you can regularly check if the notebook has popped up in your country:
http://amzn.to/1rcYo7C
We'll take an in-depth (no pun intended) look at the internals a little later. As for the beauty on the outside, check out some high-res photos…
Specs Sheet
CPU
Intel Core i5-6300HQ / Intel Core i7-6700HQ
RAM
up to 16GB (2x 8096MB) – DDR4-2133 (8GB – integrated, 1x free slot)
GPU

NVIDIA GeForce GTX 970M
NVIDIA GeForce GTX 980M

HDD/SSD
up to 2TB HDD + either 128GB/256GB/512GB M.2 SATA SSD or 128GB/256GB/512GB M.2 PCIe x4 NVMe SSD
Display

15.6-inch – 1920×1080 (Full HD) IPS, matte (72% NTSC)
15.6-inch – 1920×1080 (Full HD) IPS, matte (94% NTSC)
15.6-inch – 3840×2160 (Ultra HD) IPS, matte (72% NTSC)

Keyboard
ASUS 348mm keyboard with 19mm full size key pitch + NumPad (Illuminated)
Features

Wi-Fi AC
Bluetooth 4.1 (Dual band)
Intel WIDI
LAN 10/100/1000 Mbps
USB 3.0
USB 3.1 Type-C
HDMI 1.4
mini DisplayPort 1.2
SD/MMC/MS card reader
built-in microphones with ambient noise reduction
Bang & Olufsen ICEpower loudspeakers

Battery
4-cell, 64Wh, up to 6 hours of browsing
Dimensions (WxDxH)
390 x 266 x 23.5 mm (0.93″)
Weight
2.0 – 2.2 kg (4.4 – 4.9 lbs)