ASUS ROG Flow Z13 Acronym – Top 5 Pros and Cons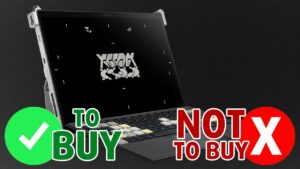 We've seen fashion and tech intertwine, but what ASUS is doing with the ROG Flow Z13 Acronym is on another level. ASUS is pairing its extensive engineering experience with the tech wear aesthetic of Acronym, a German apparel brand, to create a one-of-a-kind device. ASUS pioneered the gaming tablet form factor last year with the Z13, but the 2023 model is about to really take off, with an RTX 4070 GPU and a Core i9-13900H. You also get a very crispy QHD+ display with all the colors and brightness that you'll ever need. Let's see what this unique and exclusive machine has to offer.
Today we're presenting you with LaptopMedia's top 5 picks about the ASUS ROG Flow Z13 Acronym.
ASUS ROG Flow Z13 Acronym: Full Specs / In-depth Review
4 reasons to BUY the All ASUS ROG Flow Z13 Acronym
1. Design and build quality
The design is the identifying feature of the Z13. With a fully aluminum back and aggressive sides, including some pretty bulky corners. There's exposed aluminum around the entire laptop, including a pretty tough kickstand that won't give up on you anytime soon. The Edges are thicker and bulkier on purpose, as you get some straps in the package, which allow you to carry the tablet with you. They attach to all four corners so that the tablet is better secured and more stable. In the package, you also get a Stylus pen with replaceable tips and a charger. In terms of dimensions, the Z13 Acronym weighs 1.32 kg and has a thickness between 15.6 mm and 20 mm, a bit thicker than the regular Z13 model. The back is further engraved using CNC milling, having some designs that really make it stand out.
There are cameras on the front as well as the back. The front webcam has a 5MP resolution, while also providing an IR scanner for facial recognition. The rear camera has a 13MP resolution. The keyboard that's provided in the box also comes with a lot of highlighted keys. Despite the small size, we find it comfortable for typing.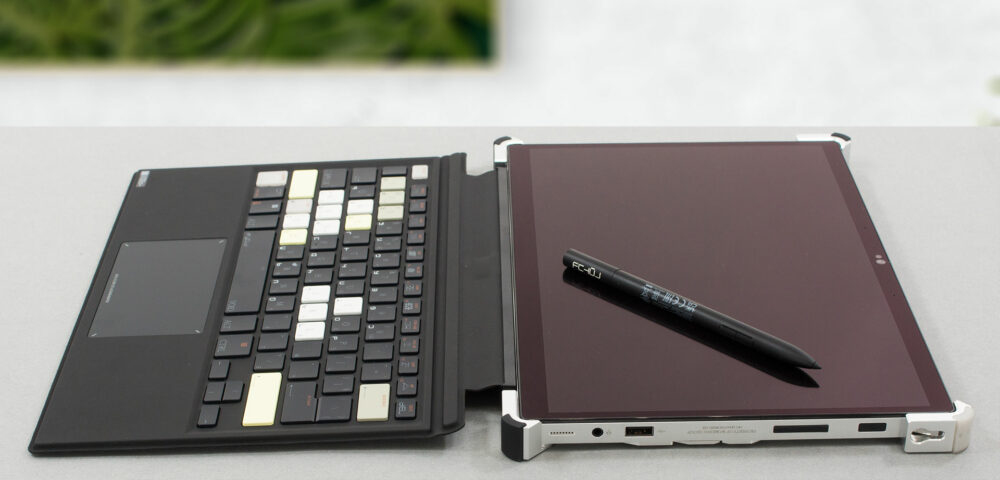 2. Display quality
The 16:10 QHD+ IPS panel has a 165Hz refresh rate, so you know that games look damn good. With this high resolution at just 13.3 inches, all types of content looks especially crisp. It also reaches a peak brightness of 487 nits, which is plenty even for outside work. The color coverage and accuracy are fantastic, as the panel covers 100% of the sRGB and 99% of the DCI-P3 gamuts.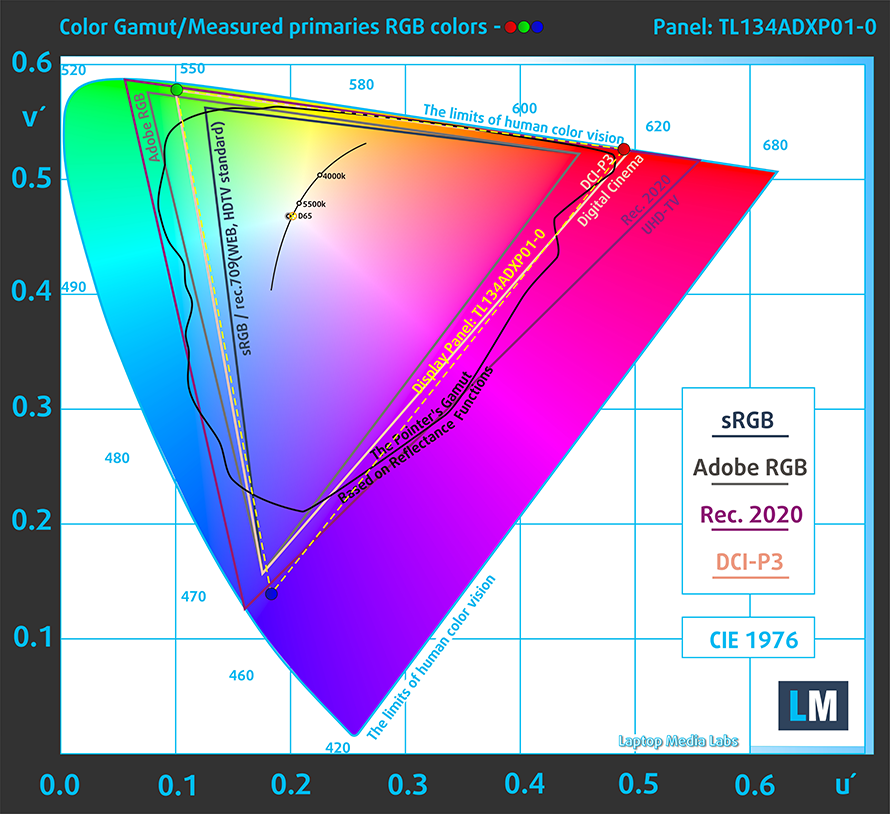 The color accuracy is good even with the stock settings, with a dE value of 1.8. Once we apply our Design and Gaming profile, the dE value drops down to 1.0, which is perfect. Here are the results of our test with the factory settings (left) and with our profile applied (right).
Buy our profiles
Since our profiles are tailored for each individual display model, this article and its respective profile package are meant for ASUS ROG Flow Z13 Acronym configuration with 13.4″ TL134ADXP01-0 (TMX0001) (2560×1600) IPS.
*Should you have problems with downloading the purchased file, try using a different browser to open the link you'll receive via e-mail. If the download target is a .php file instead of an archive, change the file extension to .zip or contact us at [email protected]
Read more about the profiles HERE.
In addition to receiving efficient and health-friendly profiles, by buying LaptopMedia's products you also support the development of our labs, where we test devices in order to produce the most objective reviews possible.
3. Performance
The pairing of the Core i7-13900H and a 60W RTX 4070 offers a crazy amount of performance in a tightly packed and compact tablet, which is groundbreaking territory. The tablet offers more 3D Rendering performance than the Core i7-13700H inside the larger MSI Stealth 16 Studio.
Results are from the Cinebench R23 CPU test (the higher the score, the better)
Results are from our Photoshop benchmark test (the lower the score, the better)
The RTX 4070 isn't too shabby either, even at 60W, it walks all over the 3050 Ti model from last year, giving you the question of why even bother with an external GPU.
4. Cooling
These results are accomplished with great cooling, as there's a vapor chamber on the inside, along with liquid metal covering both the CPU and graphics.

Max CPU load
| Intel Core i9-13900H (45W TDP) | 0:02 – 0:10 sec | 0:15 – 0:30 sec | 10:00 – 15:00 min |
| --- | --- | --- | --- |
| ASUS ROG Flow Z13 Acronym | 3.77 GHz @ 2.83 GHz @ 65°C @ 97W | 3.76 GHz @ 2.83 GHz @ 75°C @ 94W | 3.19 GHz @ 2.46 GHz @ 74°C @ 65W |
| ASUS ROG Zephyrus M16 (GU604, 2023) | 3.98 GHz @ 3.08 GHz @ 84°C @ 116W | 3.69 GHz @ 2.90 GHz @ 87°C @ 97W | 3.60 GHz @ 2.87 GHz @ 88°C @ 92W |
Compared to the only other laptop with the same CPU, the Z13 tablet performs pretty well, only slowing down in long runs, but still running the Core i9 at high TDPs.
| NVIDIA GeForce RTX 4070 | GPU frequency/ Core temp (after 2 min) | GPU frequency/ Core temp (after 30 min) |
| --- | --- | --- |
| ASUS ROG Flow Z13 Acronym | 1860 MHz @ 68°C @ 60W | 1860 MHz @ 70°C @ 60W |
| MSI Stealth 16 Studio (A13V) | 2325 MHz @ 77°C @ 98W | 2325 MHz @ 80°C @ 99W |
| MSI Pulse 15 (B13V) | 2280 MHz @ 71°C @ 109W | 2280 MHz @ 70°C @ 109W |
| MSI Vector GP77 | 2295 MHz @ 61c @ 95W | 2295 MHz @ 61°C @ 95W |
Due to the lower power limit of the GPU, we see slower clock speeds, but you still have to be very happy, considering the product that you're working with.

Comfort during full load
The metal chassis does help with dissipating the heat, however, it does lead to some unwanted warmth reaching the backside. The external hotspot measures 44°C and it's well spread, so you can certainly feel it when gaming. On the other hand, the temperature isn't that high, while the device is quiet, so we're satisfied with it.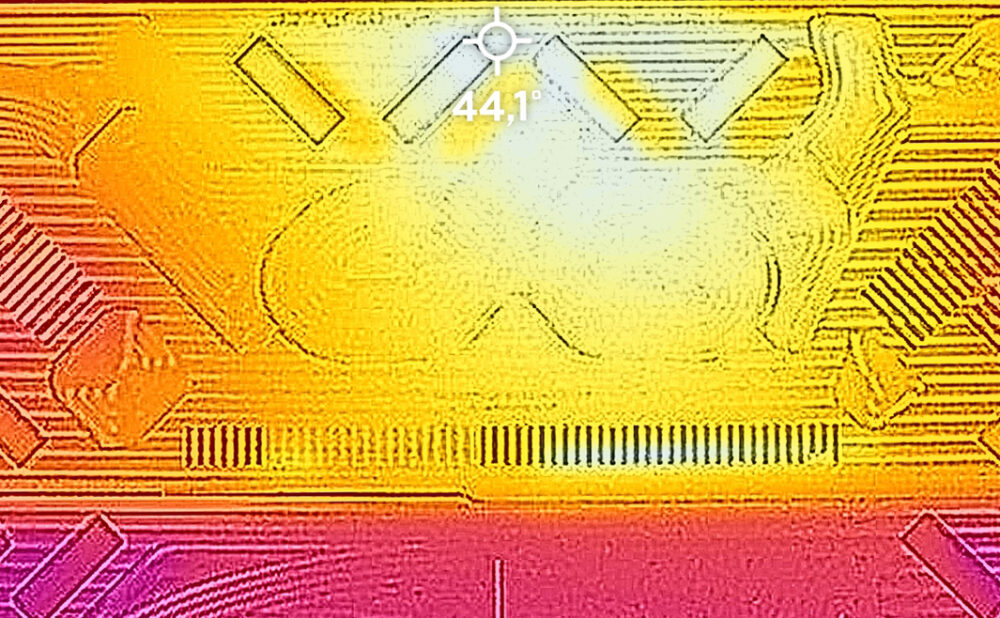 1 reason NOT to buy the All ASUS ROG Flow Z13 Acronym
1. Upgradeability
The upgradeability of the tablet is as good as any other tablet out there. The RAM is soldered to the motherboard, with up to 32GB of LPDDR5 memory. The storage is accessible through one M.2 slot, which fits the smaller 30 mm SSDs. More importantly, it sits behind a service door, which is held by just one screw, so it's a very simple operation to perform.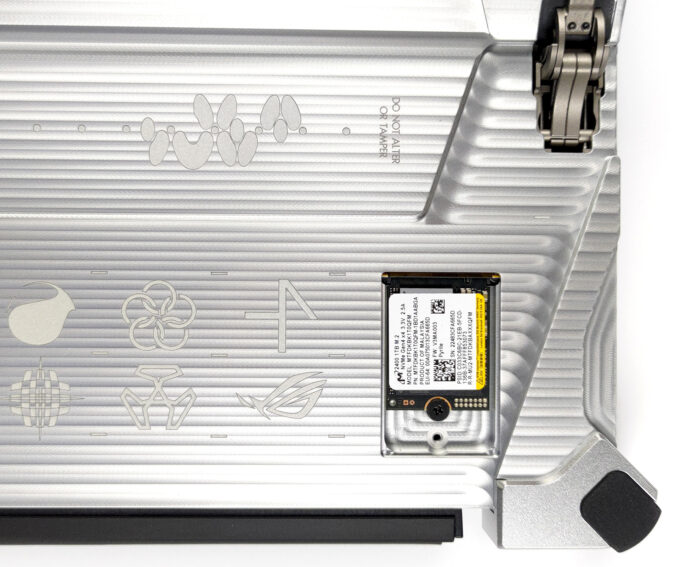 All ASUS ROG Flow Z13 Acronym configurations: