Apple MacBook Air 13 (M2, 2022) – Top 5 Pros and Cons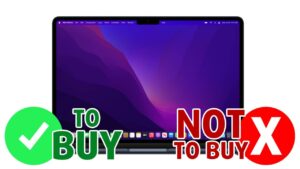 The M1-powered MacBook Air 13 has been a best-selling laptop, offering the MacBook experience for a relatively affordable price of $999. Compared to its Pro counterpart, you get passive cooling, which does limit performance in prolonged workloads, however, it does result in essentially no noise. In 2022, the MacBook Air gets a redesign, with a notch, however, it also comes with the new Apple M2 chip, which offers a nice performance bump from the M1.
Today we present you with LaptopMedia's top 5 picks about the Apple MacBook Air 13 (M2, 2022).
Apple MacBook Air 13 (M2, 2022): Full Specs / In-depth Review
3 reasons to BUY the Apple MacBook Air 13 (M2, 2022)
1. Build quality
The device has the standard Apple build quality, with a very sturdy aluminum chassis. The device comes with the latest MacBook design, with a sharp edge on the lid, while the bottom panel has a sloping edge that is very round. There are four colors to pick from, so you have a lot of options. The lid opens easily with one hand, especially with the indentation on the base, which leaves just enough space for your finger. The laptop is very portable, weighing 1.24 kg and having a profile of 11.3 mm.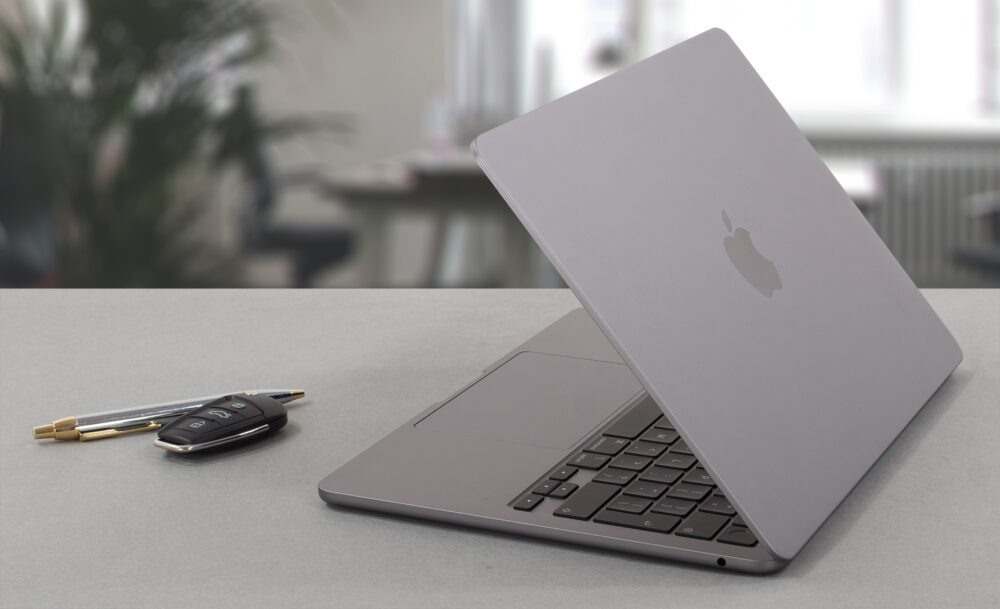 2. Battery life
The laptop has a 52.6 Wh battery pack which lasts for 17 hours and 23 minutes of Web browsing, or 17 hours and 55 minutes of video playback. These are exceptional results that showcase the close integration between Apple hardware and software. Now, we conduct the battery tests with the screen brightness adjusted to 120 nits and all other programs turned off except for the one we are testing the notebook with.
In order to simulate real-life conditions, we used our own script for automatic web browsing through over 70 websites.
For every test like this, we use the same video in HD.
3. Display quality
The 13.6-inch IPS panel is fantastic, offering a resolution of 2560 x 1664p, comfortable viewing angles, 514 nits of peak brightness, and a 1340:1 contrast ratio. The color reproduction is great, offering 100% sRGB coverage and 99% DCI-P3 coverage.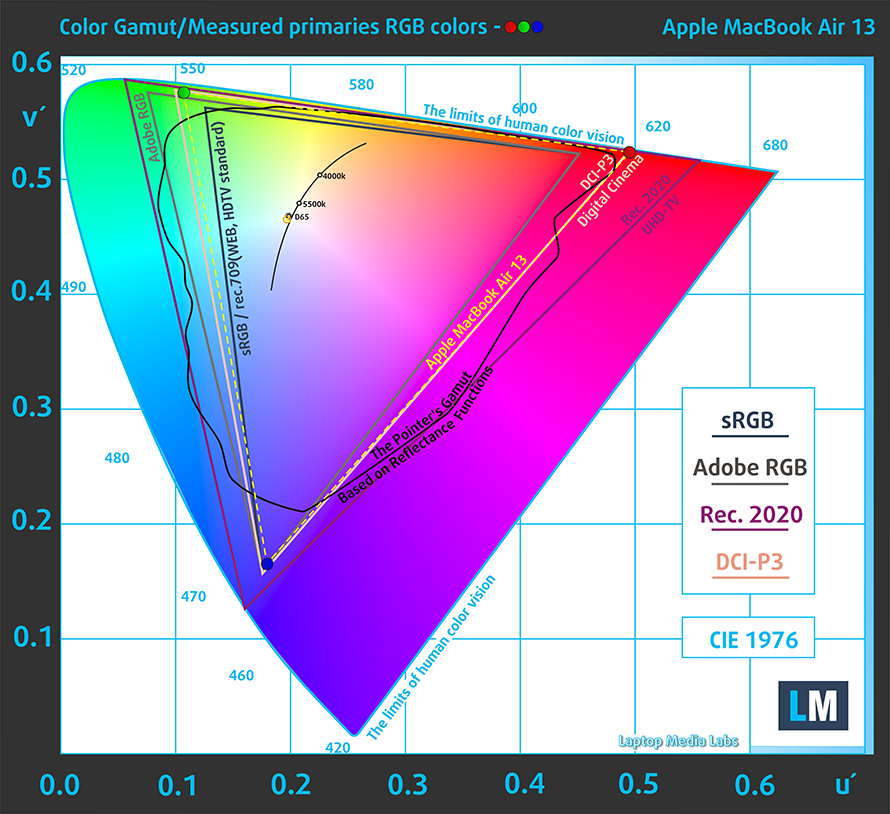 The accuracy could be better, with our test giving us a dE value of 3.6.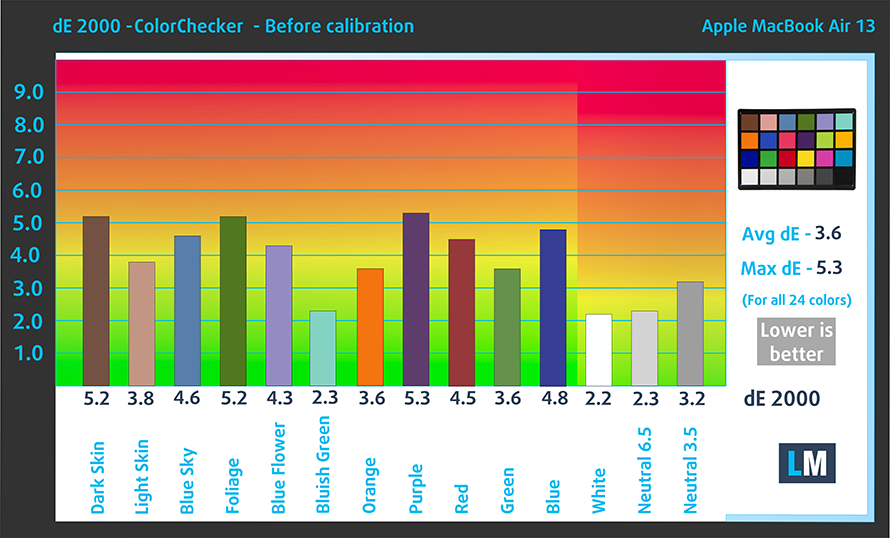 2 reasons NOT to buy the Apple MacBook Air 13 (M2, 2022)
1. Upgradeability
As with all Apple devices, upgradeability is a forbidden word around their offices, as the laptop is enclosed shut. With the Unified Memory Architecture, all of the storage and the RAM are very close to the SoC, so whatever configuration you choose, your decision is final.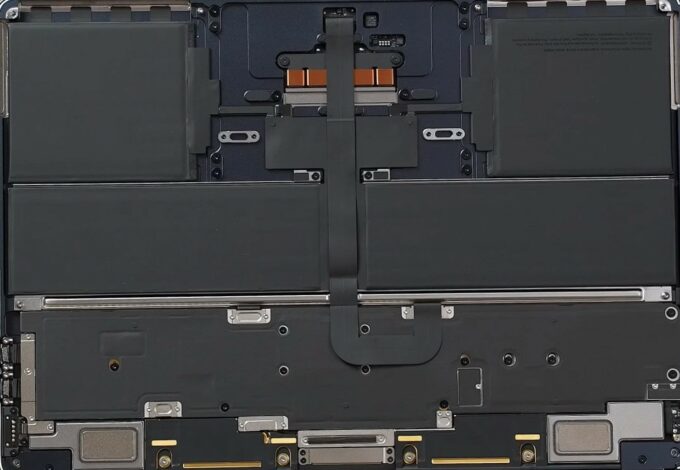 2. I/O
The laptop arrives with a MagSafe connector, which is a clever and much-needed addition, minimizing cable damage. The rest of the I/O consists of two Thunderbolt 3 ports and an audio jack.
All Apple MacBook Air 13 (M2, 2022) configurations: