Next@Acer round-up: What devices Acer is planning to release throughout 2016

Last week our team was in the Big Apple where Acer presented the products they have been developing over the last 12 months which will aim at more and more new customers. Again, the Taiwanese company did not let us down – it announced all kinds of devices – gaming, budget, and ultraportable, so that they may satisfy all our requirements. Now that the event is over, we would like to present an overview of what happened at Next@Acer.
If you are interested in the devices Acer produces, you can visit the following link: http://amzn.to/1SP9lc2
Contents
Ultraportable devices
Acer Aspire Switch Alpha 12
We were pleasantly surprised by the hybrid device Aspire Switch Alpha 12 (a tablet with a docking station). Because most of these machines have issues with the cooling system, Acer addresses this challenge with something new – water cooling. Thanks to it you will find Intel Core i7 processors in the hybrid, which create enough heat so that we can call this a daunting task – we can't wait to test how it performs. If we trust Acer, we should not expect any problems. Apart from the chip, the memory and storage capacity have been also increased, while the price is more than affordable. If you want to learn more about it, you can read our article.
Specs sheet of Aspire Switch Alpha 12
Some of the specs may differ depending on your region.

CPU
Intel Core i3, Core i5 and Core i7
RAM
up to 8GB
GPU
Intel HD Graphics 520
HDD/SSD
up to 512GB SSD
Display
12-inch – QHD (2160×1440) 3:2 ration, touchscreen IPS, glossy
Optical drive
–
Features

1x USB 3.0
1x USB-C 3.1
webcam
integrated microphone
integrated speakers
rear camera
combined audio jack (mic/headset)
LED-backlighting (optional) of the keyboard and docking station
3rd generation Acer stylus

Battery
up to 8 hours
Thickness
15.88 mm (0.63″) (pad + keyboard)
Weight
1.25 kg (2.76 lbs) (pad + keyboard)
Acer Aspire S13
Another mobile device that attracted our attention is the Aspire S13 – it offers a very thin and lightweight construction (14.8mm and 1.36 kg for the touchscreen version), which does not stop it from boasting Core i3, i5 and even i7 CPUs. We deem that the chips will be low-voltage, but cannot confirm it officially for now. The Aspire S13 is not only lightweight, it also offers high quality, which is partly due to the technology used for the finish – nano-imprint lithography. It allows engineers to mix plastic with aluminum, thus increasing the life and durability of the laptop. On top of that, they have added rubberized matte finish for better grip. More information about this device, you can read HERE.
Specs sheet of Aspire S13
Some of the specs may differ depending on your region.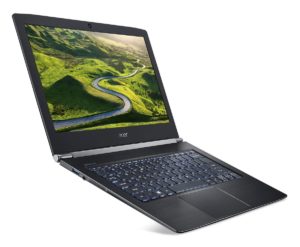 CPU
Intel Core i3, Core i5 and Core i7
RAM
up to 8GB
GPU
Intel HD Graphics 520
HDD/SSD
up to 512GB SSD
Display
13.3-inch Full HD (1920×1080) IPS, matte (and a touchscreen option)
Optical drive
–
Features

2x USB 3.0
1x USB-C 3.1
HDMI
webcam
integrated microphone
integrated speakers
combined audio jack (mic/headset)
LED-backlighting of the keyboard

Battery
up to 8 hours after a single charge
Thickness
14.8 mm (0.58″)
Weight
1.3 kg
Gaming machines
Apart from ultraportable devices, Acer also announced products aiming at gamers. Luckily for those of you who belong to this group, the Taiwanese company presented three gaming products from the famous "Predator" line – a monitor, a desktop and a laptop.

Acer Predator Z1
After being successful in selling monitors in 2015, Acer does not want to back off and this is why they announced a new monitor series – the Predator Z1. As you may guess by the name or by what we said above, this line targets those of you who spend a lot of time in the world of virtual reality.
In order for you to be completely satisfied, Acer have included several technologies that will make gaming more pleasing. One of them is "G-Sync" which prevents tearing while you are playing a game. Additionally, the refresh rate is relatively high for this class of monitors – 200 Hz, and reaction time barely 4 ms.
Check price and availability here.

Acer Predator 17X
Another mobile device that was displayed and warmly welcomed at this event is the gaming Predator 17X. Even though the "predator" line offered high enough performance in the 17″ Predator 17 (which did great in our review), it is obvious that Acer had an additional ace up their sleeve, which was showed at the 40th anniversary of the company.
The Predator 17X will offer a desktop GeForce GTX 980 GPU and an Intel Core i7-6820HK CPU, which you will be able to overclock. Furthermore, Acer have added a front ventilator which will take cool air in, while the two rear ones (preserving their position) will "exhale" the hot air. The Taiwanese company considers that these changes will lead to high enough performance without the need of adding water cooling, as it is the case with the ASUS ROG GX700 – whether this is so, we will find out when the device is available on the market. More information about the Predator 17X you can find in our detailed article.

Specs sheet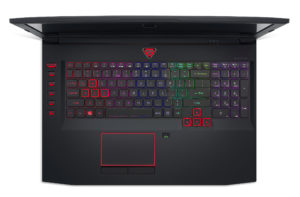 | | |
| --- | --- |
| CPU | Intel Core i7-6820HK (4-core, up to 4.0 GHz, 8MB cache) |
| RAM | 16 – 64GB DDR4, 2133MHz |
| GPU | NVIDIA GeForce GTX 980 |
| HDD/SSD | 3-SATA-SSD RAID 0 slots |
| Display | 17.3-inch Full HD / Ultra HD IPS, G-Sync |
| Price | approx. 2500 € starting price |
Acer Predator G1-710
We were very happy with the performance of the Predator G6-710 and we can't wait for the new "predator" solution named Predator G1-710. Even though we expected a similar design from Acer, we were really amazed by the looks of the gaming machine. If we compare the abovementioned devices, we get a confrontation between David and Goliath. The dimensions of the new box are 114 mm x 348 mm x 418 mm, meaning that the Predator G1-710 can be labeled as a "desktop console".
Do not be misled about the performance of the computer by the dimensions and the "console" label. Even though the chassis' volume is merely 16 liters, inside the Predator G1-710 you will find one of the currently most powerful GPUs on the market – the NVIDIA GeForce GTX TITAN X. In addition, you receive a 6th generation Intel CPU – we expect a Core i5 or Core i7 in the configurations, as well as a "default" GTX 960 GPU.
Acer have included the sound card Creative Soundblaster X-Fi MB5 7.1 with G-SYNC support, as well as the "predator" 4K2K resolution (3840 х 2160 pixels) – all this is for you to be able to enjoy smooth gameplay or the VR headset. The computer comes with a 4TB HDD, 512GB SSD, while the motherboard supports up to 64GB DDR4 RAM.

Specs sheet of Acer Predator G1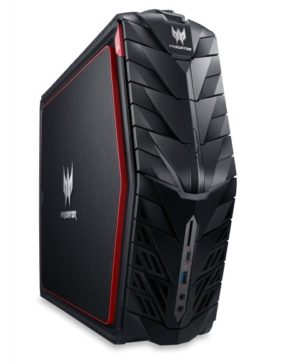 CPU
6th generation Intel Core i5 and Core i7
RAM
up to 64GB DDR4-2133 RAM (4 slots available)
GPU
from NVIDIA GeForce GTX 960 up to GeForce Titan X
HDD/SSD
maximum capacity of 512GB M.2 SSD + 3.5-inch 4TB hard drive  + an empty 2.5-inch slot for additional storage
DVD drive
–
Features

1x USB-C 3.1
5x USB 3.1 Gen 1
RJ-45
HD audio and 7.1 channel sound

Dimensions
114 x 348 x 418 mm
Solutions for every consumer
We shall now have a look at a few products which are not characterized by "predator" power or incredible design. They are targeted at those of you who need a practical and budget or business offer. Some of the models are updates of the familiar E and ES series, as well as new devices from the R and F series. Let us now see how Acer have updated their products.

Acer Aspire R15
The presence of the Acer Aspire R15 in this category does not mean that its appearance is exactly ordinary. It even won the award for best design from Red Dot, and here is why. Its style makes it stand out against most mobile solutions that Acer has to offer. The lid is made of metal, and the base is 40% fiberglass and silver particles, meaning that the Aspire R15 offers not only beautiful and thin design, but also premium materials.
As we mentioned above, the model is not the typical mobile device, it is a hybrid. The screen can rotate up to 360 degrees, and remain at one of the four "standard" modes – tent, tablet, standard laptop, and a display rotated back (270 degrees). To enjoy all of these modes, you get an IPS panel, offering vibrant colors and clear image, no matter what the viewing angle is. As the name suggests, the device is a 15-incher with Full HD resolution (1920 x 1080).
To ensure the enjoyment of all these cool features, Acer have included powerful enough hardware and a durable battery (according to them it can keep working for 9 hours). In the configurations of the hybrid, the most powerful CPU is the Intel Core i7-6500U which comes with the NVIDIA GeForce 940MX GPU. You are not right, if you think that the device is unsuitable for demanding software – there are configurations with up to 12GB DDR4 RAM, meaning that you can use apps such as Adobe Photoshop without any problems. To all that we can add one USB 3.1 Type-C  port, HDMI, Windows 10 OS, IEEE 802.11ac MU-MIMO (2×2 antennas), and Acer's  ExoAmp, Audio-wise, Acer TrueHarmony and Dolby Audio.
Check price and availability here.

Acer Aspire ES15
Let us begin with the series that received updates, which are now to be discussed. First in our list are the budget Aspire ES devices. As it was the case with the previous laptops, the changes are not "massive", and still there are positive sides that will make Acer's fans happy.
The new configurations of Acer Aspire ES15 come with the latest generation Intel Skylake CPUs, and two options for display – 1366 x 768 or 1920 x 1080 pixels. Acer also offer several colors – black, white and bordeaux (dark red). Not only the style has changed, the interior and chassis, too – the lid and the palm rests are covered with interesting texture that can bee seen in the images below. Acer claims that the battery lasts around 7 hours – of course, we shall test and confirm this info.
Check price and availability here.
Acer Aspire E14, E15, E17 и F15
The Aspire E series also received an update at the event. The manufacturer offers three new configurations – E14, E15 and E17. As their names suggest, the three models differ in terms of size – 14″, 15.6″and 17.3″. In comparison to the previous series, the color options here are twice as many – Marble White, Steel Grey, Twilight Purple, Red Copper, Obsidian Black, Rococo Red and Indigo Blue.
Photos of E14

Not only is the choice of colors rich, but the choice of configurations, too. We shall have a look at the one that impressed us the most. Even though this is a mid-range series, it is a huge step ahead for the Taiwanese company in terms of the hardware features. The new configurations include latest generation Intel Skylake CPUs, and the new RAM type – DDR4, which is expandable to 32GB.
Check price and availability here.
Photos of Aspire E15

The biggest update is in the GPU. You can find the GeForce GTX 950M in the most powerful configuration which means that if you use the laptop for everyday tasks (Web browsing, video playback, etc.), you can play some games every now and then, too. To fully enjoy the online virtual world, the IEEE standard (802.11ac MU-MIMO) will allow the use of higher than normal speeds. What is more, we get a USB 3.1 Type-C port and a pre-installed Windows 10.
Check price and availability here.
The included features are not few – Acer ExaColor (helps you calibrate the colors of your display), BlueLightShield (reduces blue light) and TrueHarmony. According to Acer the battery can last for 12.5 hours – a serious amount of time, considering the hardware.
The Aspire F15 series does not differ much from the previous one, apart from the lower range of colors you can choose from. They are only 5 – Marble White, Sparkly Silver, Obsidian Black, Indigo Blue and Wine Red. In the specs sheet we can see many common features – up to GeForce GTX 950M GPU, 6th generation Intel CPU, Acer ExaColor, True Harmony, BlueLightShield and MU-MIMO.
Check price and availability here.
If you are interested in the devices Acer produces, you can visit the following link: http://amzn.to/1SP9lc2