AMD Radeon RX Vega 8 [R4000/5000, 15W] in 40 gameplay videos with benchmarks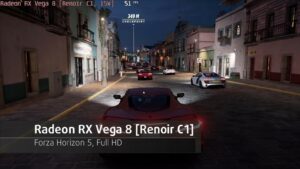 Our new playlist contains 40 gameplay videos regarding the AMD Radeon RX Vega 8 [R4000/5000, 15W]. This is one of the most powerful iGPUs on the market. Despite its super-low power limit, this iGPU is showing some impressive results.
For example, it scores 54 FPS on Very Low settings and 34 FPS on Medium preset in Forza Horizon 5 which is a respectable result for an integrated graphics solution.
Despite the hefty reduced TGP and frequency, the NVIDIA GeForce RTX 3080 (Laptop, 95W) is still a fast graphics solution. You can check all the gameplay videos in the playlist below:
https://www.youtube.com/playlist?list=PL5tfZxOrEucHSXuJxzTwBYmyIP1r4sPRc
As always, if you like our videos, please subscribe, hit the notification bell, leave a comment, a thumb up, or share whatever you like.
More great videos are about to come so stay tuned:
LM Benchmarks YouTube channel
All laptops equipped with the AMD Radeon RX Vega 8 [R4000/5000, 15W]