Acer Swift 5 moves into 4th place in our battery ranking table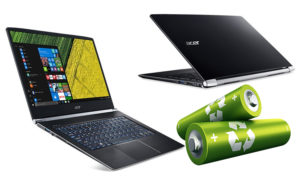 Long battery life is just one of the perks owning the Acer Swift 5. You can read our full review of the model and see for yourself but the battery endurance on this thing is downright amazing.
According to our usual tests, the laptop is really close to ASUS' ZenBook UX303UB in terms of battery life and moves into 4th place in our battery life ranking table. On the web browsing test, the Swift 5 scored the whopping 713 minutes (11 hours and 53 minutes) while on the video playback test, the notebook endured an impressive 550 minutes (9 hours and 10 minutes). This is mainly due to the energy-efficient Intel Core i7-7500U CPU with only 15W of TDP and the huge 53.9Wh battery.
You can check out the price of the various configurations of the Acer Swift 5 here: http://amzn.to/2qj3EWL