Acer Predator Helios 500 (PH517-52) – Top 5 Pros and Cons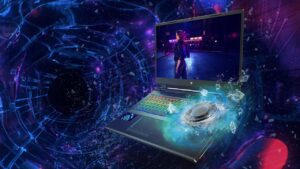 While not everyone will be able to fit this device into their budgets, or their backpacks for that matter, today we have the 100% unapologetic Predator Helios 500 (PH517-52), which has the power to challenge desktops while weighing half as much, which albeit is still a lot for a laptop.
Acer has chosen performance as the main metric that they want to focus on, bringing a Core i9-11980HK and an RTX 3080 with a 165W TGP into the mix, which is as high as you can go for a laptop.
Today we are presenting you with LaptopMedia's top 5 picks about the Acer Predator Helios 500 (PH517-52).
Acer Predator Helios 500 (PH517-52): Full Specs / In-depth Review
4 reasons to BUY the Acer Predator Helios 500 (PH517-52)
1. Input devices
There are a few things that are vital in order to make a gaming notebook a great one. One of them is the input devices, with most of the focus being on the keyboard. Here, due to the bulk of the device, we have a keyboard with long key travel and clicky feedback. It is flooded with RGB and has some flagship features to go along with it. One of them is the inclusion of swappable WASD keycaps, which can totally change the way that the buttons feel to press, making the experience more akin to a controller's triggers. Aside from gaming, the unit is great for pure typing.
The touchpad has two dedicated buttons below it, along with a light that surrounds the pad itself. With a smooth surface and tracking accuracy, you can't ask for anything more.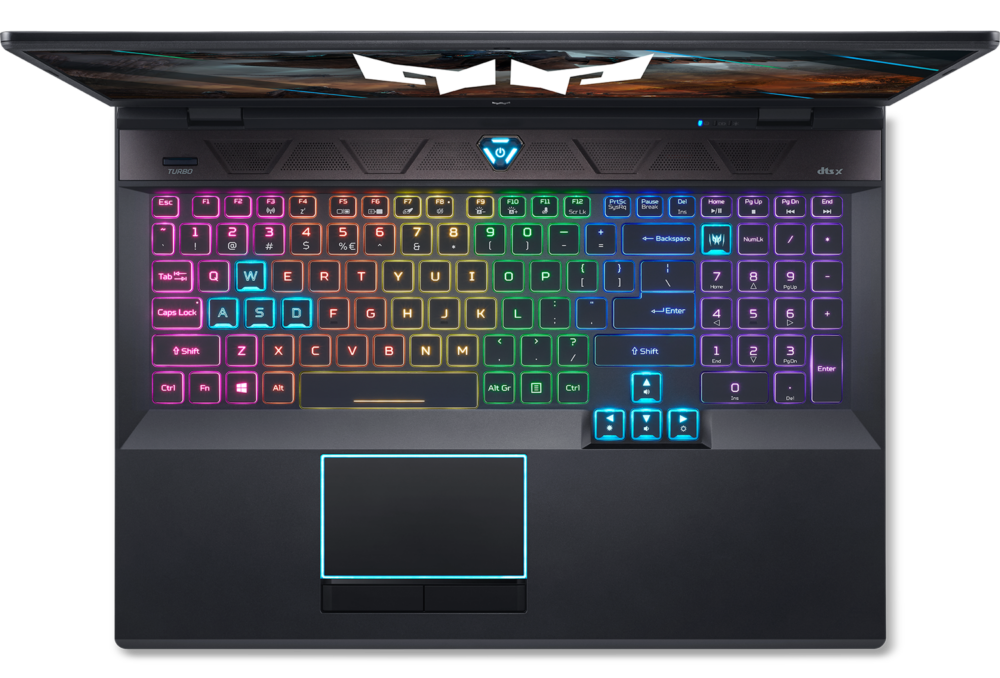 2. Upgradeability
Any self-respecting gaming notebook should offer ample upgradeability since storage and RAM are resources, which games and programs have learned to feast on very well. On the Predator Helios 500, you have two SODIMM slots, two M.2 PCIe x4 slots, and space for a 2.5-inch SSD, which is lovely to see.
Since there are a lot of components involved, here is our teardown video, which shows exactly how to access all five of the slots.
3. I/O
The laptop brings a lot of coverage, with two Thunderbolt 4 ports, three USB Type-A 3.2 (Gen. 2) ports, one HDMI 2.1 port, a mini DisplayPort, an Ethernet port, and a 3.5 mm audio jack.
4. Performance
Sadly, we couldn't test the Core i9, but the Core i7 will have to do (spoiler alert – it does). Due to the massive vapor chamber on the inside, the CPU is set for success and in our tests, it manages to perform as well as a Ryzen 9 5900HX.
Results are from the Cinebench 20 CPU test (the higher the score, the better)
Results are from our Photoshop benchmark test (the lower the score, the better)
In terms of graphics, we had the top dog in the doghouse, the RTX 3080 (165W). To no surprise, it brings amazing performance in both synthetic benchmarks and our gaming tests.
Results are from the 3DMark: Fire Strike (Graphics) benchmark (higher the score, the better)
Results are from the Unigine Superposition benchmark (higher the score, the better)
Gaming tests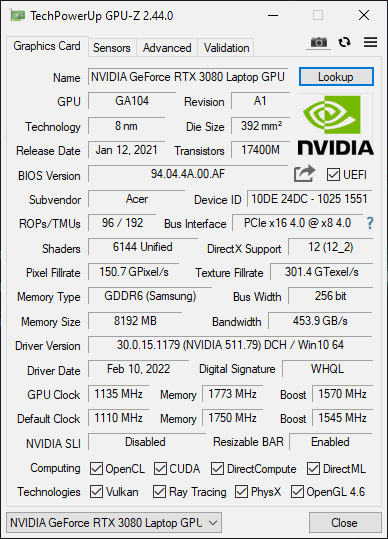 1 reason NOT to buy the Acer Predator Helios 500 (PH517-52)
1. Battery life
Where notebooks like this fail often, is in the battery life. With a 74Wh unit, it lasts for 4 hours and 49 minutes of Web browsing, or 4 hours and 37 minutes of video. Now, we conduct the battery tests with Windows Better performance setting turned on, screen brightness adjusted to 120 nits, and all other programs turned off except for the one we are testing the notebook with.
In order to simulate real-life conditions, we used our own script for automatic web browsing through over 70 websites.
For every test like this, we use the same video in HD.
All Acer Predator Helios 500 (PH517-52) configurations: