Acer Predator: Does the additional FrostCore fan reduce the internal temperatures?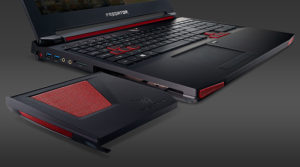 The new Acer Predator laptops don't come with any fancy accessories but there is an interesting module which could be very useful – an additional fan called FrostCore which can be swapped for the optical drive in the notebook ("I use my DVD writer everyday" *Said nobody, in the past 5 years).
So, does the additional FrostCore fan really reduce the internal temperatures and to what an extent? Last year we found out that it doesn't improve the cooling system much, when we tested Predator 15 (G9-593)'s predecessor, so it's time to see if Acer has worked on that.
In order to check the system stability with and without the FrostCore fan, we ran a GPU benchmark, while the notebook was heavily loaded (100% CPU + 100% GPU load). The results, yet again, aren't much impressive:
Without FrostCore / With FrostCore
The bottom line is that FrostCore gives a helping hand to Acer's marketing team but it does not facilitate the Acer Predator's cooling system. However, we should note that the new Predator laptops handle heavy CPU and GPU load excellently anyway, so you'll need that FrostCore fan just as much you'll need your DVD – you won't.
Stay tuned for our in-depth review where you'll find more about everything you might want to know about the new Predator. Meanwhile, you can read our detailed Acer Predator 17 (G9-793) review.
You can check the current price and availability of Acer Predator 17 (G9-793) here: http://amzn.to/2e2M1u3
If you're more interested in the 15-inch version, Predator 15 (G9-593), you can check its price here: http://amzn.to/2d9HbVy