Acer Predator 17 vs Alienware 17 R3: Detailed 'Stability and Temperature' battle report

This is going to be gamers' best holiday quarter ever. Alienware has updated its 15 and 17-inch notebooks, Acer has released a whole new Predator gaming line, ASUS announced a wide range of new ROG devices and Dell hit the market with its new Inspiron 7559 with 960M and Skylake at a ridiculously low price. Even HP brought out an affordable Pavilion 15 Gaming. But now we turn our heads to two of the most luxurious gaming models – Alienware 17 R3 and Acer Predator 17. Since most gaming laptops have nearly the same specifications and internal components, the performance and user experience mainly differs in terms of the cooling system and the temperatures (or throttling).
You can check the current price of Acer Predator 17 here:
http://amzn.to/21rbrAo
…and take a look at Alienware 17 R3's price tag as well:
http://amzn.to/1StK5DD

100% CPU Load
A few seconds after the start of the 100% CPU load, the Predator CPU temperature had already reached ~90°C while Alienware 17 remained around 70°C. We kept things like that for half an hour and then we measured the values again. Alienware's CPU cores ran at 74°C and The Predator's – at 88-95°C. There is a slight advantage for Alienware in the clock values as well – the CPU in Alienware 17 R3 ran at 3.2GHz while the one in Predator 17 jumped between 3.0 and 3.1GHz, which is great for both of them, since the max Turbo Boost of 6700HQ used by Predator is 3.1GHz and 6820HK's max Turbo is 3.2GHz.
100% CPU + 100% GPU load
Without stopping the CPU load, we're adding 100% GPU load in order to squeeze out the maximum from the cooling system. Here's a surprise – although the Predator immediately throttled the CPU to 2.5-2.6 GHz and the Alienware once again got us slightly higher clock – 2.7 GHz, there is a notable advantage for the Acer model in the GPU temperature – NVIDIA GeForce GTX 980M runs at 67°C while the same GPU in the Alienware enclosure reached 73°C with the same default clock speeds. Alienware is quieter since its fans work at lower RPM.
Let's check what the situation is after 30 minutes of 100% CPU + 100% GPU load. Acer Predator's CPU clock speed hovers around 2.4-2.5GHz and Alienware's 6820HK is back near its max Turbo Boost – 3.1 GHz. Alienware's cooling system has managed to stabilize the CPU using higher RPM and respectively higher noise, so the advantage of the silence is gone. Predator's 6700HQ works at 95°C while Alienware's 6820HK runs much cooler – 75-78°C. Both GPUs run at 73-74°C.
100% CPU load + GPU Benchmark
We're swapping the GPU load with a 15 min GPU benchmark in order to see how the two graphic cards will perform while the CPUs are loaded at 100%. Here's another surprise – Predator 17 managed to get us higher average FPS – 49 vs 45 for Alienware and lower GPU temperature – 74°C against 78°C for Alienware. That gives the Taiwanese company 4500 points, while Alienware 17 R3's result is 4167 points. Good work, Acer.
Surface temps after 2 hours of CPU and GPU load
Right after the end of the benchmark we brought back the 100% synthetic GPU load. Now it's time to see what the situation is on the outside, which is also important for the ultimate gaming experience. Another win for Predator here – the hottest area is around the + (plus) key – ~46.5°C. Meanwhile, Alienware 17 reached around 55C near the air vents and ~50-52°C in the area of the P and O keys. These temperatures don't cause discomfort so we're OK with them.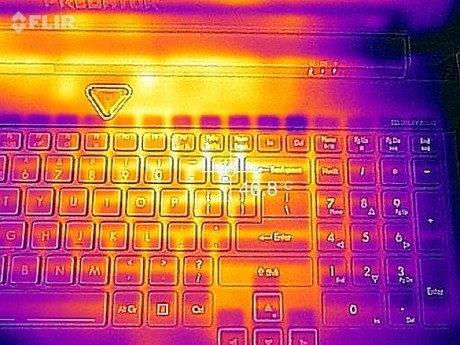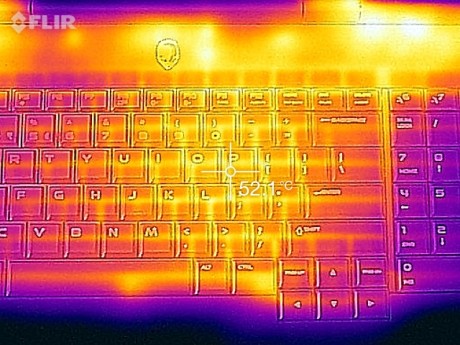 Conclusion
It was a pleasure to see these machines battling today because they're both performing great, no matter what test we throw at them. Alienware 17 R3's CPU runs cooler and the fan system is more quiet when you tax it with short-term heavy load but when we bring in intensive CPU+GPU load for continuous period, Predator does better – the GPU got us better performance and the body surface temperatures are lower. Nevertheless, Alienware 17 R3 and Acer Predator 17 are well built and they definitely deserve the attention of all gamers.
You can check the current price of Acer Predator 17 here:
http://amzn.to/21rbrAo
…and take a look at Alienware 17 R3's price tag as well:
http://amzn.to/1StK5DD